I have been experimenting for some time with apple cake recipes in a quest for one that has a clear autumnal flavour, is traditionally moist, but also cuts cleanly, a stringent requirement when making wedding and party cakes.  Whether this Chai Spiced Apple Cake makes it to my menu or not I adored the flavour combination, and after much interest when I posted this picture on social media I thought I would share the recipe!
My persistence in finding the right apple flavour for my menu stems from the fact that we are lucky enough to buy what I think are the best apples around at our local Sunday market in the People's Park in Dun Laoghaire. A far cry from the waxy, and often imported supermarket varieties, these are tart, crisp, and only available in season.  They are now the only apples I will eat.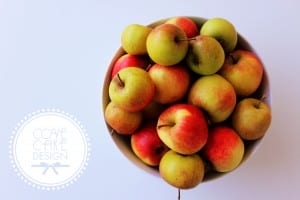 This apple cake recipe sort of evolved having found some beautifully aromatic Wall and Keogh loose leaf chai tea  in Robertson's Deli in Dalkey. Wall and Keogh have established themselves as one of Dublin's leading loose leaf tea wholesalers, supplying prominent cafes and delis. Their loose leaf chai is amazing, with the traditional spicy aroma of cardamon and cloves, a perfect pairing for apple.
I filled and iced this cake with brown butter icing, something which I had never made before..how did I miss it! Brown butter takes on a subtle nutty, toffee flavour, making a delicious buttercream which is a perfect pairing for apple. I also filled the cake with some blackberry jam, because blackberries are a natural partner for apple and I had some homemade Wexford Blackberry Jam lurking in my cupboard from my apple and blackberry cupcake recipe.
The quantities in this recipe can be made in two 7″ round tins to create two cakes which can each be divided in two to make four layers. Alternatively, the recipe can be baked in one 8″ tin for a two-layer cake or three 6″ tins for a super tall cake 6 layer cake.  I iced it 'semi-naked' style. The icing quantities are enough to fill the cake but you may need a second batch if you choose to coat it. I also decorated with blackberry macarons..a blog post on macarons is to follow soon!
Happy baking!
Chai Spiced Apple Brown Sugar Cake with Brown Butter Icing and Blackberry Jam
Ingredients for the cake:
225g unsalted butter (plus extra for greasing)
225g light soft brown sugar
225g self-raising flour
125g plain flour
4 eggs
1 tsp ground cinnamon
2 medium apples, peeled and coarsely grated
60ml whole milk
2 tbsp loose leaf chai tea (I used Wall and Keogh, beautifully aromatic but a chai tea bag will also do)
Ingredients for the brown butter icing (this is enough to fill the 4-layer cake but you will need to increase quantities if you are making more layers of cake and/or coating the cake):
300g icing sugar
200g unsalted butter
pinch cinnamon
Ingredients for the blackberry jam:
See our blackberry jam recipe here!
Method:
Step 1: Preheat the oven to 160°C/320F/gas mark 3. Grease and line two 7″ round cake tins.
Step 2: Place milk and chai tea in a small saucepan (if the quantity of milk is too small for your saucepan use a little more and measure out 60ml of chai-infused milk later for your cake). Heat gently to infuse the milk. Set aside.
Step 3: Sift together flours and cinnamon. Grate apple and gently squeeze out excess juice.
Step 4: Cream butter and brown sugar together in mixer until light and fluffy.
Step 5: Beat in eggs one at a time, adding one tablespoon of flour with each egg.
Step 6: Fold in remaining flour followed by the grated apple and strained chai-infused milk.
Step 7: Pour into greased tins and bake for approx 40-50mins Cake is cooked when well risen, springy to touch and skewer comes out clean.
Step 8: Meanwhile make the brown butter for the icing. Melt butter in saucepan over a low heat, bring to a simmer and continue to stir until it has turned a golden colour and smells toffee-like. Pour into a bowl, leave to cool and place in fridge to firm up a little.
Step 8: When cooked, remove cake from oven and leave to cool for a few minutes before turning out onto wire rack to cool completely.
Step 9: Make the icing by beating together the brown butter, icing sugar and cinnamon until fluffy.
Step 10:  Trim the top off each cake to level and divide each cake in two to create four layers in total. Fill each layer with the brown butter icing and blackberry jam. I decorated it in 'semi-naked' style with blackberry macarons, gilded berries and bay leaves but feel free to get creative at this point!
http://www.covecakedesign.ie/wp-content/uploads/2015/10/IMG_0394_edited-1-e1446034091782.jpg
1265
1000
Suzanne Brady
http://www.covecakedesign.ie/wp-content/uploads/2019/04/Cove_web.png
Suzanne Brady
2015-10-25 19:14:26
2015-10-27 10:50:04
Chai Spiced Apple Brown Sugar Cake, Brown Butter Icing and Blackberry Jam