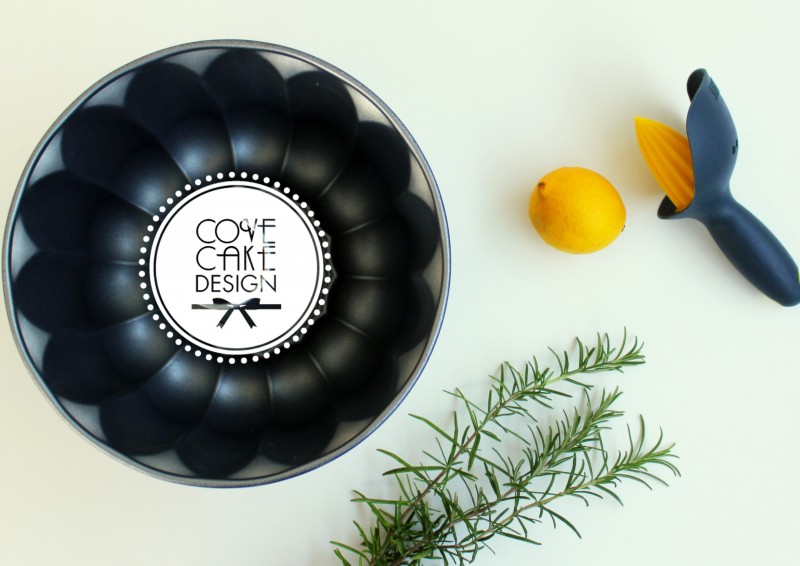 Welcome to Cove Cake Design's new blog! Here I hope to give you a little insight into what drives me and my business by regularly sharing with you behind the scenes peeks at what's happening at Cove Cake Design, as well as recipes, tips and guest blogs from industry friends.
For my first post I am going back to what started me on this journey, a love of baking, by sharing with you an easy yet striking cake recipe, Lemon and Rosemary Bundt. The beauty of this cake defies its simplicity, making it perfect for even a novice baker who wants to make something a little special. It is dense, moist and cuts well, easily feeding a little crowd. Lemon is one of my favourite flavours and I paired it here with rosemary, mainly because my herb garden is a little wild at present and needed a little pruning, but also because savoury herbs such as rosemary and thyme work remarkably well together with the tang of lemon. A bundt tin is a great investment for any cake-maker: they are actually quite beautiful in their own right and when you pop your cake out of the tin even without any decoration it looks magnificent. This recipe is adapted from a vanilla sponge recipe by Nigella Lawson and I have chosen to decorate the cake with a simple lemon icing, and in an attempt at some garden maintenance, a few sprigs of rosemary. Enjoy!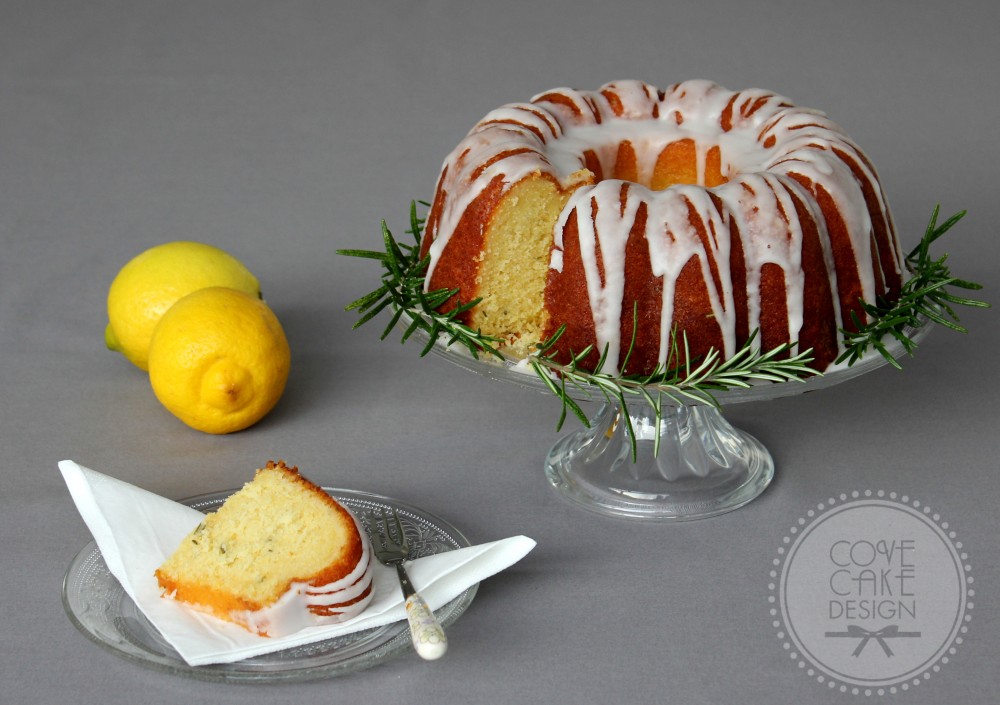 Lemon & Rosemary Bundt Cake
Ingredients for the cake:
225g unsalted butter (plus extra for greasing)
300g caster sugar
350g plain flour
½ tsp bicarbonate soda
6 eggs
250ml natural yogurt
Zest 2 medium lemons
3tsp finely chopped fresh rosemary
Ingredients for the lemon rosemary syrup:
100g caster sugar
Juice one and a half lemons
Sprig rosemary
Ingredients for the lemon icing:
Juice half a lemon
100g icing sugar
Step 1: Preheat the oven to 160°C/320F/gas mark 3. Grease a 9" bundt tin very well with melted butter.
Step 2: Sift flour and bicarbonate of soda together
Step 3: Cream butter, caster sugar, lemon zest and rosemary together in mixer until light and fluffy.
Step 4: Beat in eggs one at a time, adding one tablespoon of flour with each egg.
Step 5: Fold in remaining flour, followed by yogurt.
Step 6: Pour into greased bundt tin and bake for 45mins-1hour. Check after 45 mins. Cake is cooked when well risen, springy to touch and skewer comes out clean.
Step 8: Meanwhile make the syrup by placing all the ingredients in a saucepan and heating gently until sugar has dissolved and syrup has reduced a little. Remove rosemary sprig.
Step 7: When cooked, remove cake from oven and leave to cool for a few minutes before turning out onto wire rack. While still warm, pour syrup over cake and leave to cool.
Step 9: Make the icing by adding lemon juice to icing sugar until consistency is such that it can drop off spoon. Drizzle over cake nonchalantly!
Storage: This cake keeps well in an airtight container for 2-3 days.
https://www.covecakedesign.ie/wp-content/uploads/2015/01/Lemon-and-Rosemary-Bundt_edited-1-scaled.jpg
1804
2560
Suzanne Brady
https://www.covecakedesign.ie/wp-content/uploads/2019/04/Cove_web.png
Suzanne Brady
2015-01-26 11:21:27
2020-11-09 16:25:30
Celebrating the launch of Cove Cake Design's New Website: Lemon and Rosemary Bundt Cake