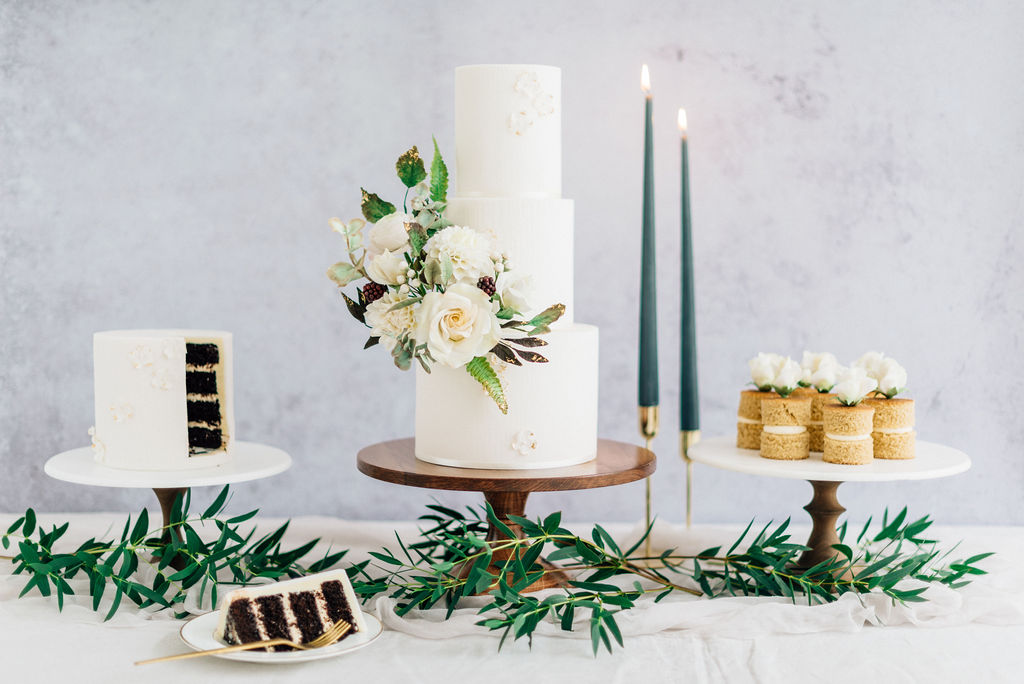 The Cove Cake Design Brand
It has been almost 6 years since I launched Cove Cake Design, named after the beautiful seaside suburb of Sandycove which myself and my family call home. Both the logo and website in their classical design have stood the test of time, but as my style and business have evolved, I decided it was both timely and exciting to have a brand refresh to more aptly convey the ethos of Cove Cake Design and my cakes.
A Brand Refresh
Recruiting a Branding Team
Over the winter I enlisted the services of Irish graphic designer, Natalie of Keady Row, whose sophisticated and modern designs for wedding stationary had caught my eye; as well as photographer Claire Brown, whose light and dreamy photography is nothing short of beautiful.
The Brand Refresh Brief
My brief for Natalie was a new logo and stationery package that would capture the essence of my business: a small Irish cake design business offering a bespoke personal service and delicious cake with a natural, sophisticated and botanical style. I also wanted Natalie to refine my packaging, such that there would be a reduced requirement for use and improved recyclability, reflecting my belief that all businesses should work towards a more sustainable future. I compiled a branding moodboard for Natalie to illustrate the look and feel that I felt reflected Cove Cake Design…..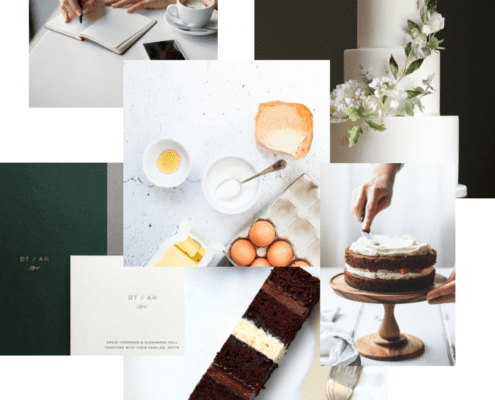 A New Brand Logo
Natalie immediately captured my brief, coming back with a simple and elegant logo, with a subtle botanical feel. A natural colour palette in shades of green to ivory and luxurious gold aptly conveyed a luxury bepoke Irish brand. Natalie provided a wealth of files and logo variations to utilise across a variety of uses and platforms.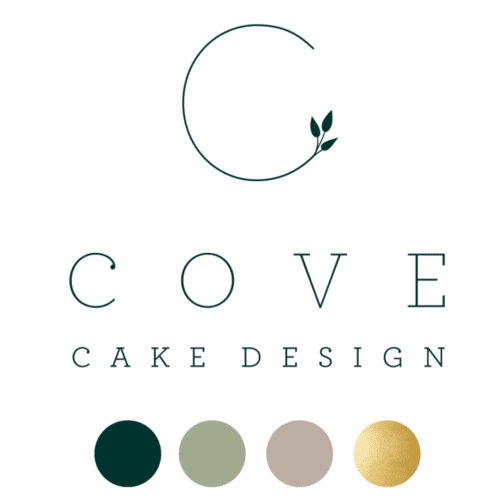 Branded Refresh Packaging Solutions
As most of my wedding cakes are delivered to site, my packaging requirements are quite minimal and confined mainly to my tasting box service. I worked with Natalie over the course of a few months to design new branded packaging, choosing from samples to select a stationery and sample box package that was refined, elegant, practical and importantly sustainable. I chose natural sturdy recyclable boxes that could withstand postal delivery, obviating the need for an additional outer postal box and hence reducing waste. I also chose beautiful branded tissue paper from No Issue, an environmentally conscious packaging company. Gold foil stickers added a luxurious feel. Business and compliment cards were the final personal touch.
I have also started providing menu and flavour cards to clients to enable them to convey their cake flavour choices to guests…with such exciting flavour options this has become essential! Natalie designed templates for me to use and I now provide customised menu and flavour cards in gold frames and holders for clients.
Brand Refresh Photo Shoot
Phase two was a branding photo shoot with talented photographer Claire Brown. I had worked with Claire previously on a wedding editorial shoot and loved her light and ethereal style. We styled the shoot together, with me giving Claire an image list and working on props and styling needed for the shoot. I loved this part of it..(maybe I should develop a little sideline in styling!). Claire came to my home for the shoot, photographing my gorgeous new stationary and sample boxes in a flatlay which is on of my favourites of the day!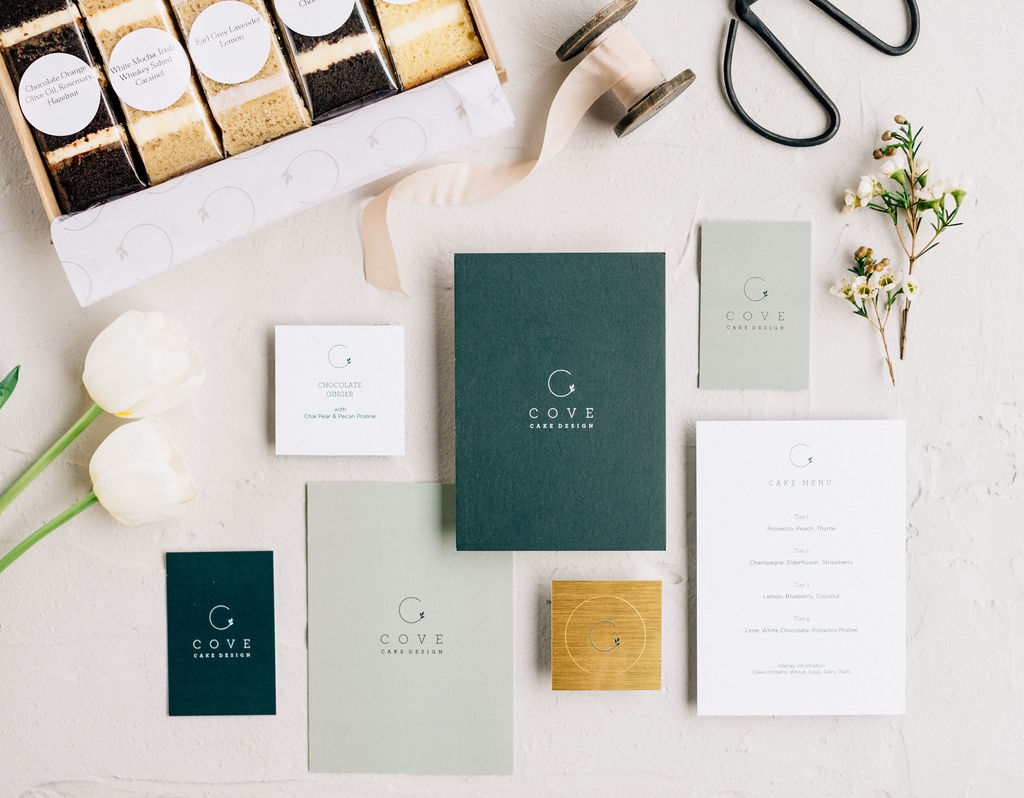 She also captured me behind the scenes in my kitchen, working on admin and layering cakes…letting my clients get a little insight into me and my workplace!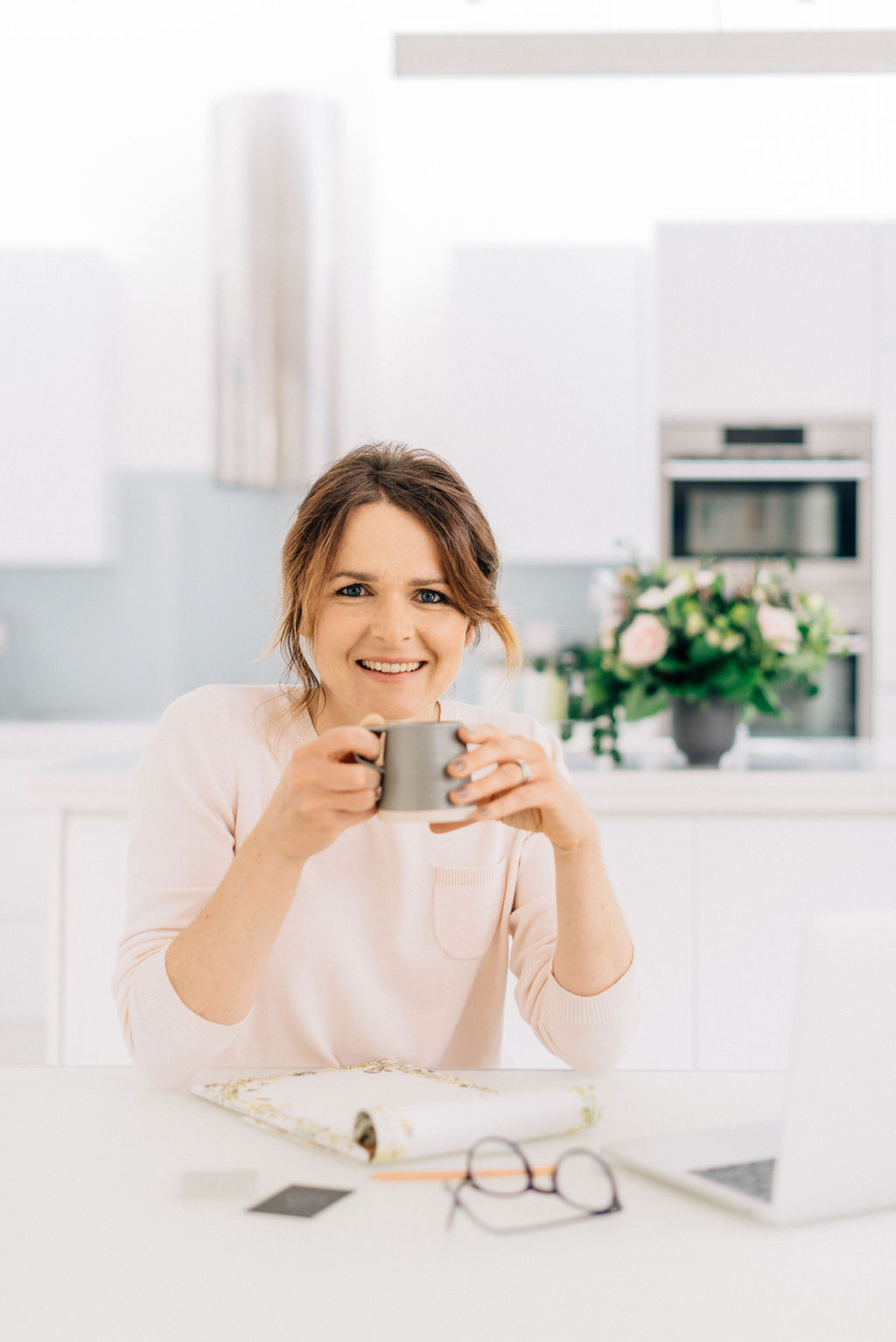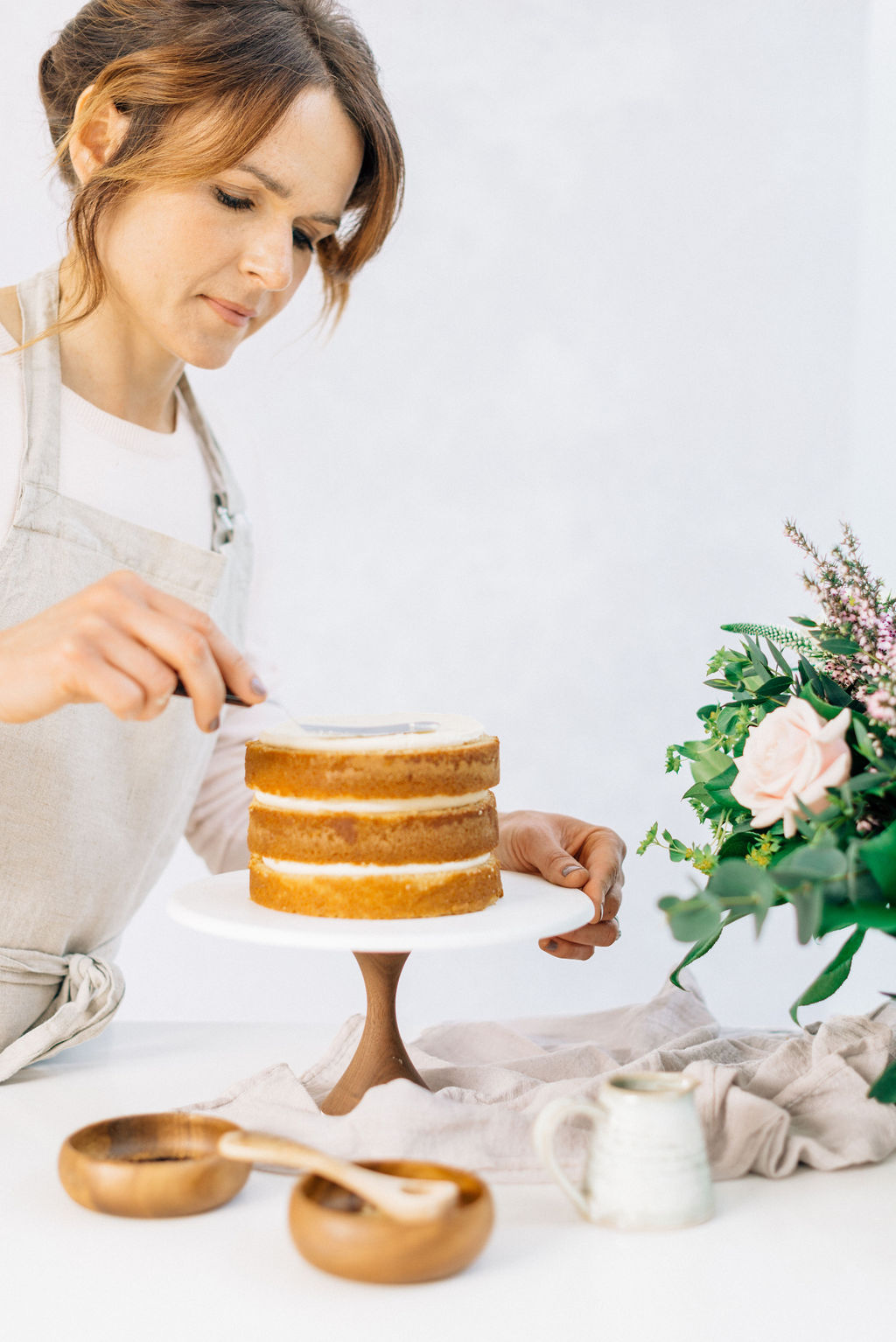 A styled cake table which epitomises everything about my brand: delicious modern cakes, exquisite and luxurious detail, and signature sugar flowers; was the finale of the day.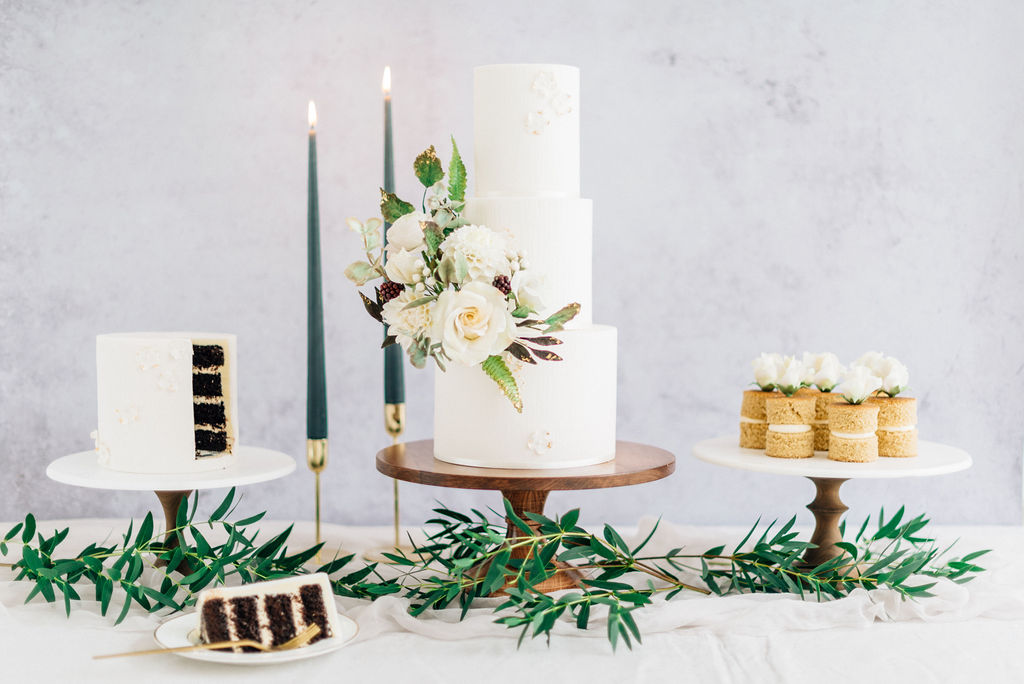 The Brand Refresh Finishing Touches
These photographs and many more were substituted into my website along with some content updates with a little help from my web designer, Mick from Smudge Design. The ease with which the website can be updated is testament to its original good design.
I hope you like my new style and that it more aptly conveys the ethos of my brand! Please enjoy browsing more of my brand in my about, menu and portfolio pages!
Suzanne x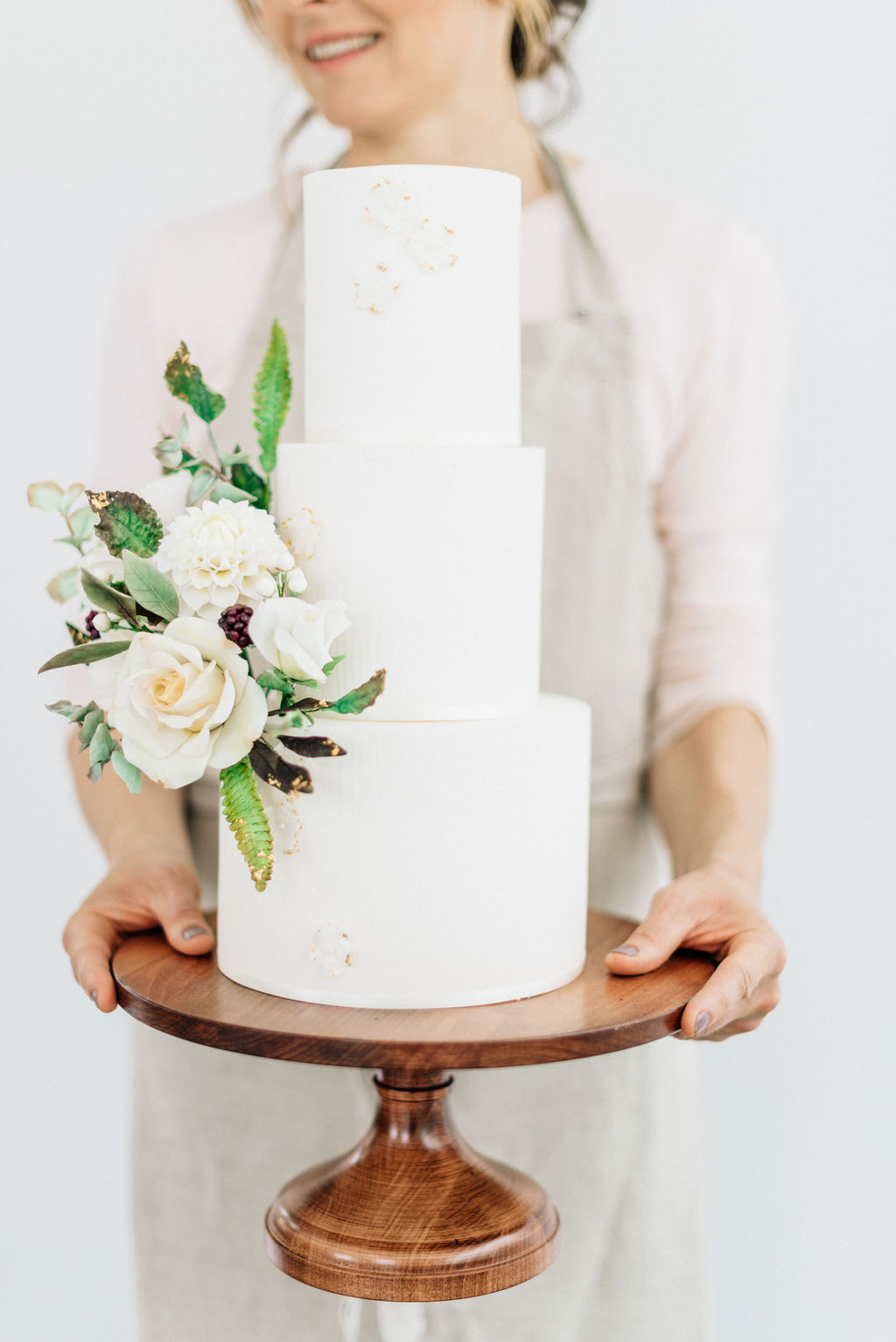 https://www.covecakedesign.ie/wp-content/uploads/2019/04/DSC_8749.jpg
684
1024
Suzanne Brady
https://www.covecakedesign.ie/wp-content/uploads/2019/04/Cove_web.png
Suzanne Brady
2019-05-07 18:52:00
2020-11-17 07:46:25
Cove Cake Design Brand Refresh