Cascading Peonies and Ballyfin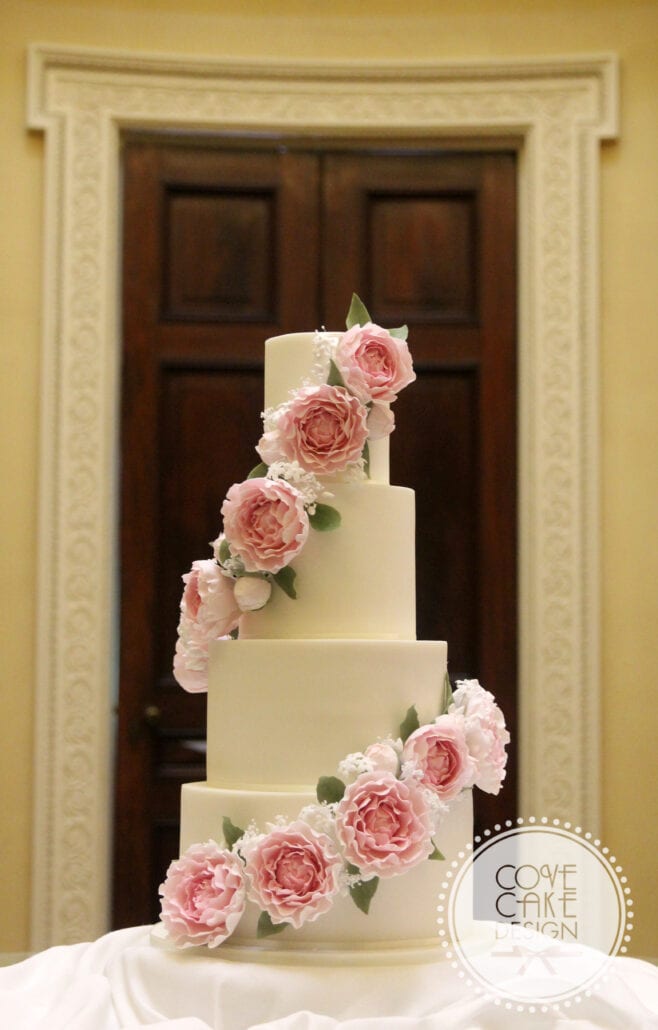 Every once in a while a cake deserves a little more attention than a photo and quick mention on Facebook and Instagram. I'm sure all cake decorators can recognise the delight when the loveliest of clients walks through your door with a fabulous vision for their wedding cake, a stunning venue and a dream team of suppliers lined up. Such was the case for a recent order for a peony cascade cake at Ballyfin.  
The design and stature of the wedding cake was in no doubt influenced by its final setting in the palatial surroundings of Ballyfin Demesne. Built in the 1820s, Ballyfin is probably Ireland's finest regency mansion and I have to confess that I had been eagerly awaiting the opportunity to visit due to a little bit of personal interest…for much of the 20th century Ballyfin was run as a boarding school which was attended by my father in the 1960s. The eventual closure of the school led to a state of disrepair before an eight year restoration project resulted in it's reopening as a luxury 5 star hotel in 2011. And it is not hard to see where the eight year's went….the interior is breathtaking. From stunningly restored architectural detail to sumptuous furnishings and fine artwork, it is a luxurious step into another time and place. Quietly exclusive it caters to around only 10 weddings per year.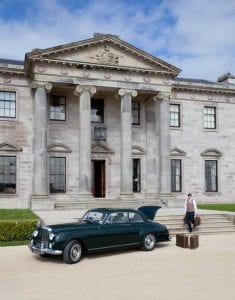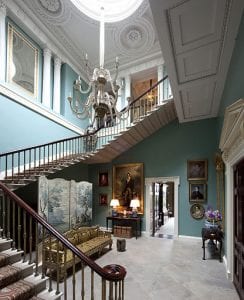 (Images courtesy of Ballyfin.com)
The cake itself was from an original design by the fabulously talented Peggy Porschen, a design that my client had fallen in love with on a visit to the famous cake parlour in London. Four tall tiers were swathed in a sugar peony cascade matching the shades of pink in the bridal bouquet.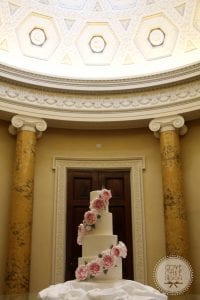 Being displayed in the Rotunda room at the heart of Ballyfin, the cake was to be a centrepiece to be viewed while guests mingled over welcoming drinks (before of course being tucked into later!). A key to this design was therefore to ensure that the cake was of equal beauty when viewed from all angles, hence the continuation of the floral cascade around the back of the cake and neat little bows to hide the joins of the ribbon. The final flourish was to be a base of fresh roses and peonies by the amazing Joeanna McCaffrey flowers, sadly I had to leave before seeing this final detail in situ so I can't wait to see the final photos!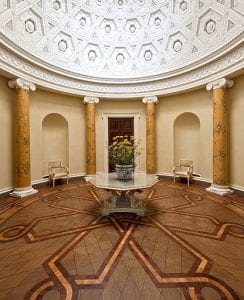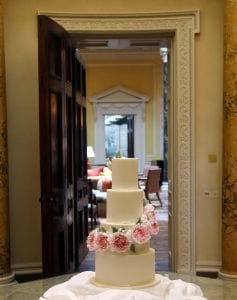 People have asked how many hours it takes to make sugar flowers and to be honest I lost track of these! Made over several weeks whenever I had time, over 700 peony petals were cut, veined and shaped, along with an array of peony buds, stephanotis, buds and leaves. Fixing the flowers on the cake took nearly four hours! It was my first time working with this many flowers and I was thrilled at the outcome of the challenge.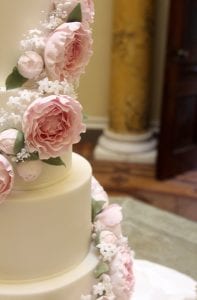 My final glimpse of this cake  through the ornate doors of the Rotunda would be the first view seen by the bride and groom and their guests. I hope that this view, and the luscious layers of Guinness Chocolate and Lemon Coconut Raspberry cakes to be served later that evening, were well received!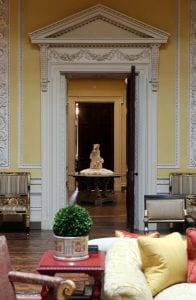 https://www.covecakedesign.ie/wp-content/uploads/2016/07/IMG_4056_edited-2-scaled.jpg
2560
1635
Suzanne Brady
https://www.covecakedesign.ie/wp-content/uploads/2019/04/Cove_web.png
Suzanne Brady
2016-07-17 21:06:03
2020-11-09 16:21:18
Cascading Peonies and Ballyfin