The display and styling of your wedding cake is something that I ask all my clients to consider. After many months of work, it is worth making that last little effort to ensure your cake is a stunning centrepiece and a talking point for your guests. For those on a budget, it is also a way of keeping costs down by opting for a simple cake while using inexpensive decorative flourishes to display it beautifully.
I recently had the pleasure of working with Betty from Lulabelle Wedding Styling and Design to create cakes for  a wedding in the gorgeous surroundings of Tankardstown House. Her styling of our cake and sweet treats on this stunning table are a perfect example of how to successfully display your cake! The ornate table, symmetrical display, simple background…and just look at those eye-catching antlers! (Photograph by Charlotte La Chaussee)
Here are some tips on what to consider in order to achieve cake table perfection like this!
Location
Do ask your venue or planner where your cake table will be located.  If it is normally assigned to an inconspicuous corner of the room don't be afraid to ask for alternatives! The floral cascade cake in the image below was in the centre of the reception room, taking pride of place for all to see. Another nice alternative is to see if there is a suitable place in the area where your arrival reception will be held. This is often the perfect time for your guests to view, talk about and photograph your beautiful wedding cake. Also consider practicalities of location such as keeping your cake out of direct sunlight or heat, especially in the summer.
Table
Many venues, especially period properties may have beautiful tables or sideboards which are a feature in their own right. If the cake table is a standard table do ask your venue or planner to ensure that it is stable and covered in freshly ironed linen.  In the image below, The Wedding Consultant turned an ordinary glass topped table into a glamorous setting for this cake by elevating the glass and filling the gap with beautiful fresh hydrangeas. Buying a tablecloth that complements your cake and theme is also another way of giving your table a wow factor, eg. glitter, stripes etc.
Background
Think about the background to the cake table. If it is in front of a wall or curtains, will the colours or textures compete with your cake? How will it look in a photograph? Also be aware of anything unsightly that might come into field in your photographs, such as wires, speakers etc. In this beautiful styling by Style Serendipity at Horetown House, a plain wall with the texture of old stone and greenery of a floral wreath is a perfect backdrop for these cakes.  (Photo courtesy of Paula McManus Photography)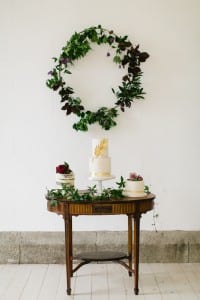 Cake Stand
Many venues include a cake stand in their package for use by their clients. In many cases this is a traditional silver stand. Do ask to see it and request a polish if needs be! Is it an appropriate size for your cake?  Also consider whether a traditional silver stand is most suitable for your cake style. For example, milk glass stands such as that in the image below are modern and elegant, while wooden ones add a rustic feel. Ask your cake designer if they have any for hire, most of them have a large collection (otherwise known as 'cake stand addiction'!!).
Display and props

Betty styled this cake table using the antlers as the main prop, a nod to a deer farm once owned by the bride's family (love a little story behind the detail!). Coupled with the ornate table this creates a stunning display for the simple, elegant cake. The amount of props needed will depend on your cake and theme, for example vintage-style cakes look beautiful with lots of flowers and quirky vintage props.
Happy styling!
https://www.covecakedesign.ie/wp-content/uploads/2015/12/IMG_5280-2-v21.jpg
923
737
Suzanne Brady
https://www.covecakedesign.ie/wp-content/uploads/2019/04/Cove_web.png
Suzanne Brady
2015-12-16 21:06:55
2015-12-16 21:11:13
Styling and Displaying your Wedding Cake