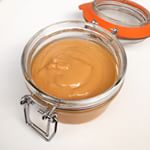 I can't remember where exactly I first came across caramelised white chocolate but having heard of it needless to say it was something that I had to experiment with. I mean the words alone: caramel, white chocolate, caramelised white chocolate…what could there be not to love! And my first batch did not disappoint!  Unlike caramel or white chocolate itself which can have a sometimes over-sugary sweetness, the process of caramelising the chocolate creates a more delicate sweet flavour, rather like a silky and light dulce de leche.
To make it requires little skill, just a little love and time to intermittently stir the white chocolate in the oven while it slowly caramelises.  I used the method described by the acclaimed pastry chef, David Lebovitz.  He recommends using Valrhona 34% white chocolate, but I have successfully caramelised Green and Black's 30% white chocolate as this was all I had to hand on my first attempt. I do believe the key to this is to use the best quality white chocolate you can, with a minimum % cocoa butter of 30%. The other important factors are patience and perseverance. Slow cooking is required, and at some points the chocolate becomes lumpy, chalky and frankly quite disastrous looking, but if you continue to stir it it will smooth out (please see my quick iphone progress shots below).
I used a low oven temperature and it took around 70 minutes to caramelise. You may wish to experiment with a slightly higher temperature if you wish to speed up the process. Also, ovens temperatures may vary so it is best to keep an eye on it and judge when it is done when it has turned a light brown colour, similar to caramel.
It can be stored in sterilised jars so I make a batch that lasts me for several weeks. As it hardens it can look streaky but can readily be returned to a smooth caramel texture again by melting in the microwave or bain marie.
I use my caramelised white chocolate to flavour buttercream to pair with my Guinness Chocolate Cake, a divine combination! For this I simply add a few tablespoons of melted caramelised chocolate to my normal buttercream recipe to taste. Although I haven't tried other pairings I imagine it would work well in any situation where a caramel or dulce de leche flavour is called for. Alternatively, while contemplating possible flavour combinations feel free to savour the fruits of your labour with a spoon (!).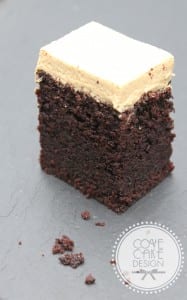 Caramelised white chocolate
Ingredients
400g white chocolate min 30 % cocoa solids
Pinch sea salt
Method
Preheat  oven to 120.
Break chocolate into chunks and place in a baking tray
Heat until melted.
Stir and return to oven.
Continue checking and stirring every 10mins (persisting through the ugly chalky, lumpy phase!) until chocolate has turned a golden brown colour and is caramelised.
Add a pinch of sea salt and stir.
Pour into sterilised jars and seal.
http://www.covecakedesign.ie/wp-content/uploads/2015/10/IMG_8933-e1444251256499.jpg
1602
1000
Suzanne Brady
http://www.covecakedesign.ie/wp-content/uploads/2019/04/Cove_web.png
Suzanne Brady
2015-10-07 20:52:56
2015-10-07 21:10:00
Caramelised White Chocolate