Vanilla Blueberry Loaf Cake Recipe with Macadamia Coconut Crumble Topping
This vanilla blueberry loaf cake recipe is a quick and easy one to whip up for a teatime treat. I am a huge fan of loaf cakes, they are delicious and casual, with so many flavour variations possible.
The Vanilla Blueberry Loaf Cake Recipe
The recipe is adapted from my classic loaf cake base, which I have used in other recipes such as my Lemon Curd and Violet Loaf Cake or Orange Fennel and Honey Loaf Cake. The addition of a little yogurt to the cake makes it moist, light and not too sweet.
Blueberry was the chosen flavour for this recipe as I have just picked the first few blueberries from my garden. We have one blueberry bush which is incredibly resilient and has produced a lovely little crop for us every summer. I chose a simple combination of vanilla with my garden blueberries for this loaf cake but a little lemon zest would also work well. I have also added some dessicated coconut to marry with the flavour of the topping. This is however optional.
The topping came about by a little bit of a happy accident. I had been making a macadamia coconut crumble while testing a layer cake recipe. With some left over I decided to add it to my vanilla blueberry loaf as a topping. I love how it adds that little bit of a sweet crunch to the cake.
Serving and Storing
This vanilla blueberry loaf cake is delicious eaten on its own with a cup of your favourite tea. It can also be served with a dollop of yogurt. The cake keeps well at room temperature in an airtight container for 2-3 days.
I hope you enjoy this cake, do tag us on social media @covecakedesign with your creations!
Suzanne x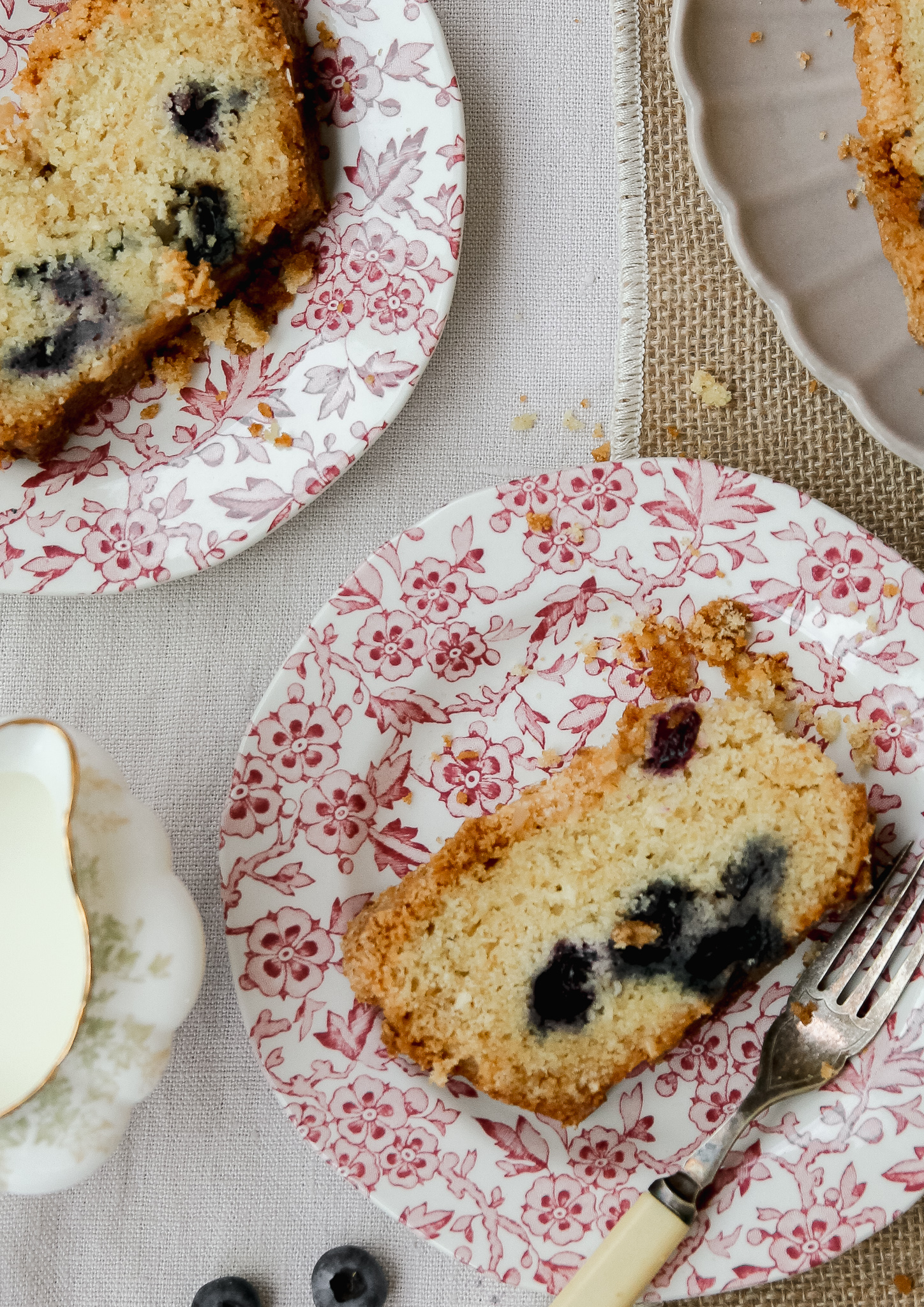 Vanilla Blueberry Loaf Cake with Macadamia Coconut Crumble
Ingredients:
For the cake
190g (7oz) unsalted butter
190g (7oz) golden caster sugar
1tsp vanilla bean paste
3 medium eggs
190g (7oz) plain flour
1.5tsp baking powder
Pinch salt
25g (1oz) dessicated coconut (optional)
25g (1oz) whole milk yogurt
75g (2.5oz) blueberries
For the crumble topping
25g (1oz) finely chopped macadamia nuts
15g (0.5oz) dessicated coconut
40g (1.5oz) golden caster sugar
20g (0.5oz) unsalted butter
Method:
Preheat the oven (fan) to 160⁰C/320F. Grease the base and sides of a 450g/1lb silicone loaf mould or tin. If you are using a tin also line the sides and base with baking paper

To make the crumble topping: 

place all of the ingredients into a bowl. Roughly rub the butter into the dry ingredients, leaving some lumps.

To make the cake:

sift together the flour, baking powder and salt into a bowl. Place the blueberries in another small bowl and sprinkle with a tablespoon or two of flour and stir to coat.
Cream together the butter, sugar and vanilla bean paste in the bowl of a stand mixer with the paddle attachment until pale and light. Scrape down the sides intermittently.
Turn the mixer down and add one egg and a tablespoon of the flour mixture. Mix on low before turning up the speed and mixing well. Repeat with the remaining eggs, adding one tablespoon of flour with each addition.
Add the rest of the flour mixture and mix on low until just combined.
Add the yogurt and dessicated coconut and mix on low until just combined.
Scrape the mixture into the prepared mould or tin. Lightly press the blueberries into the cake mixture. Sprinkle over as much of the crumble topping as desired.
Place the cake in the oven and bake for 50-60 mins before checking. Insert a skewer into the centre. If it comes out clean and the cake is springy on the surface it is cooked. If not then return to the oven and check at 10min intervals until cooked.
Leave to cool for 10-15mins in the tin before removing.
https://www.covecakedesign.ie/wp-content/uploads/2023/07/Vanilla-Blueberry-Loaf-1-of-1.jpg
2048
1448
Suzanne Brady
https://www.covecakedesign.ie/wp-content/uploads/2019/04/Cove_web.png
Suzanne Brady
2023-07-10 08:05:11
2023-07-10 08:15:37
Vanilla Blueberry Loaf Cake Recipe