Carrot Cake with Orange, Walnut and Thyme Caramel Recipe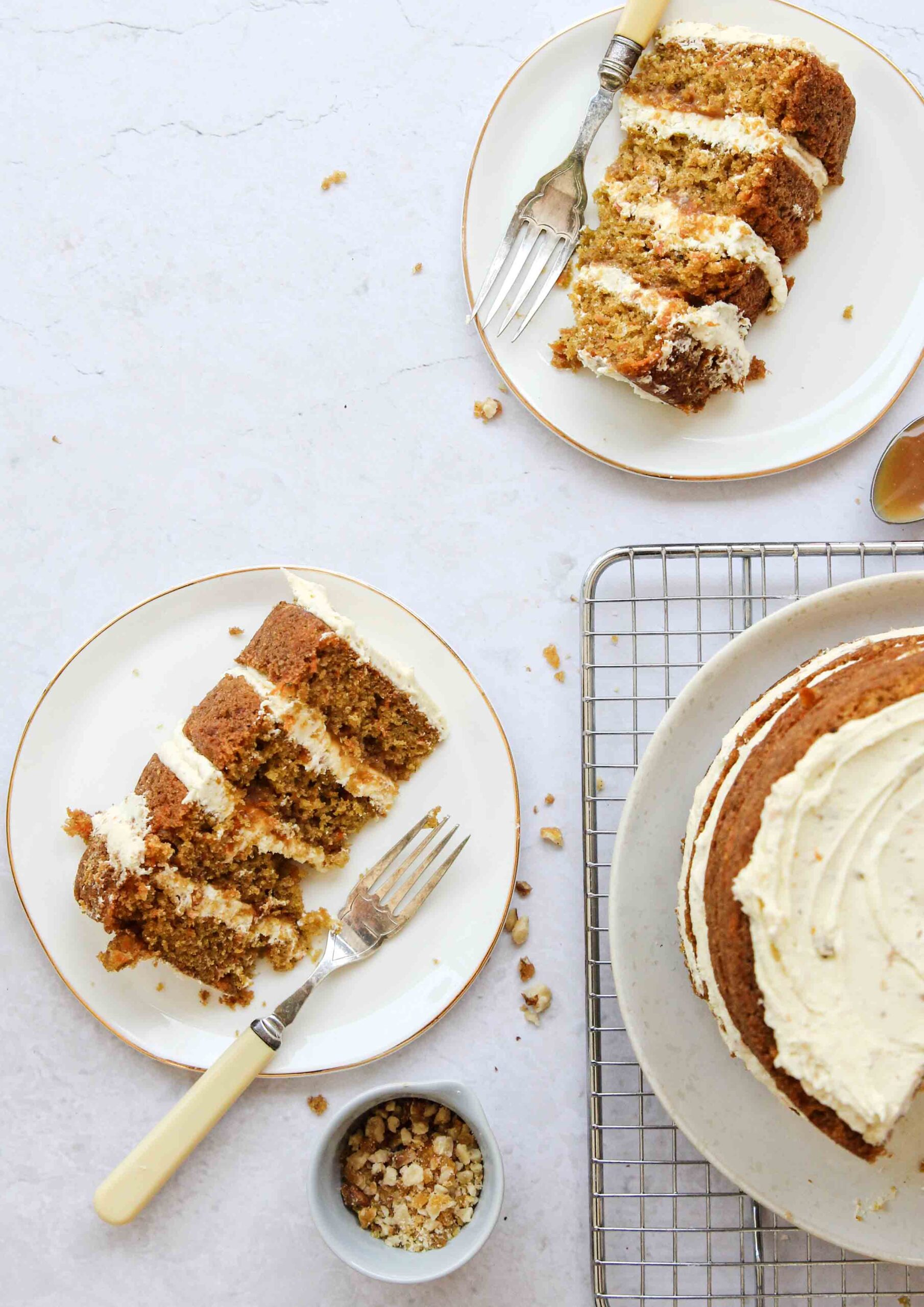 Carrot Cake Recipe
Carrot cake is a definite classic and a flavour that I adore. We actually had carrot cake as one of the tiers in our wedding cake many years ago. Despite my love for carrot cake, I haven't actually made it for a long time. I was delighted to revisit it recently however in the creation of this comforting layer cake recipe which I am so pleased to share with you. 
The Carrot Cake
This carrot cake recipe is one that I had been testing out for my ebook, Layer Cakes The Essential Collection. It didn't however make the final edit as the book was focused on cakes that can be cut neatly into finger portions, something which is required for wedding and celebration cakes. Carrot cake recipes like this one tend to be a little crumbly due to their oil based structure and grated carrot pieces. This cake is hence not particularly suited to cutting into neat finger slices, but is however especially delicious and very much worth sharing!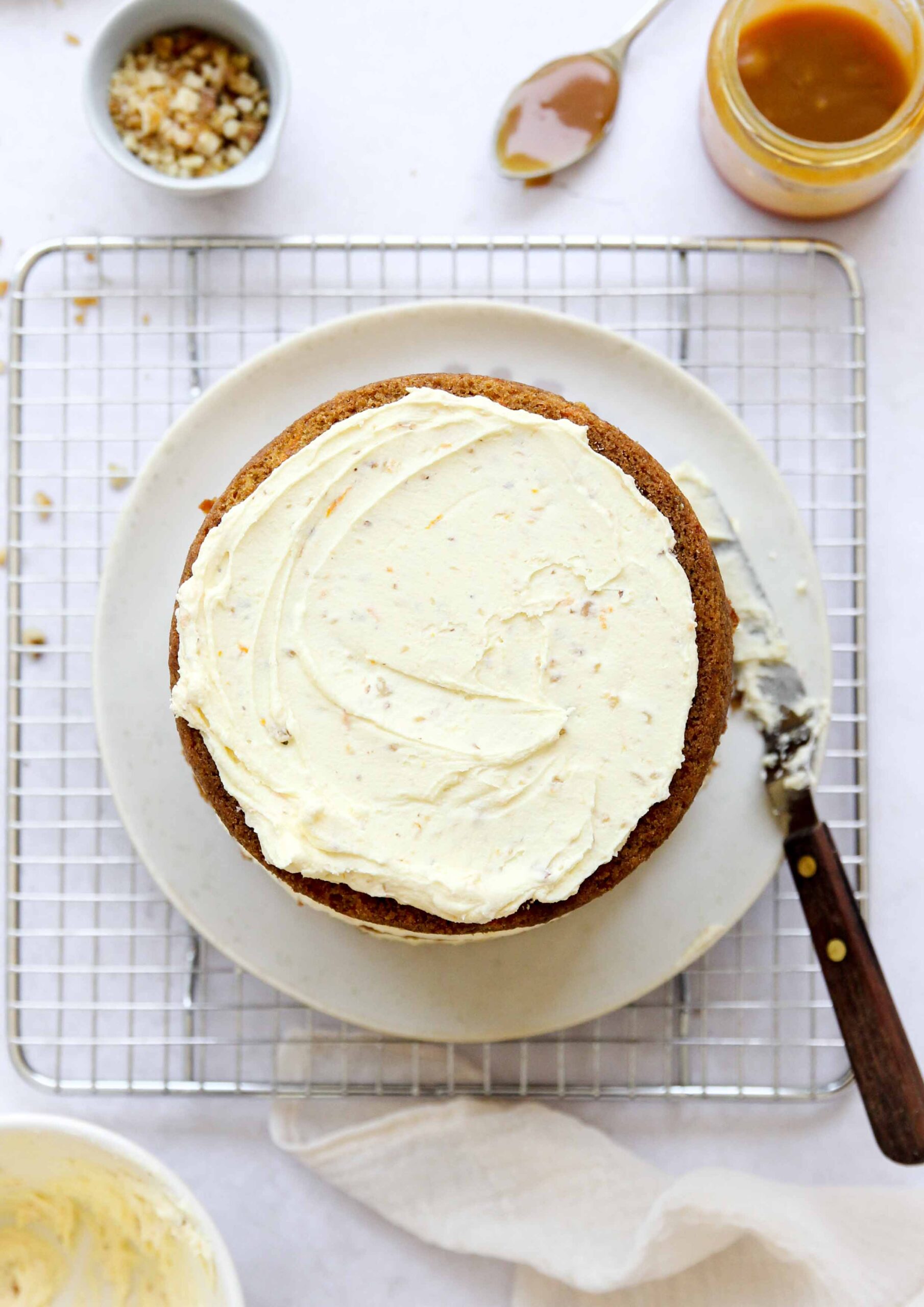 The Carrot Cake Details
This is a traditional carrot cake recipe with oil, brown sugar and aromatic spices such as cardamom and cinnamon. I have paired the cake with an orange and walnut praline buttercream and delicious thyme caramel. The thyme caramel is my favourite element in the recipe, adding a little bit of a decadent flavour twist.  I love using herbs in baking.  Thyme is the perfect partner for carrots in savoury dishes, and translates equally well as a pairing for a cake. You may have a little extra caramel from the quantity in the recipe which can be drizzled over the top or served in a jug with the cake.
Feel free to make your own variations too, other nuts such as pecan or pistachio would make great substitutions for the walnut for example. I have specified baking in two 6″ tins and cutting each layer in half horizontally to create a 4 layer cake, you could also bake in two 8″ tins for a 2 layer cake.
I hope you enjoy this cake, do tag us on social media @covecakedesign with your creations!
Suzanne x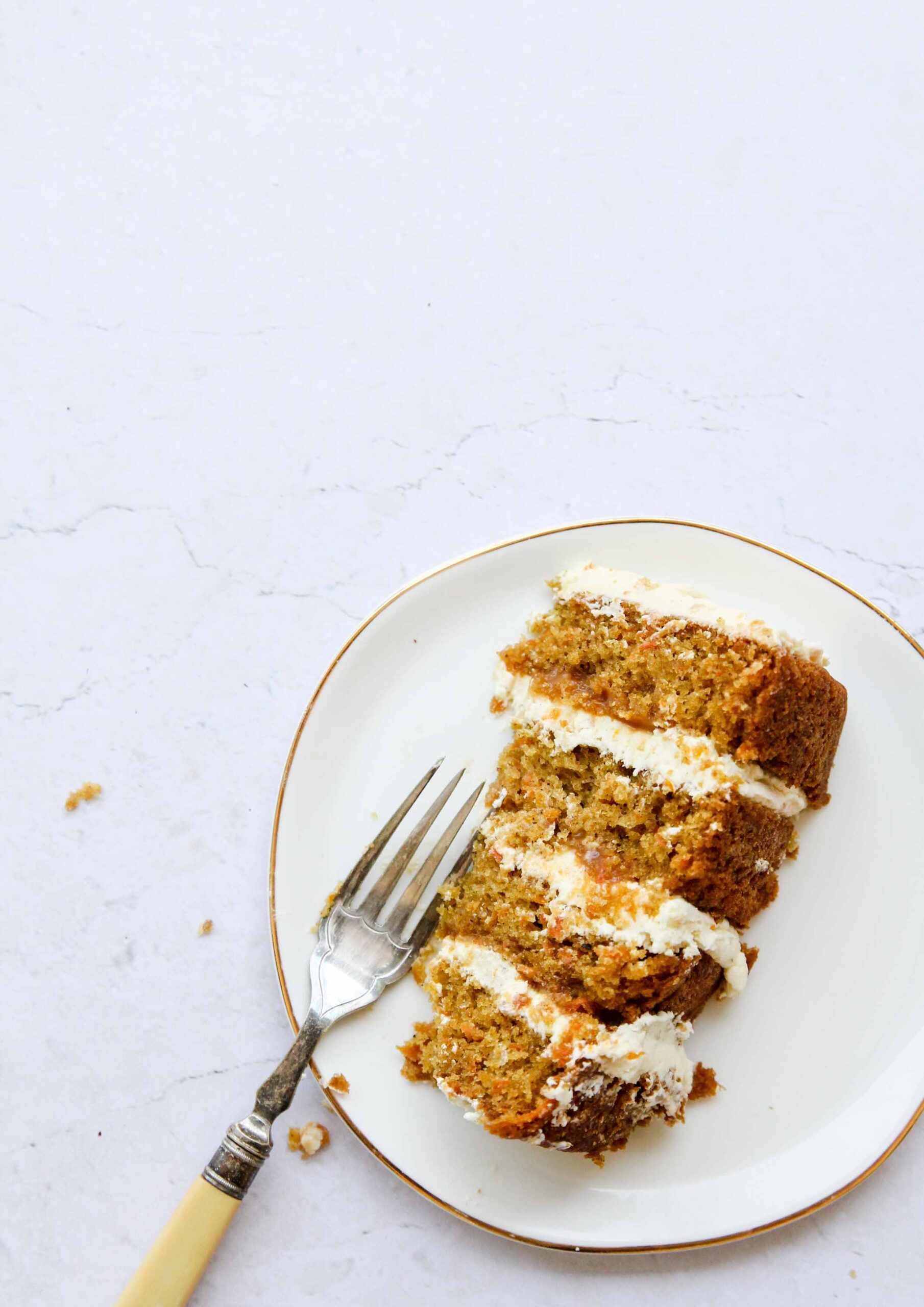 Carrot Cake with Orange, Walnut and Thyme Caramel
Ingredients for the Cake:
300g self-raising flour

3 eggs

100g caster sugar

100g light soft brown sugar

185ml rapeseed (or other) oil

2tsp baking powder

2tsp bicarbonate soda

Pinch salt

300g grated carrot

2tsp vanilla

1tsp ground cinnamon

1tsp mixed spice

1tsp ground cardamom

Grated zest of one orange (optional)
1tsp freshly chopped thyme (optional)
Ingredients for Thyme Caramel:
75ml cream
100g caster sugar
50g cold unsalted butter
Few sprigs fresh thyme
Pinch salt
Ingredients for the Walnut Praline
50g walnuts
50g caster sugar
Ingredients for the Buttercream Icing
300g icing sugar
175g unsalted butter, room temperature
Finely grated zest of one orange
Method:
Preheat the oven to 150⁰C/300F. Grease and line the base and sides of two 15cm/6" cake tins. 

To make the cake,

whisk together the eggs, sugars, oil and vanilla in a large bowl or in the bowl of an electric mixer. Add the grated carrot, orange and chopped thyme (if using) and mix to combine.

Sift together the flour, baking powder, bicarbonate soda, salt and spices into a separate bowl. 

Slowly add the flour mixture to the egg and sugar mixture and mix to combine. 

Divide the batter evenly between the two tins. 

Bake for approximately 40-45 mins until springy to the touch and a skewer inserted into the centre comes out clean. Leave to cool in the tin for 10 mins before turning out onto a wire rack to cool completely. Wrap in cling film and leave for at least a few hours or overnight before filling.

To make the thyme caramel

, h

eat the cream gently in a small saucepan and add the thyme, leaving to infuse.
Put the sugar into a larger saucepan and heat on med–high until sugar starts dissolves and turns a golden caramel colour, swirling to ensure it is even.
Remove from the heat and add in the butter a little bit at a time and stir until smooth (it will sizzle a bit when butter added).
Slowly strain the heated cream into the caramel (take care as it sizzles) and stir again until smooth. Add the salt and stir.
Pour the caramel into a small jar. You can put a fresh sprig of thyme in the jar to infuse further, remove before use.
To make the walnut praline, toast the nuts for 8–10 minutes until golden. Chop finely.
Heat the sugar in a saucepan over a medium heat until dissolved. Swirl gently but do not stir. Continue to heat gently until the sugar has turned to a caramel colour. Remove from the heat, add the nuts and stir with a spatula to coat.
Quickly scrape out onto a piece of baking paper and leave to cool.
Break up the praline in a small blender or pestle and mortar.
To make the buttercream icing, place all ingredients in the bowl of an electric mixer and beat with the paddle attachment for 8–10 minutes, scraping down intermittently, until light and fluffy. Add the walnut praline (you may not need all of it) and mix to combine.
To assemble the cake, trim the tops of each cake and cut in half horizontally. Place the base cake layer on a board or plate. Spread approximately 1/4 of the buttercream icing on top of the first cake layer and drizzle over the thyme caramel. Place the next cake layer on top and add a layer of buttercream and thyme caramel. Repeat for remaining cake layers, finishing with a layer of buttercream icing. Drizzle caramel over the top or serve the additional caramel in a jug.
https://www.covecakedesign.ie/wp-content/uploads/2021/03/20200528-20200528-IMG_1231-scaled-e1615187077399.jpg
1273
900
Suzanne Brady
https://www.covecakedesign.ie/wp-content/uploads/2019/04/Cove_web.png
Suzanne Brady
2021-03-16 19:59:31
2021-04-20 10:02:12
Carrot Cake with Orange, Walnut and Thyme Caramel Recipe