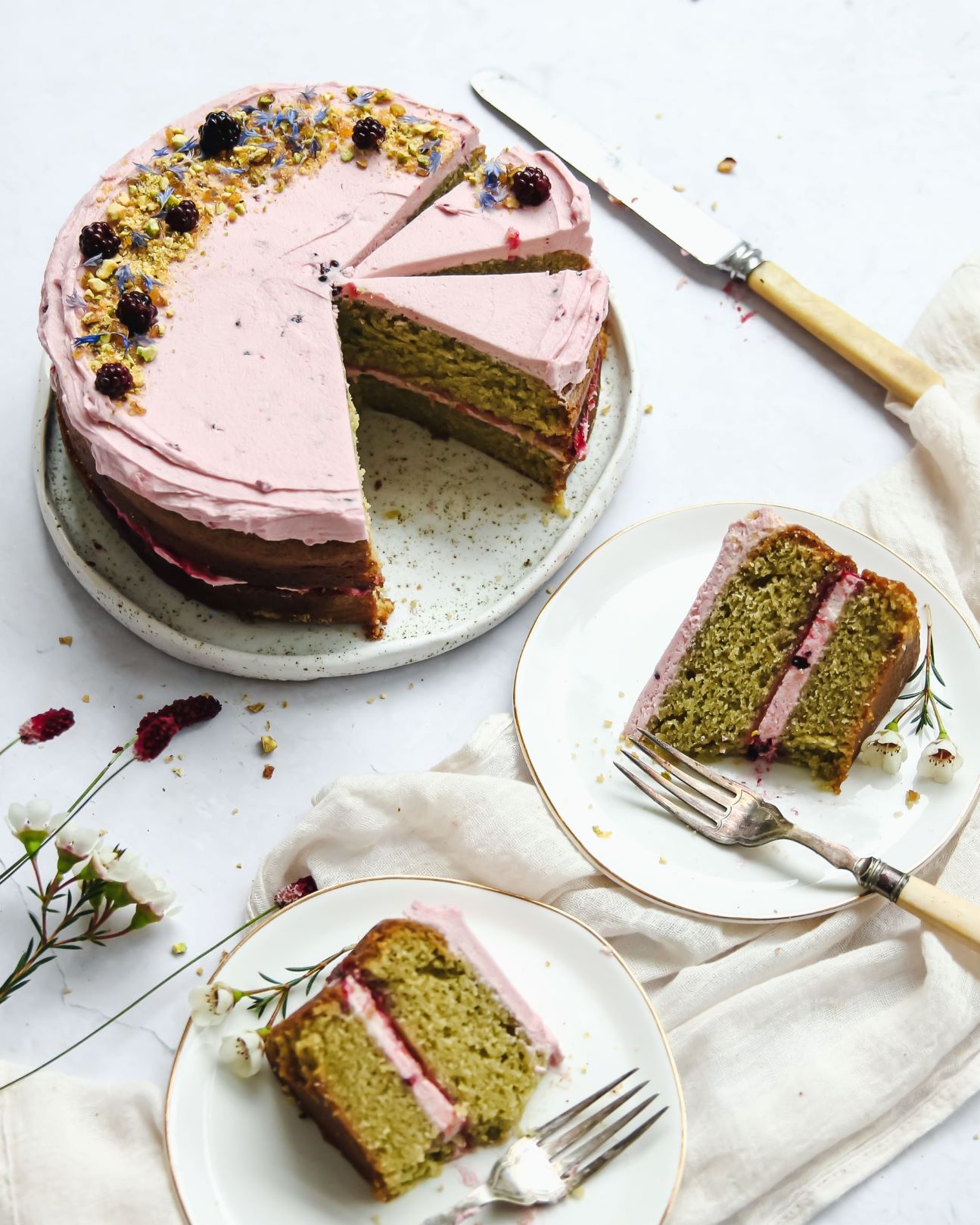 The Flavours
My latest recipe, matcha white chocolate cake, lemon curd, blackberry buttercream and blackberry thyme jam was inspired by seasonal availability and, admittedly, what was present in my kitchen at the time of writing!
Blackberry season is synomynous with the arrival of Autumn here in Ireland. These gorgeous berries grow abundantly in hedgerows in rural and indeed urban areas…free delicacies that have such a short but blissful season. This year's crop has been particularly good thanks to a sunny August with not too much rain. A bumper picking expedition with the family in late August gave me a fridge filled with blackberries which we used to make various sweet and savoury dishes. Jam-making was a must, and as a change from my regular blackberry jam I added a little thyme from my garden, in keeping with my love of using herbs in sweet recipes.
At the same time as I was making blackberry jam, I had leftover lemon curd in my fridge. Blackberry jam and lemon curd was a combination which obviously called for a cake to be made! I decided to pair these with a matcha white chocolate cake for various reasons, firstly due to a minor obsession with all things matcha since visiting Japan several years ago. I think the earthiness of matcha is a wonderful contrast for the sweetness of a white chocolate cake. And both are known to go well with berry and lemon flavours. And so the flavour combination was born!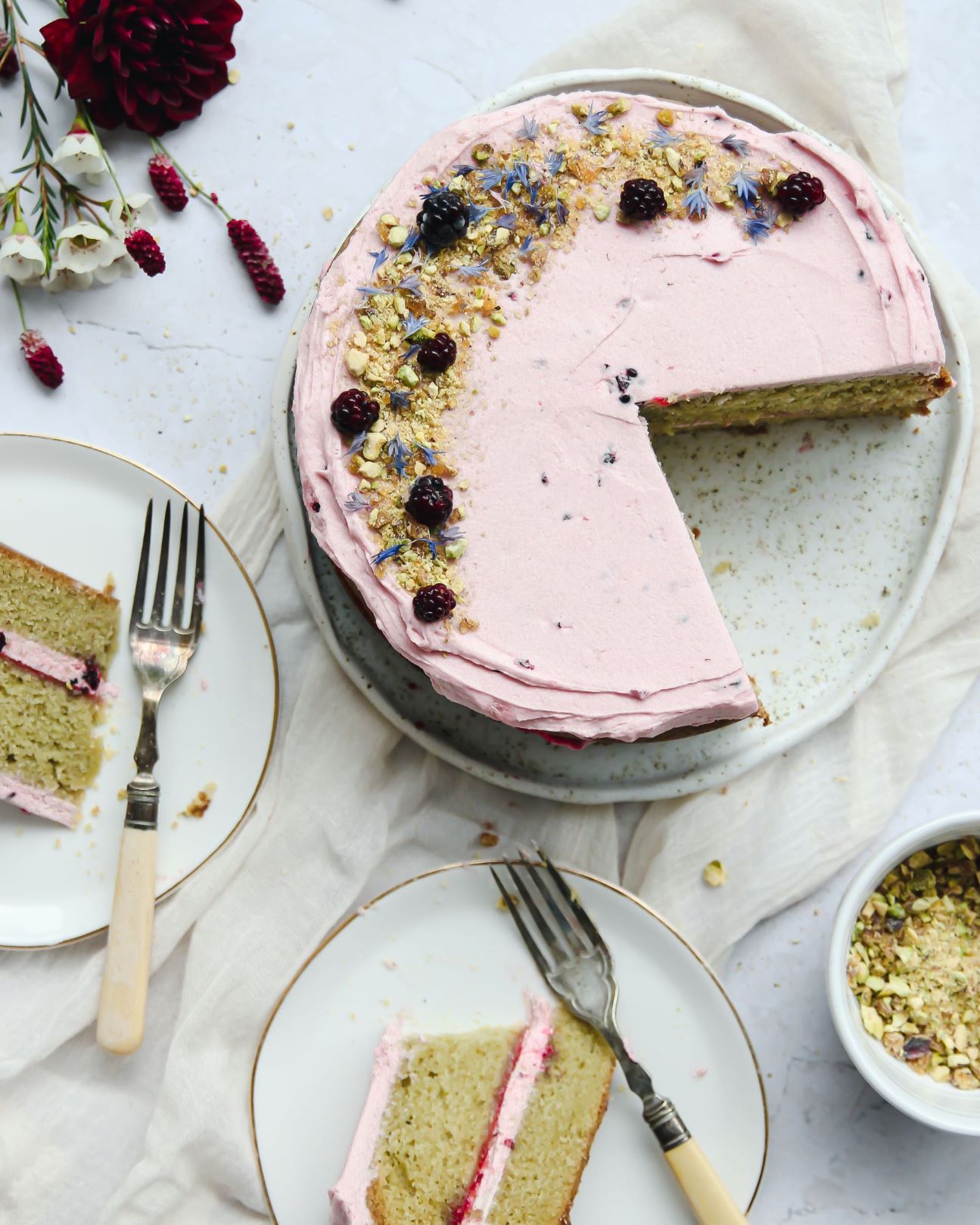 The Recipe
This matcha white chocolate cake recipe is adapted from a white chocolate mud cake recipe that is a staple in my repertoire, and which I use as a base for various white chocolate cake flavour combinations. Care must be taken with mud cakes to ensure that the cake is fully cooked, so do use a skewer when testing.
I have made this cake in a quantity that gives two generous 8″ layers. It is quite a rich cake so unless you have a crowd you could always half the quantity and bake in two 6″ tins for a smaller cake.
I have made the lemon curd and blackberry jam using the recipes given here. If making fillings from scratch is not your thing, then by all means feel free to use good quality shop-bought versions. The quantities here will give you more curd and jam than you need for the cake itself, but you can of course use leftovers on everything from toast to desserts.
This cake is of the rustic variety. I have filled with curd, jam and buttercream to my liking but feel free to use more or less of each filling. You could also decorate this cake more formally if you wish.
I shared this cake with friends at an early Autumn dinner party and it went down a treat, I hope you like it too! (And don't forget to tag your bakes on social media, @covecakedesign #bakingwithcovecakedesign, for me to share!)
Happy Baking!
Suzanne x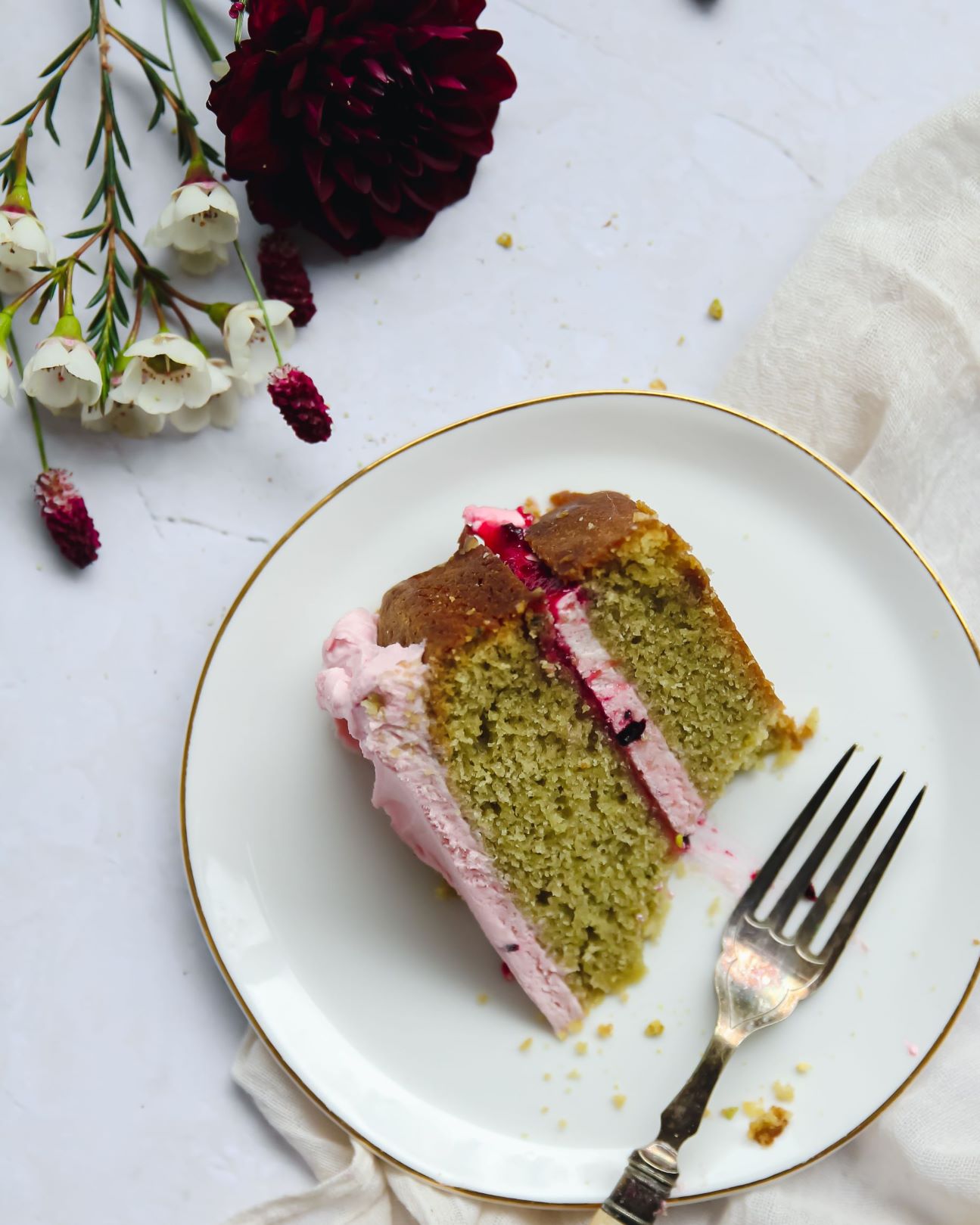 Matcha White Chocolate Cake, Lemon Curd, Blackberry Buttercream and Blackberry Thyme Jam
Ingredients for the Matcha White Chocolate Cake:
300g white chocolate
250ml whole milk
2tsp good quality matcha powder
230g unsalted butter
2 large eggs
200g caster sugar
315g self-raising flour
1tsp vanilla bean paste
Pinch salt
Ingredients for Lemon Curd:
40g unsalted butter
100g caster sugar
Juice and zest 2 lemons
1 egg and 2 egg yolks
Ingredients for the Blackberry Thyme Jam:
1kg fresh seasonal raspberries or blackberries
1kg sugar
Juice of 1 lemon
5g butter
1-2tsp chopped fresh thyme
Ingredients for the Blackberry Buttercream Icing:
400g icing sugar
200g unsalted butter
2-3tbsp blackberry and thyme jam
Crushed pistachios, fresh blackberries to decorate (optional)
Method:
Preheat the oven to 150⁰C/300F. Grease and line the base and sides of two 20cm/8" cake tins.
To make the matcha white chocolate cake: sift together the flour and salt into the bowl of an electric mixer. Add the sugar and mix again.
Place the matcha powder in a small cup and add a teaspoon or two of hot water and stir to form a paste. Add a little of the recipe milk to the matcha paste, stirring again to loosen and create a 'matcha milk'.
Put the white chocolate, matcha milk, remaining milk and butter in a saucepan over a medium heat. Heat gently, stirring, until melted to a uniform mixture. Leave to cool slightly before beating in the eggs and vanilla.
With the mixer on low, slowly pour about ⅓ of the chocolate mixture into the flour mixture. Increase speed and mix until no lumps remain. Add the remaining chocolate mixture in thirds, scraping down and mixing after each addition.
Divide the mixture between the two prepared tins and bake for 40–50 minutes until well risen and a skewer inserted into centre of the cake comes out clean.
Leave to cool in the tin before turning out onto a wire rack to cool completely. Wrap in cling film and leave for at least a few hours or overnight before filling.
For the lemon curd (or use shop bought): Place the butter, sugar, lemon zest and juice in a bowl over a pan of simmering water on a medium heat and stir until butter is melted and sugar dissolved.  Add the egg, egg yolks and lemon zest and stir for 5–10 minutes until the mixture coats the back of the spoon. Pour into a sterilised jar and leave to cool.
For the blackberry thyme jam (or use shop bought): Clean the blackberries on some damp kitchen paper and place with the sugar, thyme and lemon juice in a large saucepan over a medium heat. Heat, stirring occasionally, until the sugar dissolves. Increase the heat and bring to the boil for 10 minutes. Remove from the heat and test for setting point. Repeat until the jam has set. Remove from the heat and add the butter to disperse any scum. Pour into a sterilised jar and leave to cool.
For the blackberry buttercream: Place all ingredients in the bowl of an electric mixer and beat with the paddle attachment for 8–10 minutes, scraping down intermittently, until light and fluffy.
To assemble the cake: Trim the tops from the cakes. Spread a little lemon curd on the top of one cake layer. Add a layer of blackberry buttercream followed by blackberry thyme jam. Invert the second cake on top. Spread the remaining buttercream on top. Decorate with fresh blackberries, edible flowers, nut praline or even more curd or jam.