Almond Cake Recipe with Plum and Sweet Geranium Jam and Vanilla Bean Swiss Meringue Buttercream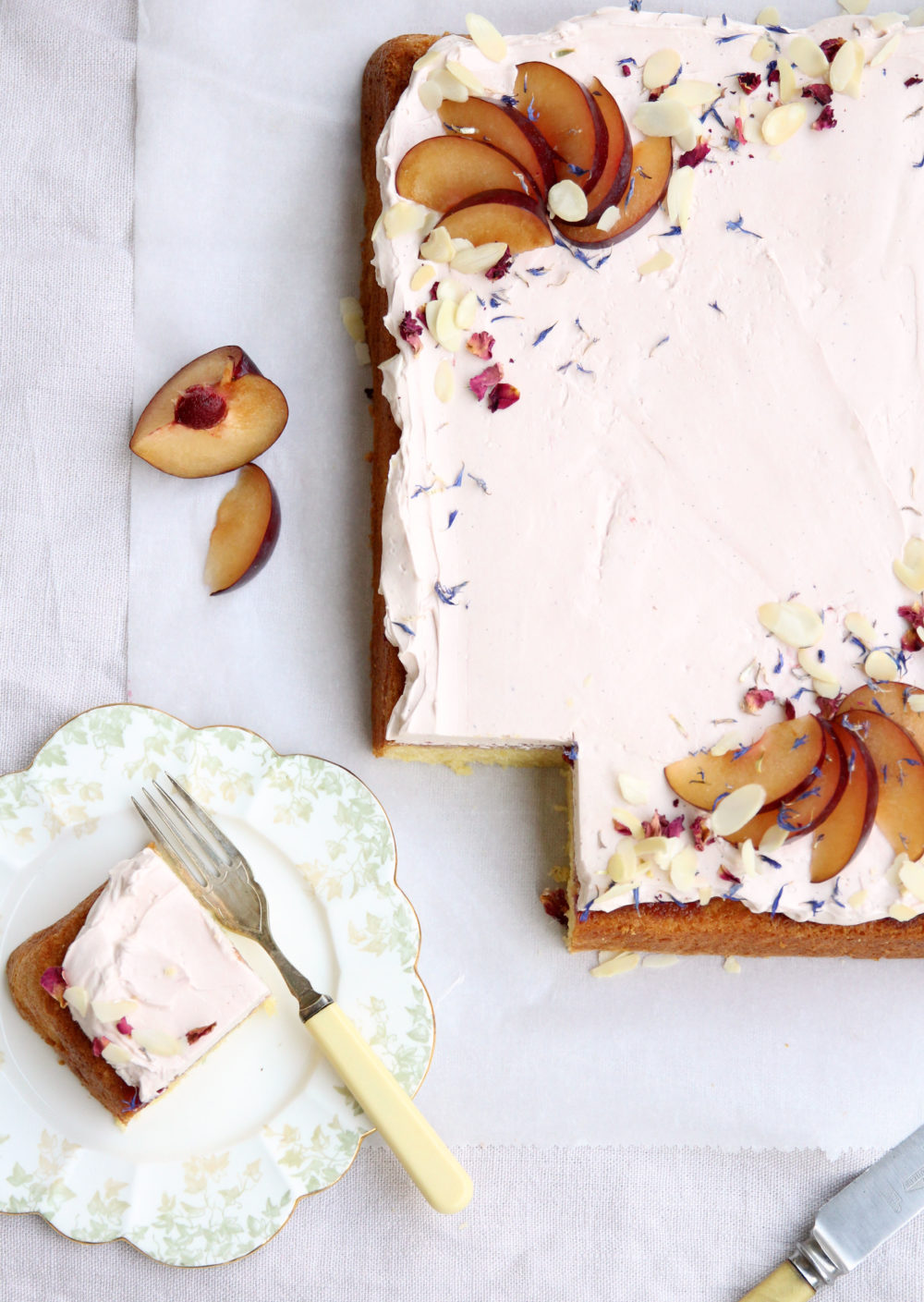 The Flavours
I only recently discovered scented rose geranium as a baking ingredient, having bought some at our local farmer's market. While not the pretties of leaves, it releases a wonderfully delicate rose scented flavour simply by rubbing  to release the oils. It can be used in sweet dishes in a variety of ways, for example by infusing sugar to use in baking and desserts in place of normal sugar, or in scented syrups or jams. It pairs well with citrus flavours, fruits and spices.  I choose to use my geranium in a jam with plums, which happened to be in season at the time of late Autumn. It is quite possibly the best jam I have ever made! While we have been using it on toast and scones for several weeks, I finally satisfied my original intention of using it as a cake filling by creating this delicious recipe for Almond Cake with Plum and Geranium Jam and Vanilla Bean Swiss Meringue Buttercream.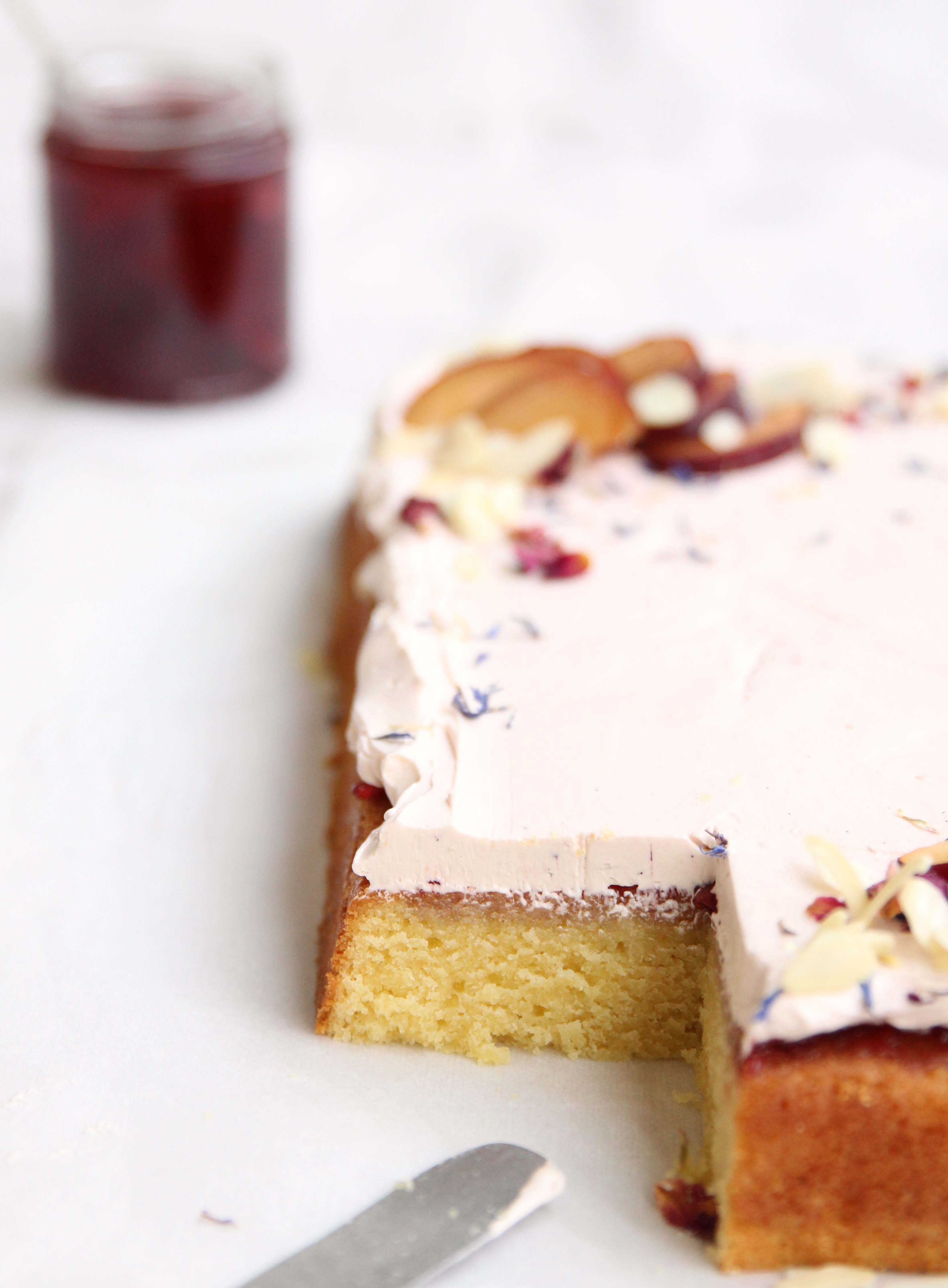 The Almond Cake
I chose to make this as a tray or sheet cake. I will tell no lies, I was in a bit of a rush and didn't have the time to consider layering and icing in my usual way. And actually I quite like the informality of a tray cake; it is easy to cut and serve for a casual teatime treat! The large surface is a perfect canvas for decorative prettiness too!
The almond cake is particularly dense and moist, and is a classic pairing with the plum jam. The sweet geranium in the jam adds just the right amount of floral fragrance.  I used quite a few geranium leaves but feel free to adjust this flavour to your preference.  You could also try making the jam with geranium-infused sugar, rather than the chopped leaves I have used here, although this would take a little more forward-planning. I chose a vanilla Swiss meringue buttercream for a simple, light and complimentary flavour.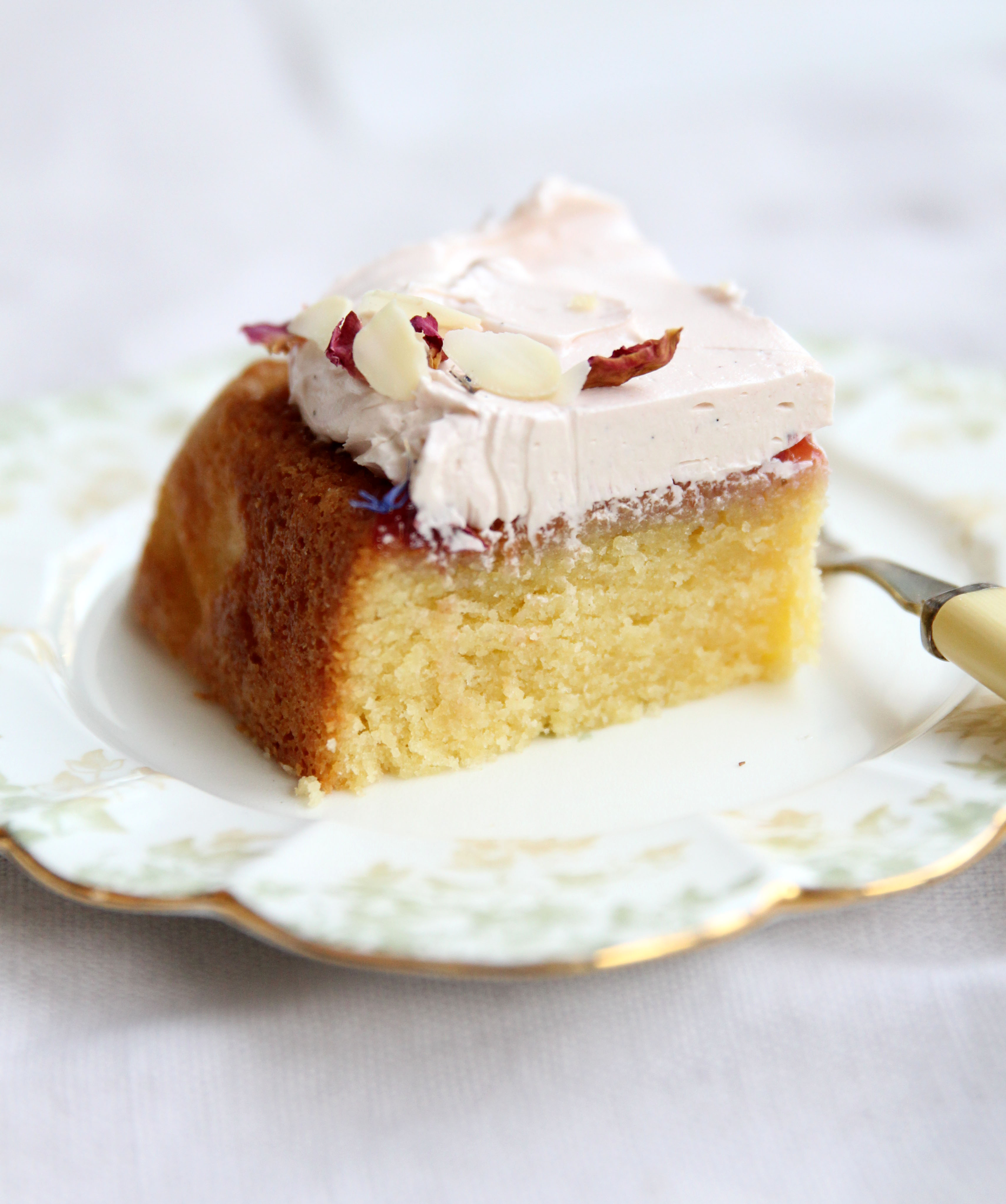 Plum Jam
The quantities for the jam makes much more than you need, but store in sealed sterilised jars and use it in other bakes, or simply enjoy on your favourite toast, croissant or scone! If you can't find geranium or seasonal plums, this cake and buttercream recipe works well with other similar fruity floral combinations, try shop bought raspberry jam with a little rosewater added for an even quicker but equally delicious cake.
Swiss Meringue Buttercream
Similarly the Swiss meringue buttercream makes more than required. However as this is a more labour-intensive buttercream than the straightforward recipe of mixing icing sugar and butter, I always go for the larger quantity and freeze leftover icing for my next bake. You can of course halve the quantities if you don't envisage using it again in the foreseeable future.
Enjoy!
I was delighted to donate this bake to my local community Crosscare cafe, which offers hot meals and a warm and friendly environment for those in need. Spread love with cake!
Happy baking!
Suzanne x
Almond Cake with Plum and Sweet Geranium Jam and Vanilla Bean Swiss Meringue Buttercream
Ingredients for the cake:
400g unsalted butter
400g caster sugar
6 eggs
100g plain flour
250g ground almonds
Pinch salt
Few drops almond essence (optional)
4-6tbsp milk
Ingredients for Plum Jam:
900g plums (washed, dried, stoned and sliced)
700g caster sugar
5-6 large sweet geranium leaves, finely chopped
Juice one lemon
Ingredients for the Vanilla Swiss Meringue Buttercream:
300g fresh egg whites (about 10 eggs)
500g caster sugar
680g unsalted butter, cool but not cold
seeds 1 vanilla pod
pinch salt
pink paste food colouring (optional)
For decoration (optional):
Sliced plums
Dried edible flower petals (rose and cornflower)
Toasted flaked almonds
Method:
To make the jam, place the plums in a large pan with 250ml water. Cover, bring to the boil and then reduce the heat and simmer for about 20mins until the plums are soft.
Remove the lid and add the sugar, sweet geranium and lemon juice. Simmer on a medium heat until the jam is reduced down and has reached setting point (you can test this by placing a spoonful on a cold plate in the fridge for a few minutes. It should form a skin when you push it with your finger).
Remove from the heat and pour into clean sterilised jars and seal immediately. Leave to cool.
To make the cake, preheat the oven to 160°C/320F.  Grease and line a 9″x 12″ baking tray that is approximately 1.5″ deep (or similar size) with baking parchment.
Cream together the butter, sugar and almond essence in a mixer until pale.
Sift together the flour and salt into another bowl.
Add the eggs one at a time into the butter sugar mixture, beating well after each addition.
Add in the flour mixture and mix on low speed until combined.
Add the ground almonds and mix again.
Finally add milk and mix to achieve a dropping consistency.
Pour the mixture into the tin and bake for 35-45 mins until the top of the cake is firm to the touch and a skewer inserted into the centre comes out clean.
Remove the cake from the tin after 10-15mins and leave to cool completely on a wire rack.
To make the icing: Clean the bowl and whisk of an electric mixer with a squeeze of lemon juice and dry with paper towel to remove any traces of grease.
Place the egg white and sugar into the bowl and place over a pot of simmering water, whisking constantly, until the temperature reaches 160°F on a candy thermometer. If you don't have a thermometer, whisk until the sugar has completely dissolved and the egg whites are hot.
Transfer the bowl to the mixer and using the whisk attachment whisk until the meringue is thick and glossy and the bottom of the bowl feels neutral to the touch.
Switch to paddle attachment and with mixer on low speed add the butter a cube at a time, mixing until incorporated after each addition. If the mixture curdles continue to mix until it comes back together. Add the vanilla seeds and salt and food paste colouring as desired.
If the buttercream is too runny, refrigerate until firmer and mix again before using.
To assemble the cake, when cool cover the cake generously with plum jam followed by a thick layer of delicious buttercream. Scatter with plum slices, flaked almonds and dried flower petals. Serve with a cup of tea!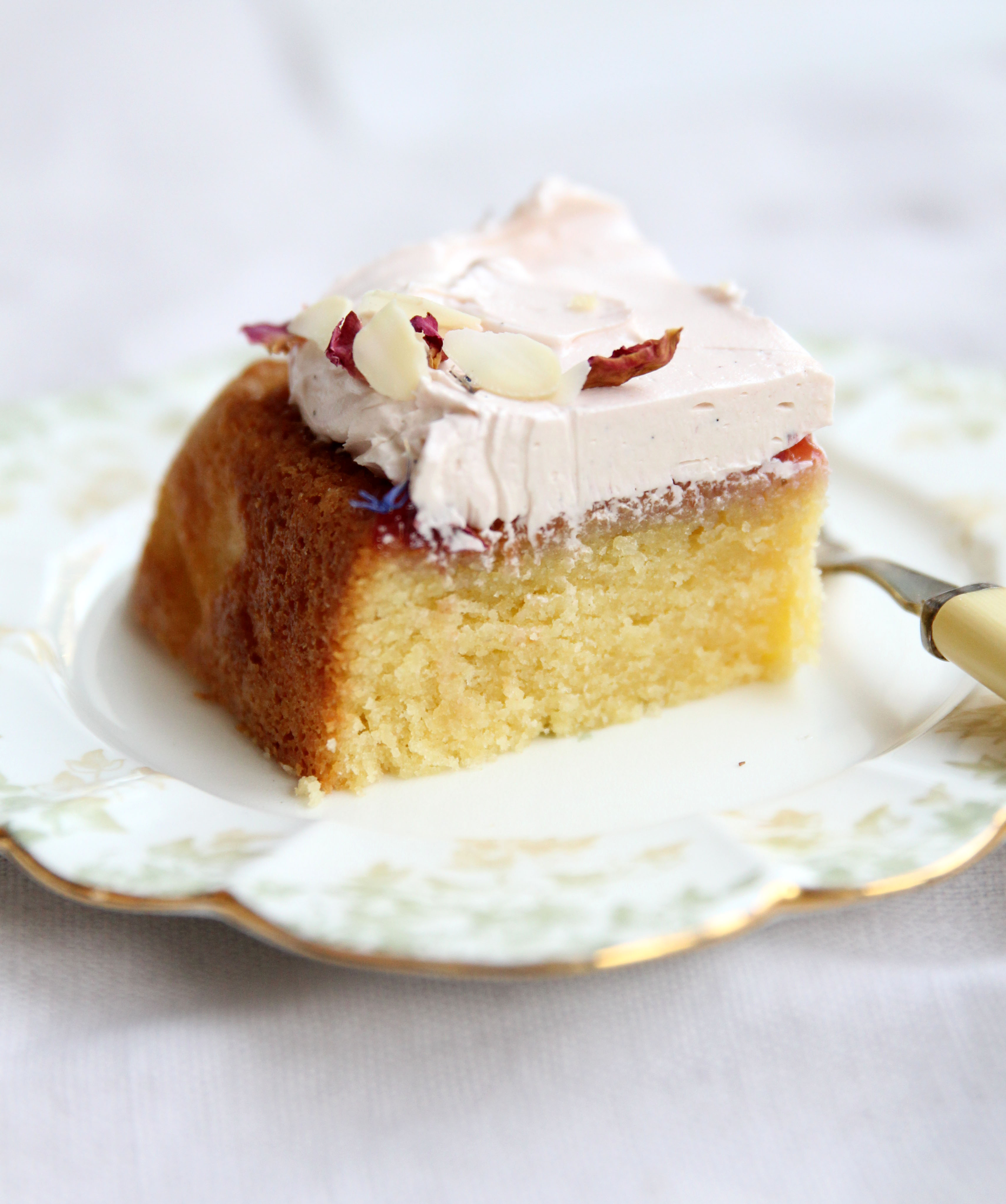 https://www.covecakedesign.ie/wp-content/uploads/2019/12/IMG_0298_edited-2-e1575897845469.jpg
1409
1000
Suzanne Brady
https://www.covecakedesign.ie/wp-content/uploads/2019/04/Cove_web.png
Suzanne Brady
2019-12-07 19:57:56
2021-04-20 10:02:17
Almond Cake Recipe with Plum and Sweet Geranium Jam and Vanilla Bean Swiss Meringue Buttercream