Chocolate Cranberry and Chestnut Cake Recipe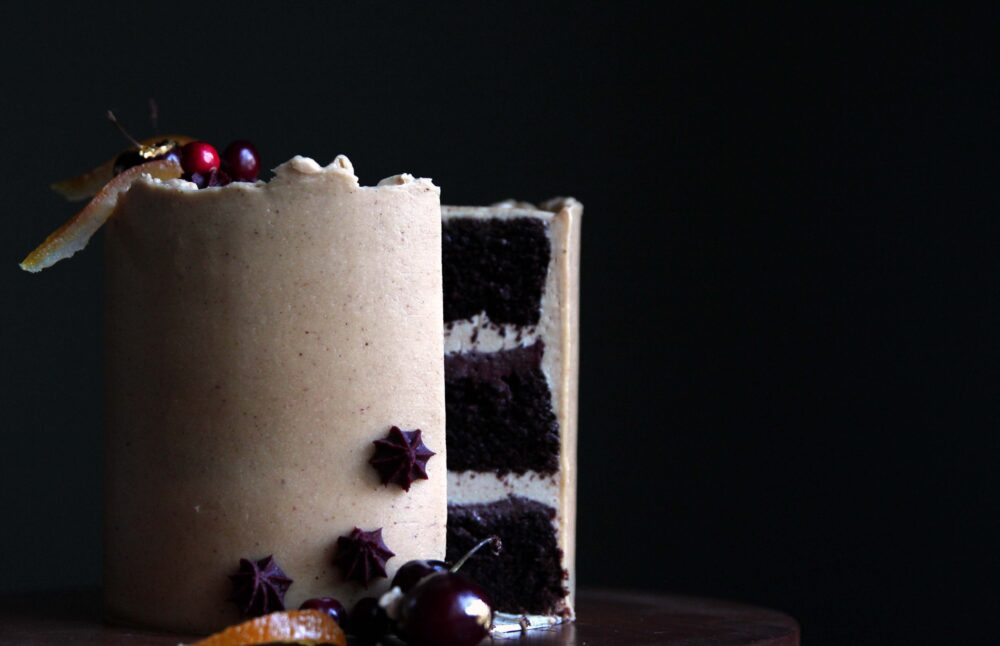 The Chocolate Cranberry and Chestnut Cake Recipe
I am always a little indecisive about what to make for a Christmas dessert, but generally come to the conclusion that a centrepiece cake can never go amiss!  I have hence been experimenting with some traditional seasonal flavours and am delighted with this resulting Chocolate Chestnut and Cranberry layer cake recipe.
Chocolate Cake
The chocolate cake is light and moist and is adapted slightly from a recipe in Tessa Huff's fabulous cake book, Layered. The lightness of this chocolate cake gives the perfect balance to the rich bitterness of the cranberry ganache and the sweetness of the chestnut meringue buttercream.
Cranberry Ganache
The cranberry ganache is adapted from a macaron filling recipe by patissier Eddy Van Damme. It is deliciously decadent with a fabulously rich colour. You may not need to use all of this ganache but leftover can be used to fill macarons or frozen for use in a future bake. It would pair well with other flavours too such as cranberry or gingerbread.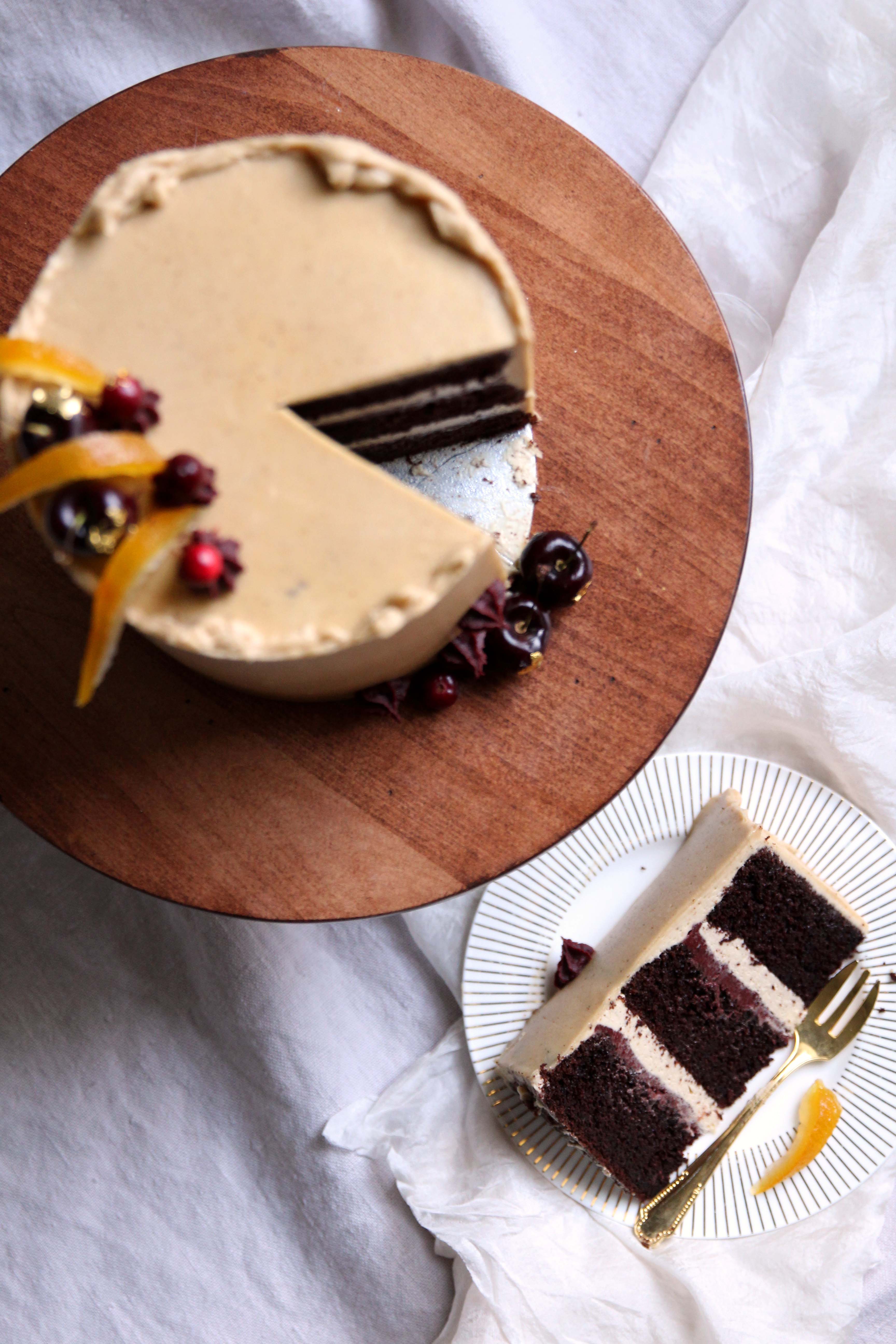 Chestnut Swiss Merginue Buttercream
For the chestnut puree in the swiss meringue buttercream I used the French brand Clement Faugier but others are available in good supermarkets or delis. Leftover puree can be used in a variety of recipes such as with meringues in the classic Mont Blanc dessert, added to cakes or brownies, or made into chocolate chestnut truffles which would actually be a lovely decoration and accompaniment for this cake. I didn't have time to do this but there are recipes available online.
Enjoy!
The cake is rich and decadent and will hence easily serve a crowd of 10-12..just what is needed for the festive season! The cake itself will keep well for 4-5 days wrapped in tightly cling film.  Once filled and iced eat within 2-3 days. I don't think this will be a problem!
Happy baking!
Suzanne x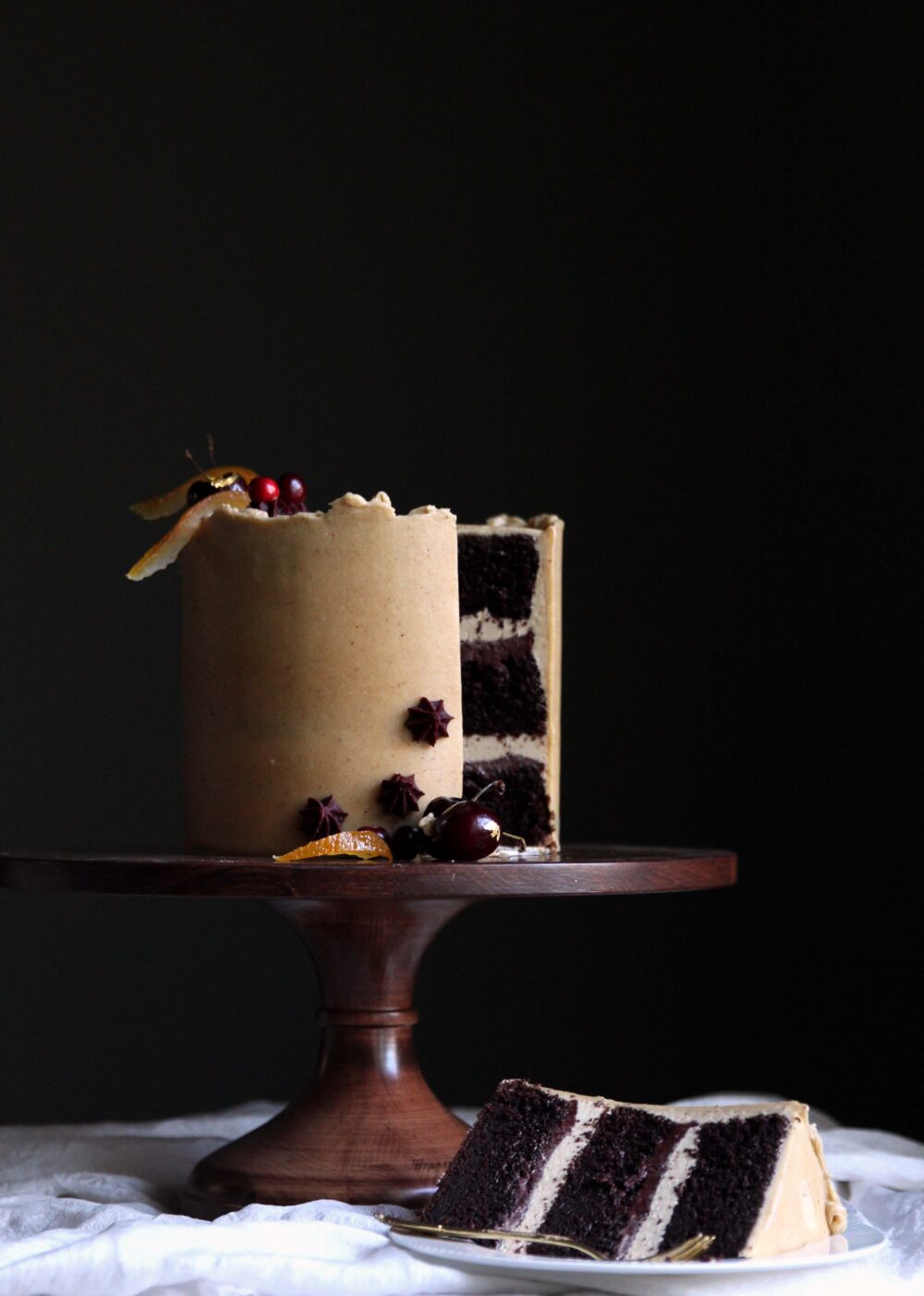 Chocolate Cranberry and Chestnut Cake Recipe
Ingredients for the cake:
235g plain flour
70g best quality cocoa powder
1 1/2 tsp baking powder
1tsp baking soda
1/2 tsp salt
120ml rapeseed or other flavourless oil
300g caster sugar
2 large eggs
1tsp vanilla bean paste
180ml whole milk
240ml strong coffee
Ingredients for Cranberry Ganache:
180g fresh cranberries
120g cream
120g sugar
120g 54.5% dark belgian chocolate
Ingredients for the  Swiss Meringue Buttercream:
150g fresh egg whites (about 5 eggs)
250g caster sugar
240g unsalted butter, cool but not cold
4-5 tbsp tinned sweetened chestnut puree (or more to taste)
pinch salt
For decoration (optional):
Fresh cherries or other seasonal fruits
Method:
To make the cake, preheat the oven to 160°C/320F.  Grease three 7″ round cake tins and line with baking parchment.
Sift together the flour, cocoa powder, baking powder, baking soda and salt into a bowl.
Beat the oil and sugar together in a stand mixer for a few mins until pale. Add the eggs and beat again until combined.
Turn the mixer to low and add the flour mixture in 3 batches, alternating with the milk. Scrape down the bowl and mix again to combine.
Finally with the mixer on low add the coffee and mix until just combined.
Divide the mixture between the tins and bake for 25-30 mins until the top of the cakes are firm to the touch and a skewer inserted into the centre comes out clean.
Remove the cake from the tin after 10-15mins and leave to cool completely on a wire rack.
To make the cranberry ganache: Put the cranberries, cream and sugar into a small saucepan and bring to the boil. Remove from the heat and puree in a blender. Strain back into the pan to remove skin and seeds of the cranberries.
Put the chocolate callets into a bowl.
Bring the cranberry cream mixture back to the boil and then pour over the chocolate mixture. Leave for a few mins to allow the chocolate to melt before stirring to achieve a smooth ganache. Set aside to cool and thicken.
To make the icing: Clean the bowl and whisk of an electric mixer with a squeeze of lemon juice and dry with paper towel to remove any traces of grease.
Place the egg white and sugar into the bowl and place over a pot of simmering water, whisking constantly, until the temperature reaches 160°F on a candy thermometer. If you don't have a thermometer, whisk until the sugar has completely dissolved and the egg whites are hot.
Transfer the bowl to the mixer and using the whisk attachment whisk until the meringue is thick and glossy and the bottom of the bowl feels neutral to the touch.
Switch to paddle attachment and with mixer on low speed add the butter a cube at a time, mixing until incorporated after each addition. If the mixture curdles continue to mix until it comes back together. Add the chestnut puree and salt and mix to combine.
If the buttercream is too runny, refrigerate until firmer and mix again before using.
To assemble the cake, trim the tops of the cooled cakes to level. Fix one cake layer to a cake card or directly onto a cake stand using a small bit of buttercream. Pipe a layer of cranberry ganache on top followed by a layer of the buttercream, smoothing each with a palette knife. Repeat with a second cake layer and another layer of ganache and buttercream. Top with the final cake layer. Refrigerate until firm.
Once the cake has been chilled for at least 30 mins and is firm, crumb coat the cake in a thin layer of buttercream, scraping away any excess. Refrigerate again.
Continue to add layers of buttercream, using a scraper to remove excess until the cake is covered in a smooth layer of buttercream icing.
Decorate as you wish with gilded fruits, sugared cranberries, chocolate truffles or anything else that takes your fancy!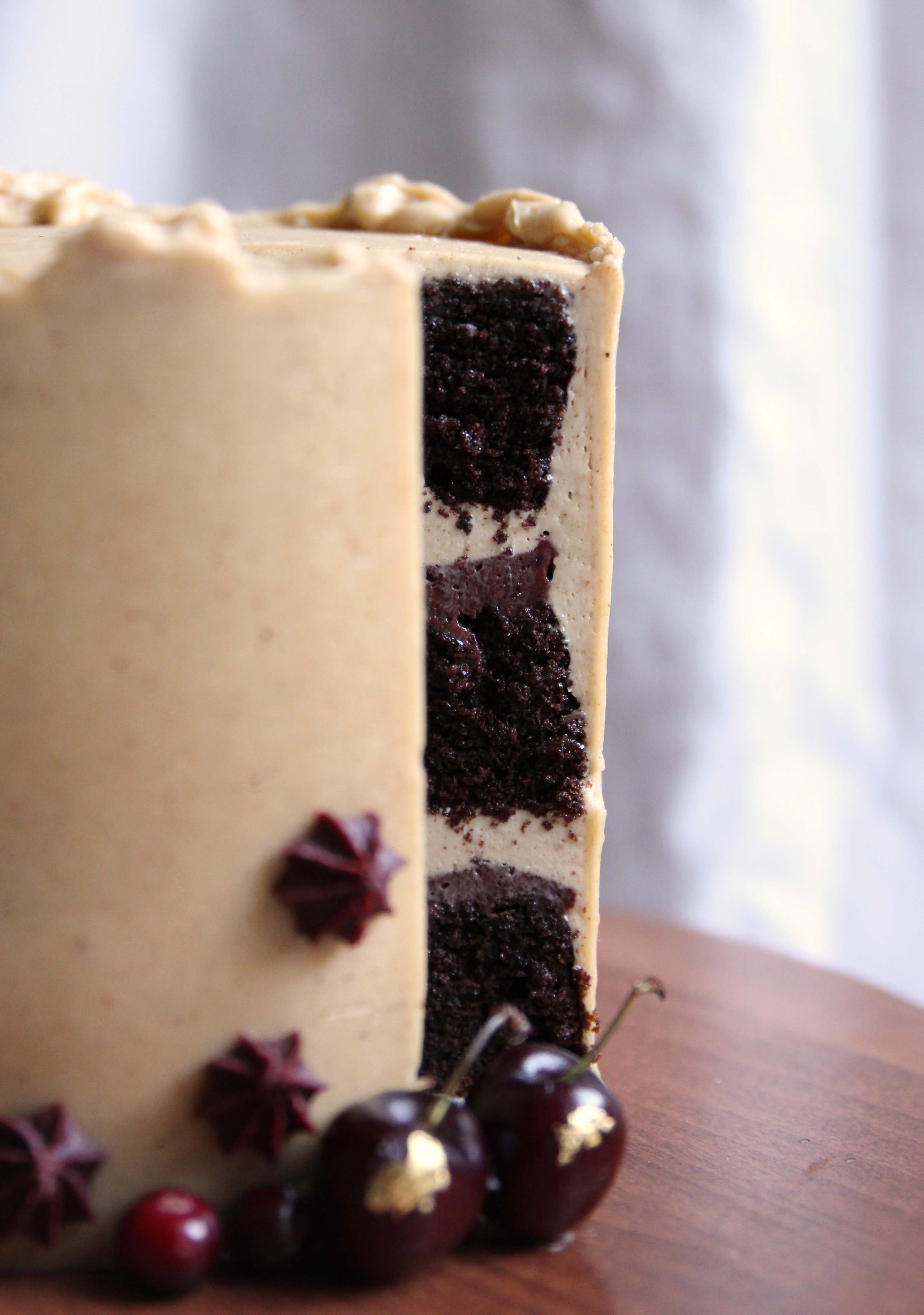 https://www.covecakedesign.ie/wp-content/uploads/2019/12/IMG_0375_edited-2-e1605526994680.jpg
1500
1000
Suzanne Brady
https://www.covecakedesign.ie/wp-content/uploads/2019/04/Cove_web.png
Suzanne Brady
2019-12-20 20:18:38
2021-04-20 10:02:16
Chocolate Cranberry and Chestnut Cake Recipe