Quick Lemon Raspberry Almond Cake
Quick Lemon Raspberry Almond Cake
The Cake
This Quick Lemon Raspberry Almond Cake, uses almond paste in the cake batter to make an quick an easy informal cake. I am a lover of anything almond, including almond paste. From my experience however, I know that almond paste is a controversial ingredient. At Christmas time there is always a strong divide between those who love the edge slice of the Christmas cake so they get the most almond paste, and those who avoid it at all costs. I am firmly in the former camp!
This cake is is dense and moist, and with the raspberry and lemon, exceedingly delicious.  With the richness of the almond paste, it is one for the almond lover!
The Lemon Raspberry Almond Cake Recipe
Almond Paste
This cake uses shop-bought almond paste. Almond paste is slightly different from marzipan. The former having a higher almond to sugar ratio, more delicious in my book. Pre-made ingredients are not something I usually recommend, so you may be a little perplexed to find a shop bought item in my ingredients list. However, I do buy almond paste every Christmas to cover my fruit cakes. I find the bought product rolls more readily and avoids having raw egg product in the cakes. I often end up with some leftover, and given that I don't make fruit cakes outside the Christmas season, this leftover almond paste can end up going to waste. Which is where this recipe comes in.
The Recipe
The recipe is an adaptation of Nigella Lawson's Easy Almond Cake Recipe from her classic book, How To Be A Domestic Goddess. It certainly is an easy one, basically involving the blending of classic cake ingredients with almond paste…no creaming or whisking and only one vessel to wash up afterwards.
One of my favourite cake flavour combinations is lemon and raspberry, both of which of course work with almond. I hence decided to use this combination in this almond cake by adding fresh lemon zest and raspberries.
You can of course play fast and loose with this cake, choosing ingredients you have to hand, such as marzipan rather than almond paste, or other berries such as cherries or blackberries for the raspberries. An orange version of this cake would also be a great one to try, made by swapping the lemon zest for orange zest.
Serving and Storing
Feel free to decorate this cake with what you have to hand, a dusting of icing sugar with some edible flowers and herbs would work well. A dollop of Greek yogurt would also be a lovely teatime addition.
The cake keeps well at room temperature in an airtight container for 2-3 days.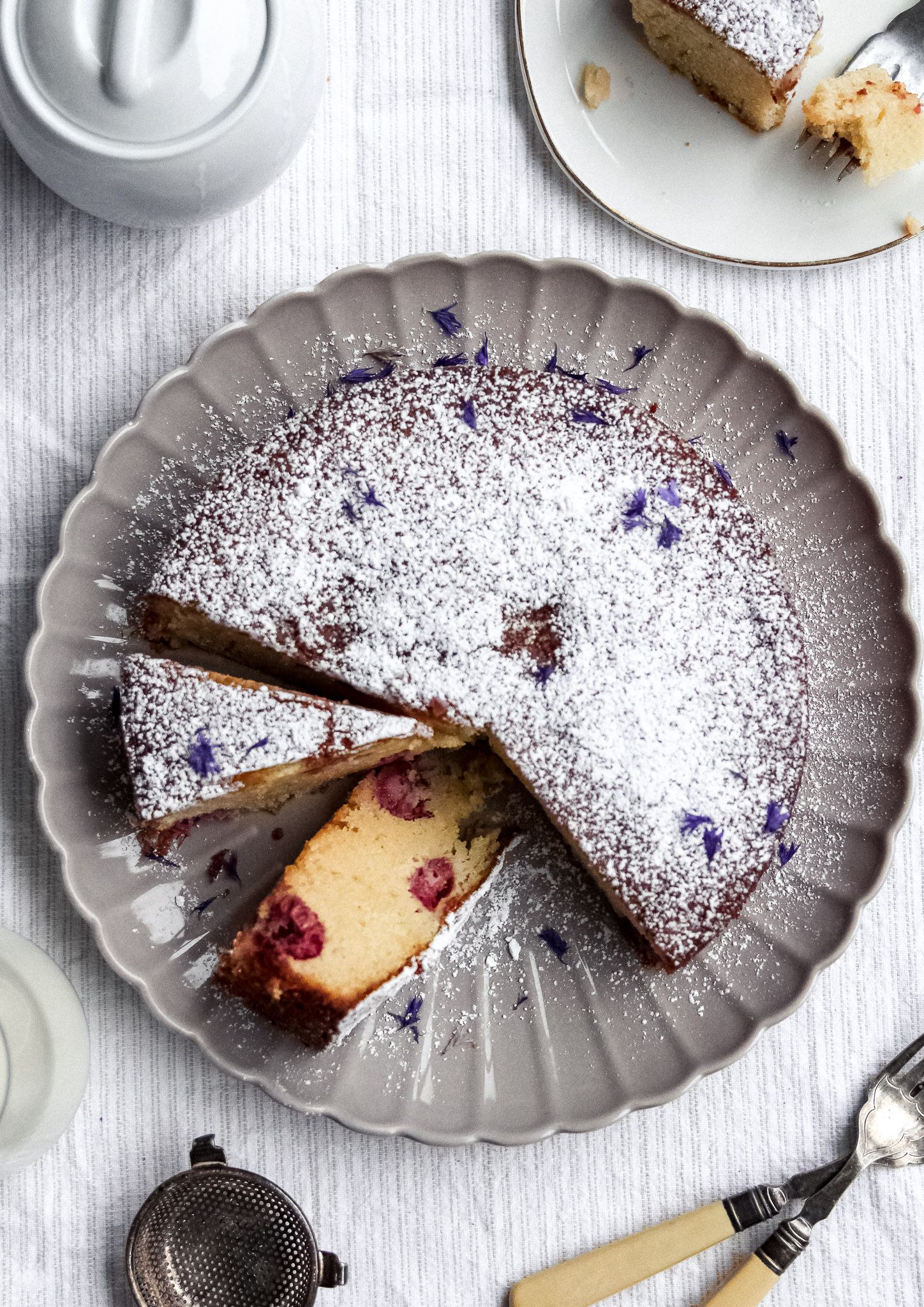 Quick Lemon Raspberry Almond Cake Recipe
Ingredients:
250g unsalted butter
250g shop-bought almond paste
125g caster sugar
6 medium eggs
150g self-raising flour
Finely grated zest 1 lemon
150g raspberries (fresh or frozen)
Pinch salt
Method:
Preheat the oven (fan) to 160⁰C/320F. Grease the base and sides of a 22cm/9" springform cake tin and line the base. (I have also made this in a 20cm/8″ tin which worked fine too but the cake was a little more dense)

To make the cake, 

break or chop up the almond paste and place in a food processor. Blend until broken up a little more. Add the butter and sugar and continue to blend. If the butter is soft it should become smooth. I made this on a rather cold day and the mix was still a little lumpy but the cake worked perfectly. (As I said above, I can be a little fast and loose when home baking!).

Sift the flour into a bowl and add the lemon zest.
Add the eggs to the food processor, one at a time, blending after each addition. You may need to scrape down the sides intermittently.
Add the flour mixture and blend until combined. Scrape down the sides and base of the processor and mix once more to ensure it is well combined.
Scrape the mixture into the prepared tin. Lightly press in the raspberries throughout the cake mixture.
Place the cake in the oven and bake for 55-60 mins before checking. Insert a skewer into the centre. If it comes out clean and the cake is springy on the surface it is cooked. If not then return to the oven and check at 10min intervals until cooked.
Leave to cool for 10-15mins in the tin before removing. When cool, place on a plate or cake stand and sprinkle with icing sugar and any other decoration.
I hope you enjoy this cake, do tag us on social media @covecakedesign with your creations!
Suzanne x
https://www.covecakedesign.ie/wp-content/uploads/2023/01/Lemon-Almond-Marzipan-Raspberry-Cake-1-of-1-4.jpg
2048
1448
Suzanne Brady
https://www.covecakedesign.ie/wp-content/uploads/2019/04/Cove_web.png
Suzanne Brady
2023-01-26 14:43:23
2023-01-27 15:04:02
Quick Lemon Raspberry Almond Cake