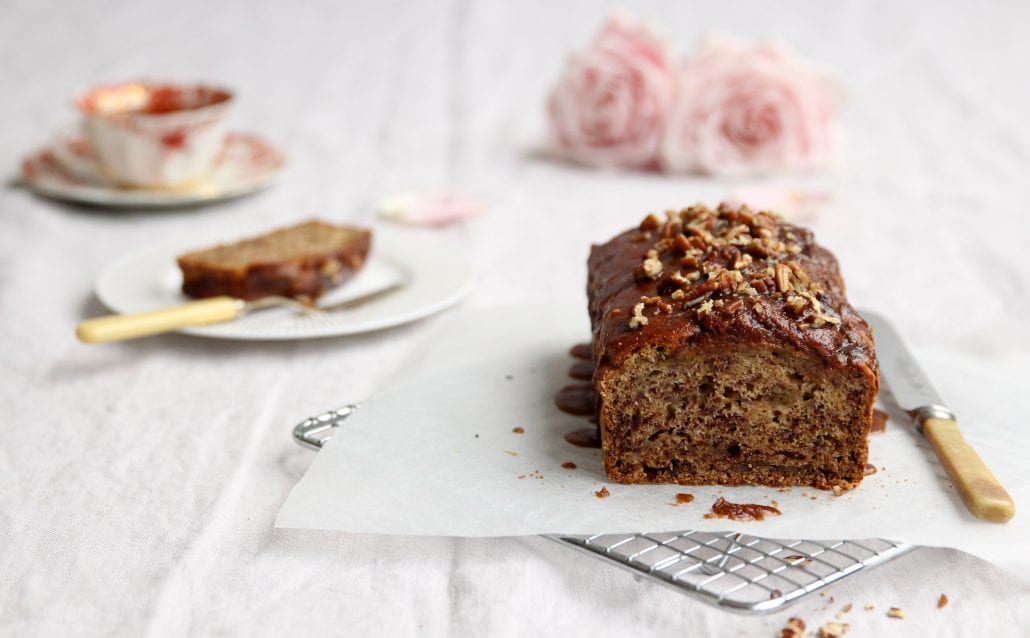 Banana bread is a firm favourite in our house, delicious for a lunchbox or teatime treat and also a great way to use up those overripe bananas! For everyday family baking I prefer to opt for this healthier version over traditional banana bread recipes, which are often laden with sugar.  Made with spelt flour, vegan and free from refined sugar, it is not too sweet and comes with a little less guilt….just what is needed in January!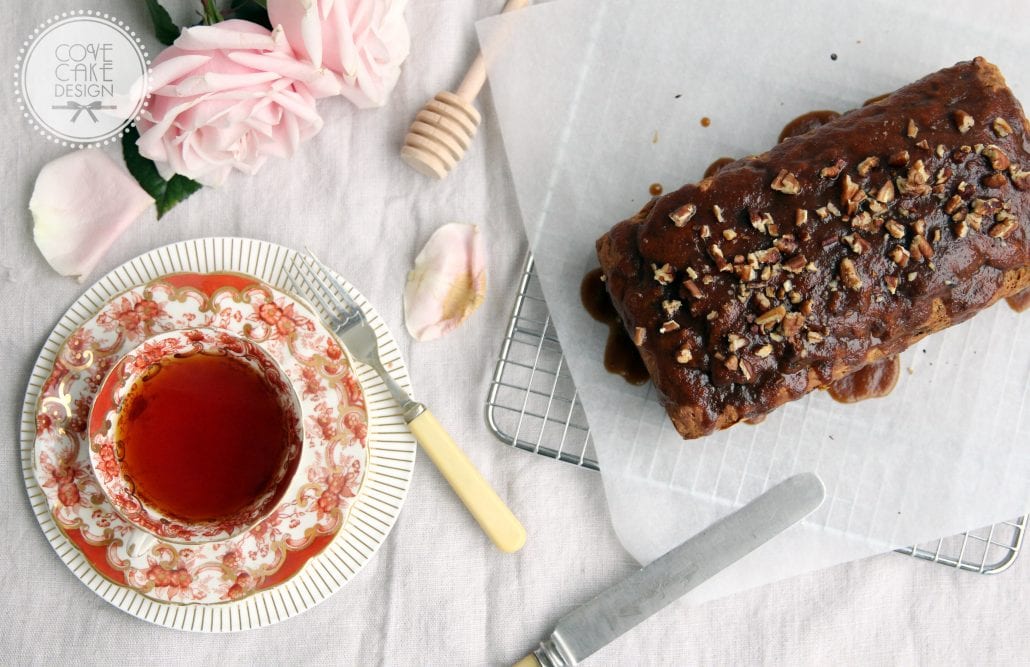 This bread can be enjoyed on it's own but I discovered a recipe for vegan caramel on Gather and Feast  and thought that it would be a lovely addition. The vegan caramel was delicious, with the coconut sugar adding a toffee-like flavour. Obviously in an experimental mood, I decided to try adding miso to the caramel as an alternative to sea salt to counteract sweetness. I first came across using miso in sweet dishes after seeing Nigella Lawson's miso ice-cream recipe in her book Simply Nigella. Having fallen in love with Japan and its cuisine on a family trip there last year, I jumped at the chance to extend my use of Japanese ingredients to  my baking.  If you don't regularly use miso however, feel free to add a pinch of sea salt to the recipe for the same effect! For a final flourish I topped with toasted pecans….enjoy!
Vegan Banana Bread with Miso Caramel
Ingredients for the Banana Bread:
250g wholemeal or plain spelt flour (or you can use regular flour)
1tsp baking soda
3/4 tsp baking powder
1tsp cinnamon
80ml milk of choice (I used almond milk)
2tsp vanilla bean paste
120ml maple syrup
1tbsp lemon juice
3 large ripe bananas
Ingredients for the Miso Caramel:
35g coconut sugar
15g coconut oil
80g coconut cream
1tsp white miso paste
handful of toasted pecans, chopped
Step 1: To make the banana bread, preheat the oven to 180°C/350F.  Grease and line a 1lb loaf tin with baking parchment.
Step 2: Place the bananas in an oven proof dish and roast in the oven for 10-15 mins while you are preparing the other ingredients. The roasting increases the sweetness and flavour of the bananas but if you don't have time for this simply mash the bananas as they are.
Step 3: Sift the flour, baking soda, baking powder and cinnamon into a bowl
Step 4: In a separate bowl, mix the milk, vanilla bean paste, maple syrup and lemon juice.
Step 5: Add the wet ingredients to the dry and mix until just combined. Add the roasted/mashed banana and mix again.
Step 6: Pour into the prepared tin and bake for 30-40 mins.
Step 7: To make the miso caramel, place the coconut sugar, coconut oil and coconut cream into a small saucepan. Heat gently until ingredients are combined. Continue to heat for approximately 5 mins until the caramel has thickened enough such that it begins to coat the back of a spoon.
Step 8: When cooked, remove the banana bread from the oven and place on a wire rack. Using a skewer, pierce several holes along the top of the banana bread. While the bread is still warm, pour over the caramel sauce. (If sauce has cooled and thickened too much, either add a little boiling water or heat again gently). Top with chopped toasted pecans.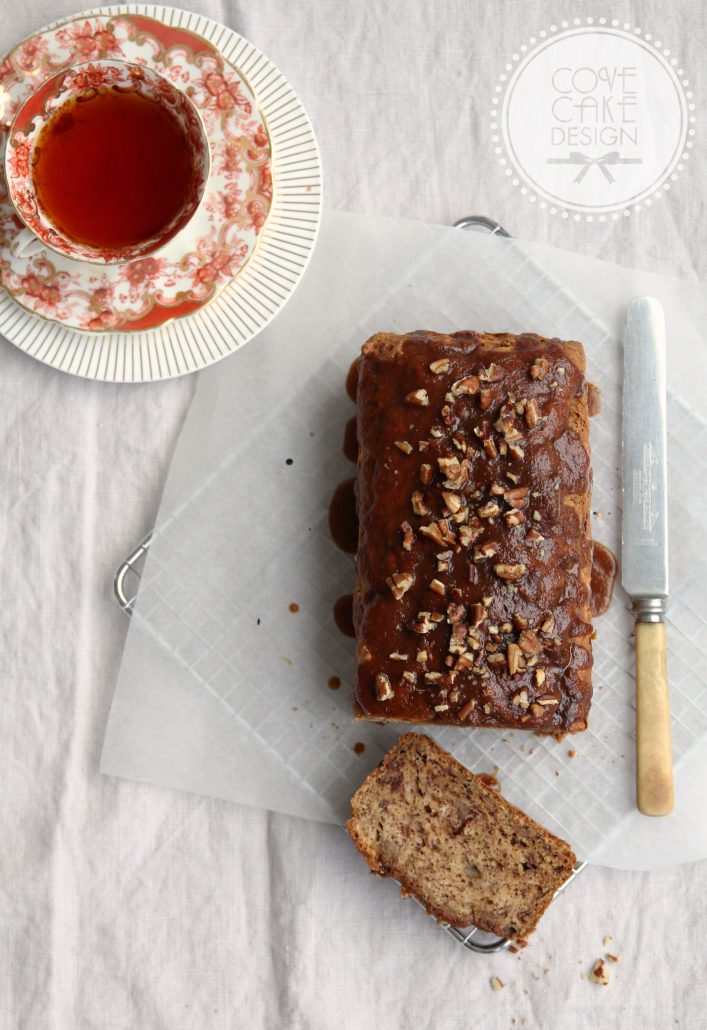 https://www.covecakedesign.ie/wp-content/uploads/2017/01/IMG_5222-e1489438987504.jpg
619
1000
Suzanne Brady
https://www.covecakedesign.ie/wp-content/uploads/2019/04/Cove_web.png
Suzanne Brady
2017-01-12 11:07:58
2021-04-20 10:02:19
Vegan Banana Bread with Miso Caramel