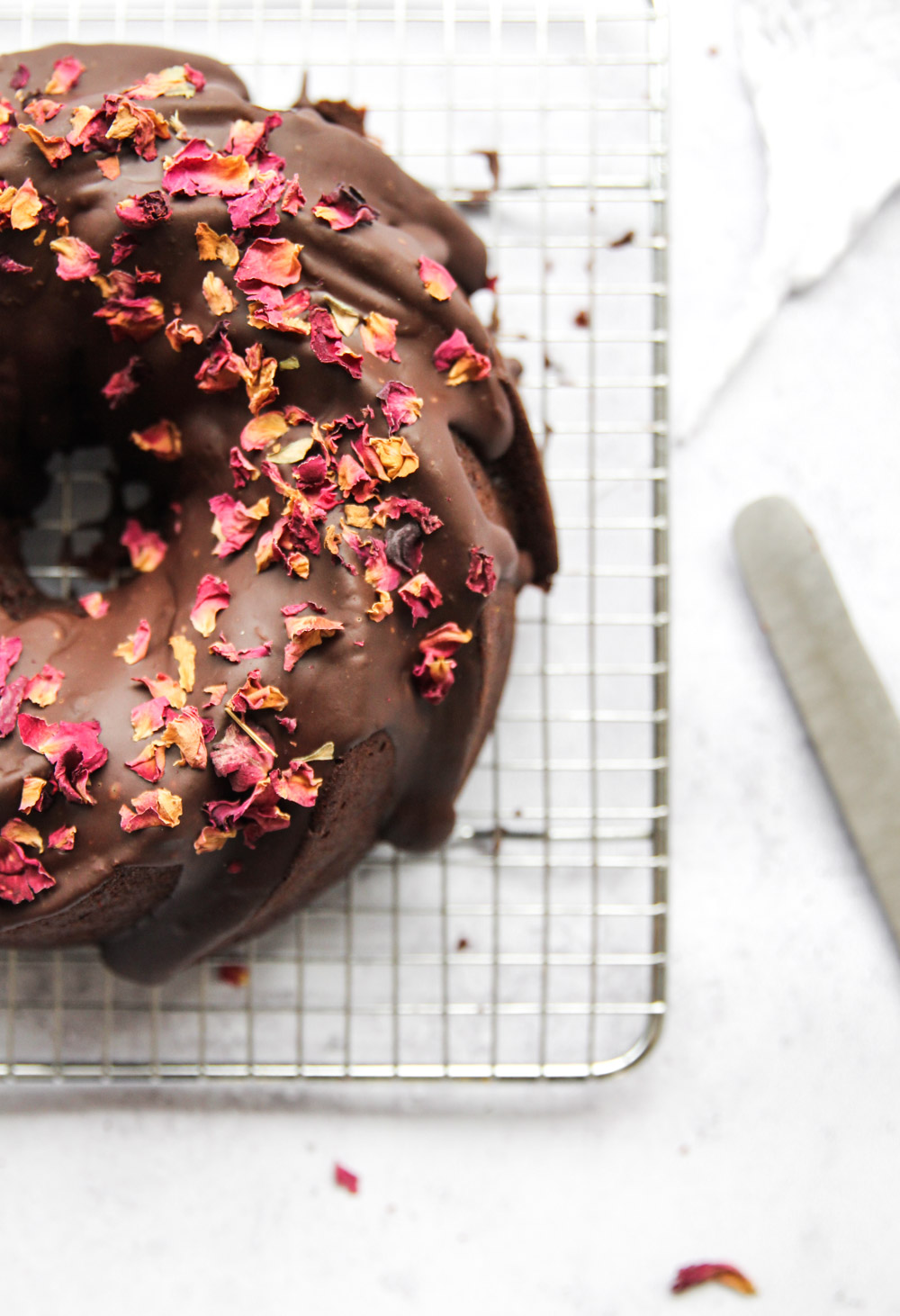 The Chocolate Beetroot Bundt Cake
It was my birthday this week (I'm an April fool!), and this year I had time to make cake. We are currently in a global shutdown to combat a coronavirus pandemic and it is an anxious time for everyone I think. We have to live day-by-day and hope that we can overcome it together. In the midst of all the gloom it is important to keep busy and do things you love…and that would include baking!
I chose to make this Chocolate Beetroot Bundt cake from a desire to maintain a nourishing and healthy diet at this time. While no cake is healthy, this one uses honey as a sweetener, rapeseed oil in place of butter and of course has one of your 5-a-day in the form of nutritious beetroot! It is also dairy-free, making it suitable for those with dairy intolerances or dietary preferences.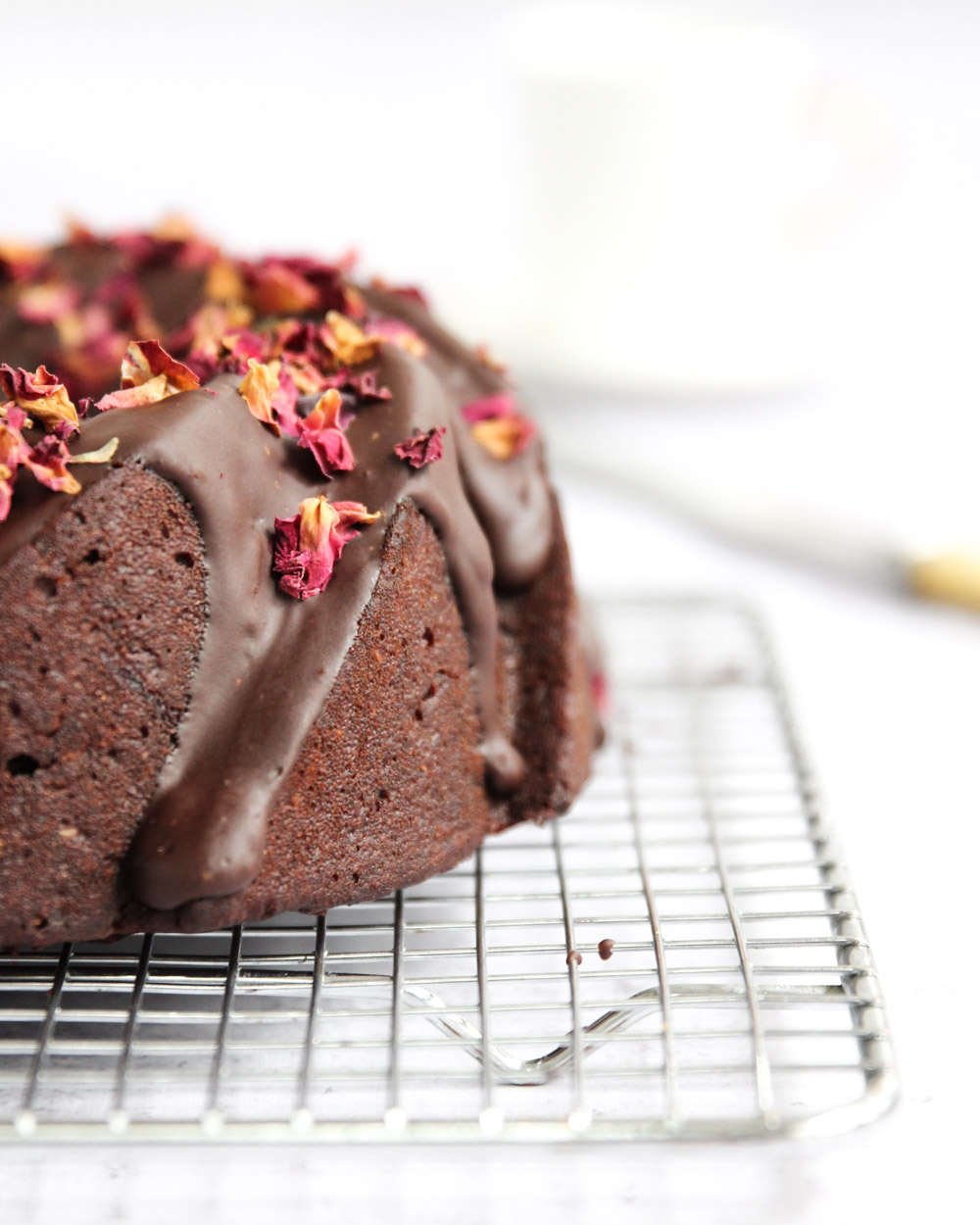 The Flavours
The recipe is adapted from one by Green Kitchen Stories, who write wonderful vegetarian cookbooks. I have made changes to their Decadent Beetroot Chocolate cake by substituting some flour for wholemeal, adding in ground almonds for added moisture and increasing the chocolate content. I also decided to go all-out (it was my birthday after all!) and add a vegan Chocolate Orange Ganache icing, which really makes the cake! I sometimes pair beetroot with orange in a salad and I think the flavour combination works well here too. I love vegan ganache (perhaps more so than regular ganache actually!), made with coconut cream it is equally as rich as that made with dairy cream but has added flavour. Any leftover could be rolled into delicious vegan truffles.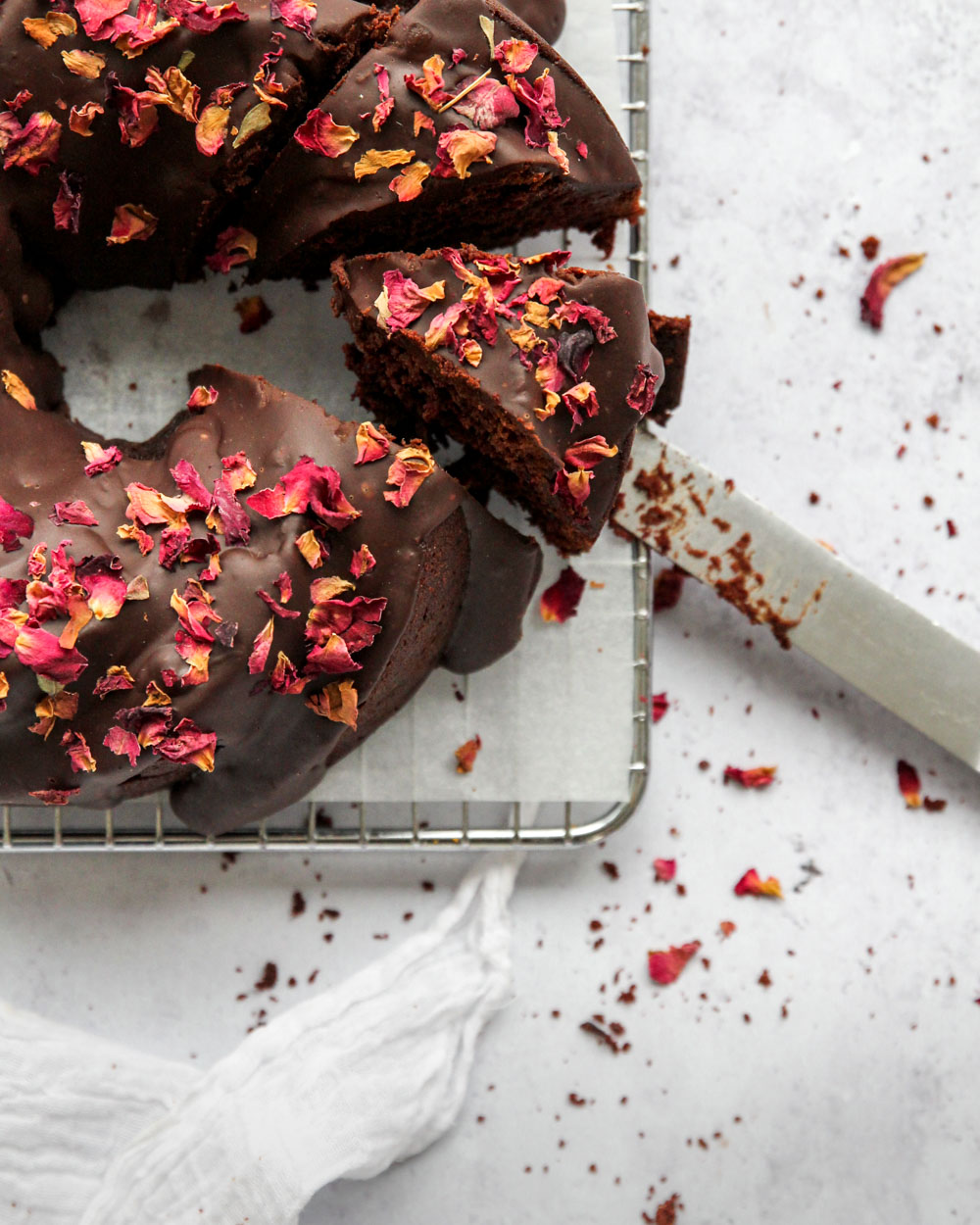 Chocolate Beetroot Bundt Cake Variations
As shopping and stock availability is not always easy in the current global shutdown, feel free to make variations with whatever you have available. If you don't have a bundt tin, this recipe would also works well in an 8″ or 9″ round cake tin. I have used a mix of wholemeal and plain flour but if the flour shortage seen in supermarkets here is widespread, feel free to use any flour you have, eg. self-raising (omit the baking powder), or gluten-free or other flour alternatives.  Ground almonds are also a non-essential element. The original recipe calls for 70% dark chocolate but I only had 54.5% available so clearly either will work.
I hope you enjoy this recipe, it is an easy one to make so kids can be roped in too. And perhaps a nice nourishing choice for an Easter treat too!
Happy baking!
Suzanne x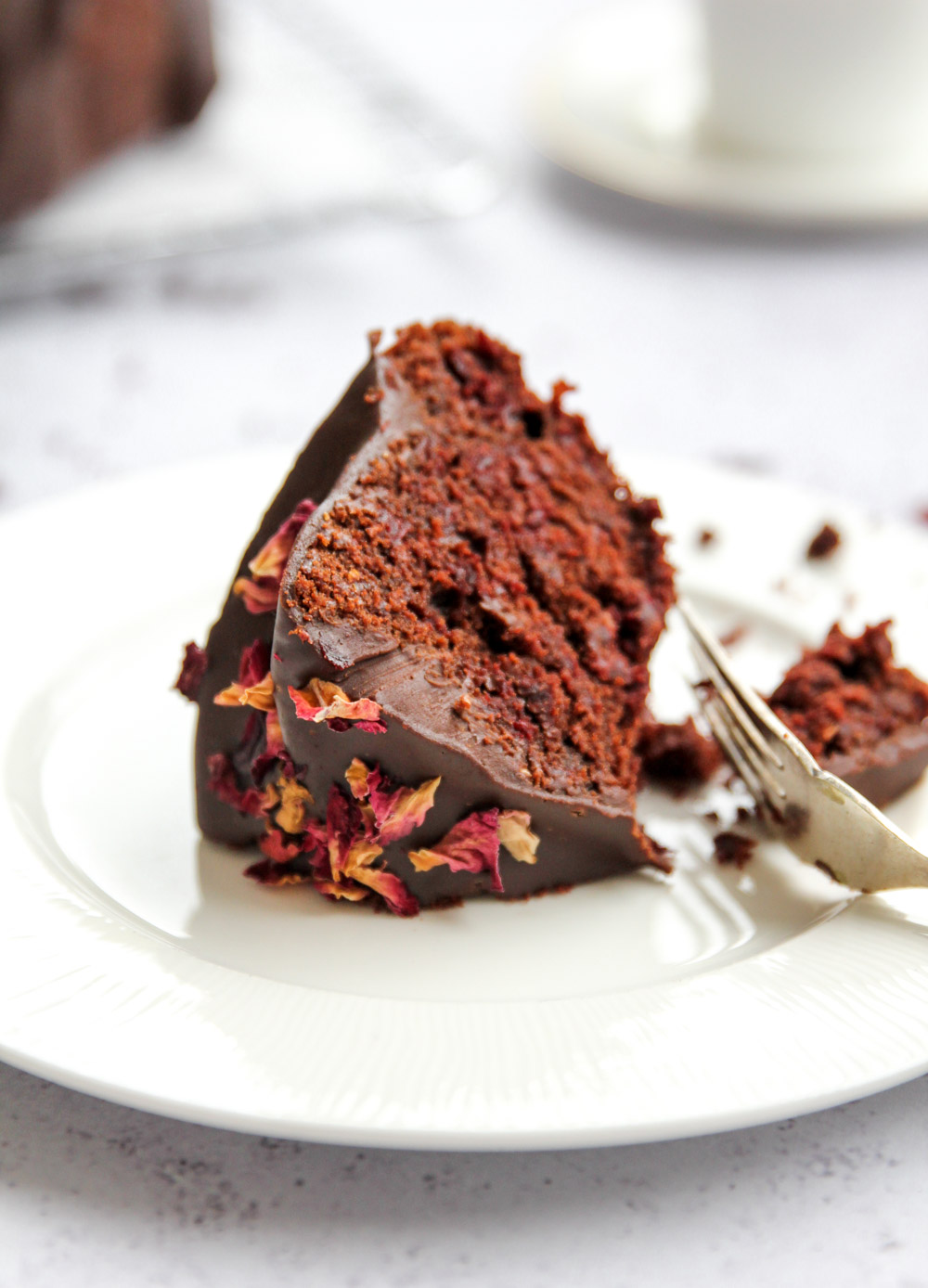 Chocolate Beetroot Bundt Cake Recipe with Orange Coconut Cream Ganache
Ingredients for the Cake:
150ml rapeseed oil (olive would work too), plus extra for greasing
120ml honey
75g dark chocolate (70% best but I used 54.5%)
250g grated raw red beetroot
3 free range eggs
1tsp vanilla extract (optional)
100g wholemeal plain flour
100g plain flour
25g ground almonds
75g good quality cocoa powder
2tsp baking powder
Pinch salt
Ingredients for Ganache:
150g coconut cream (can take cream settled at top of tin of coconut milk or use a small tin coconut cream)
150g 54.5% dark chocolate
Grated zest of 1 small orange
For decoration (optional):
Whatever you have available! I used dried rose petals, other dried flowers, toasted nuts, sliced fruits etc would also work well.
Method:
To make the cake, preheat the oven to 160°C/320F.  Grease a 20cm bundt pan with oil. I use a silicone bundt mould which is best to avoid sticking. If using a metal one it may be advisable to also sprinkle with flour to avoid sticking. If using a cake tin, grease and line.
Heat the rapeseed oil, honey and dark chocolate together on a low heat in a medium sized pan.
Add the grated beetroot, beaten eggs and vanilla and stir to combine.
In a separate bowl, sift together the flours, baking powder, cocoa powder and salt. Add the ground almonds.
Pour the dry ingredients into the chocolate beetroot mixture and stir well to combine.
Pour the mixture into your chosen cake tin.
Bake for 25-35mins, until the top is cracked and a skewer inserted into centre comes out clean.
Leave to cool for 10mins before turning out onto a wire wrack to cool completely.
To make the ganache, place the chocolate and coconut cream in a bowl over a pan of simmering water and stir to melt chocolate. Add the orange zest and stir. Pour over the cooled bundt cake. Decorate as you wish.
Enjoy!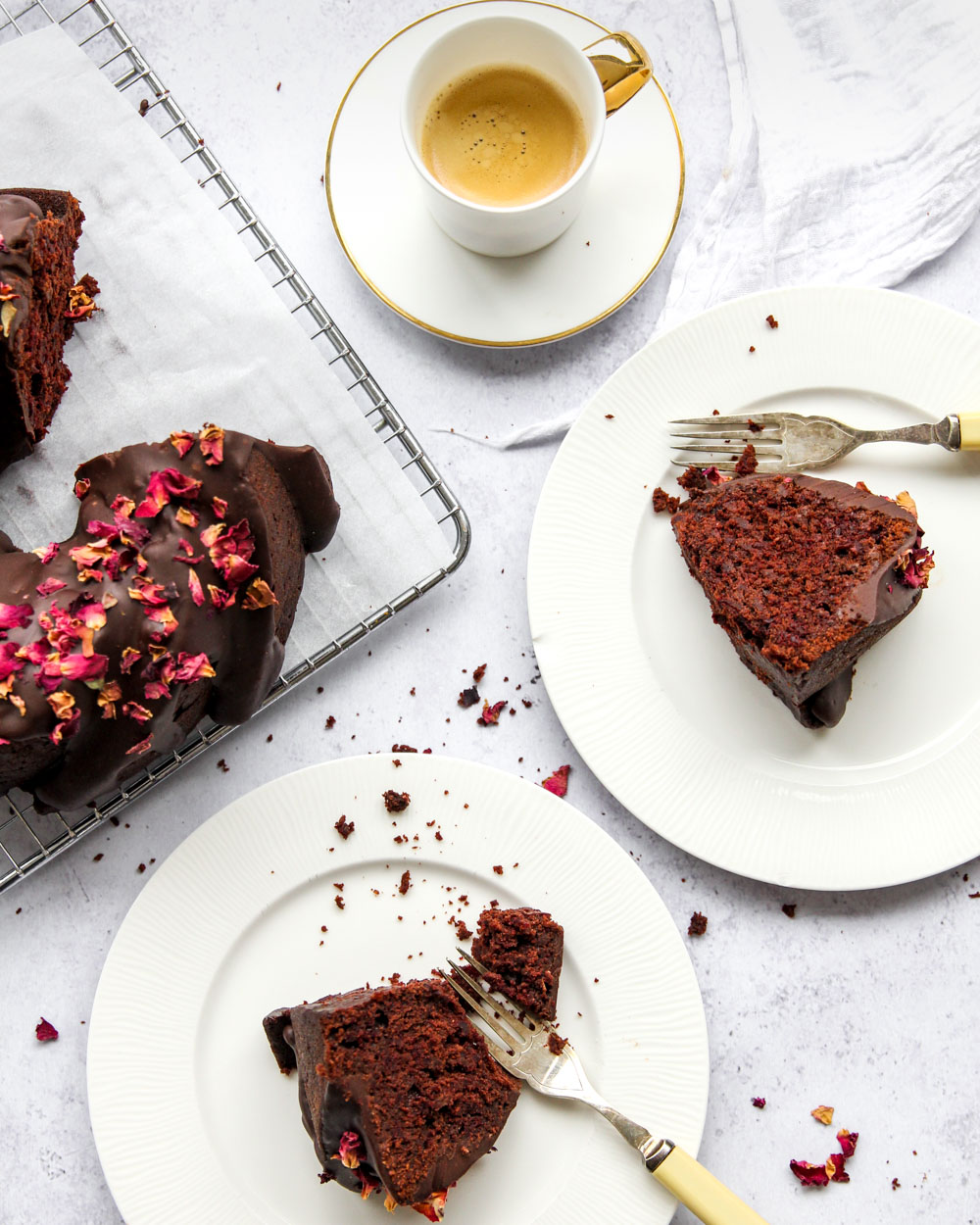 https://www.covecakedesign.ie/wp-content/uploads/2020/04/Beetroot-Chocolate-Cake-4-1-of-1.jpg
1250
1000
Suzanne Brady
https://www.covecakedesign.ie/wp-content/uploads/2019/04/Cove_web.png
Suzanne Brady
2020-04-02 07:20:19
2021-04-20 10:02:16
Healthier Chocolate Beetroot Bundt Recipe with Orange Coconut Cream Ganache