Chocolate Banana Cake with Tahini, Miso and Walnut
The Chocolate Banana Cake Recipe
This chocolate banana cake recipe was devised when I had several overripe bananas in my fruit bowl. I have an inherent reluctance to throw away food, but luckily sweet, ripe bananas are absolutely perfect for baking. I regularly use them in recipes such as muffins, banana bread or flapjacks, but this time wanted to try them in a layer cake.
As a chocolate lover, chocolate cake is my go-to choice. And what better combination for banana than chocolate? In this cake, the overripe bananas add moisture, flavour and a natural sweetness to what is a delicious chocolate cake recipe. The cake itself is soft and light, so this recipe is suited to a weekend bake, rather than a layered celebration cake which requires more structure for slicing.
Tahini Ganache, Miso Caramel, Walnut Praline Filling
The tahini ganache was inspired by my banana flapjacks recipe. The flapjack recipe uses tahini instead of nut butter, which goes really well with the banana flavour. Tahini is a ground sesame seed paste, now widely available in supermarkets. It has a nutty flavour, but doesn't taste sweet like some nut butters. The tahini ganache makes a bittersweet chocolatey filling for the banana cake. The quantity given in this recipe doesn't give a very thick layer, but I think this is sufficient for a rich filling.
For more flavour contrast I also added sweet miso caramel to the filling, a bit of a twist on traditional salted caramel. If you can't find miso, simple add a little bit of salt to the caramel instead.
The final flourish for the cake is some walnut praline for a crunchy texture. Walnuts are a perfect pairing for banana and chocolate but other nuts would work well here too, you could try pecans or hazelnut for example. Experiment with what is to hand!
Happy Baking!
I hope you enjoy this cake, do tag us on social media @covecakedesign with your creations And don't forget to subscribe to the mailing list to receive cake news and recipes straight to your inbox!
Suzanne x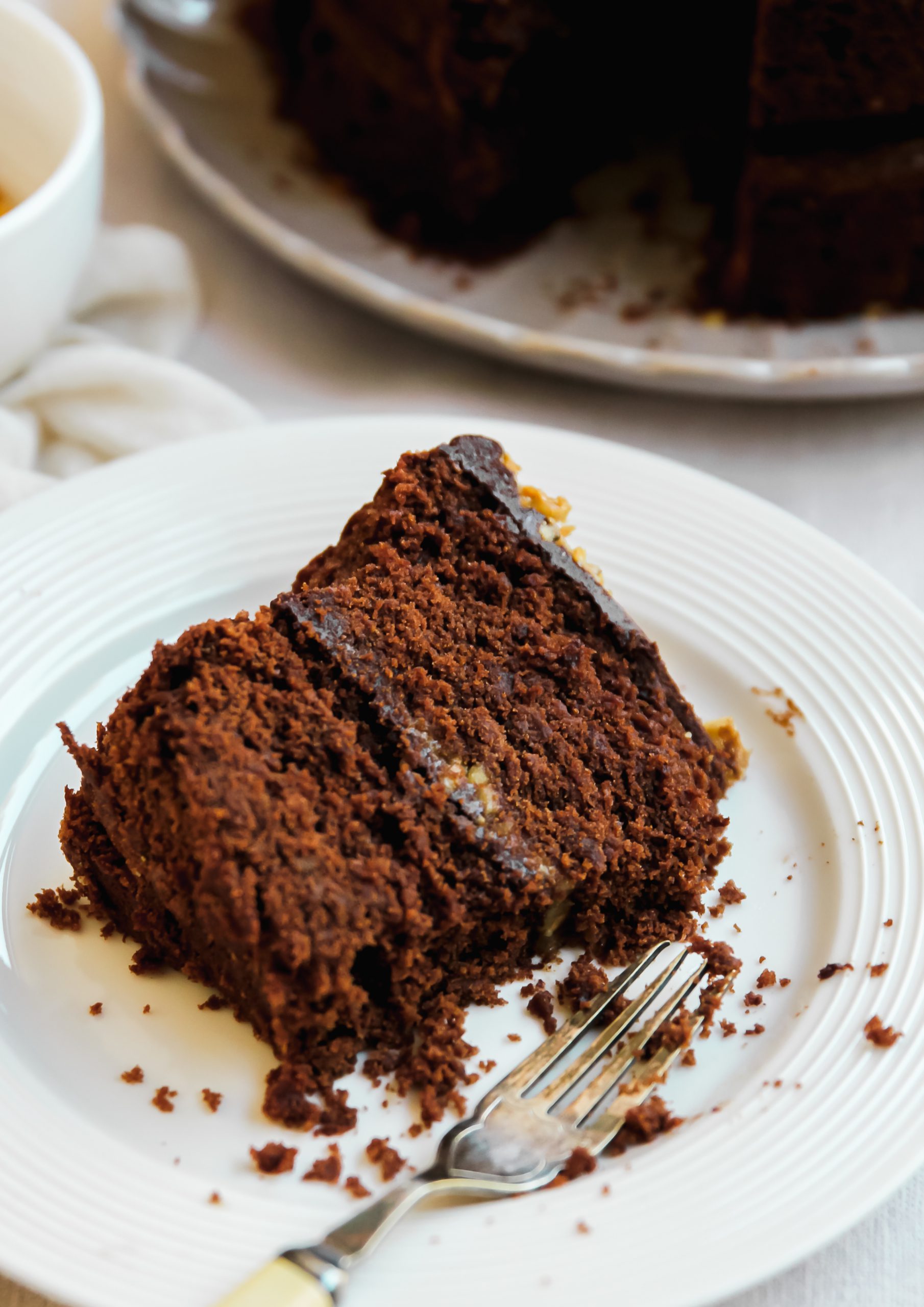 Chocolate Banana Cake, Tahini Dark Ganache, Miso Caramel, Walnut Praline
Ingredients:
For the chocolate banana cake
375g (13.25oz) unsalted butter
250g (8.75oz) caster sugar
50g (1.75oz) soft light brown sugar
3 medium eggs
375g (13.75oz) plain flour
25g (1oz) cocoa powder
½ tsp bicarbonate soda
2 tsp baking powder
125g (4.5oz) 70% dark chocolate, chopped or drops
300g (10.5oz) ripe bananas, mashed
2tbsp whole milk
1tsp vanilla bean paste
For the tahini dark chocolate ganache
150g (5.25oz) 54.5% dark chocolate
150ml (5 fl oz) single cream
75g (2.5oz) smooth tahini paste
15g (0.5oz) caster sugar
40g (1.5oz) unsalted butter
For the miso caramel
75ml (2.5 fl oz) single cream
100g (3.5oz) caster sugar
50g (1.75oz) cold unsalted butter
1–2tbsp sweet white miso paste to taste
For the walnut praline
100g (3.5oz) caster sugar
100g (3.5oz) walnuts
Method:
Preheat the oven to 150⁰C/300F. Grease and line the base and sides of two 20cm/8" cake tins
To make the cake, melt the chocolate in a bowl over a pan of gently simmering water.
Sift together the flour, cocoa powder, bicarbonate of soda and baking powder into a bowl.
Cream together the butter, sugars and vanilla bean paste in the bowl of a stand mixer with the paddle attachment until pale and light. Scrape down the sides intermittently.
Turn the mixer down and add one egg and a tablespoon of the flour mixture. Repeat with the remaining eggs, adding one tablespoon of flour with each addition.
Add the rest of the flour mixture and mix on low briefly.
Add the melted chocolate, mashed banana and milk. Mix on low until combined.
Divide the mixture evenly between the tins.
Bake for approximately 40–45 mins until springy to the touch and a skewer inserted into the centre comes out clean. Leave to cool in the tin for 10 mins before turning out onto a wire rack to cool completely.
To make the tahini dark ganache, place the chocolate in a bowl. Heat the cream, sugar and tahini in a small saucepan until just below simmering. Pour over the chocolate and shake the bowl gently. Leave for one minute before stirring with a spatula until the chocolate has melted. Add the butter and stir again until a smooth ganache is achieved. Cover the surface with cling film and leave to cool until the ganache is a spreadable consistency.
To make the miso caramel, place the sugar and water in a small saucepan. Heat on medium, swirling intermittently until the caramel turns a golden brown colour. Take care not to let it burn. Add the cream and stir, take care as the caramel will bubble and spit. With a sugar thermometer continue to heat the caramel stirring until it reaches a temperature of 180⁰C/225F. Remove from the heat and add the butter in cubes, stirring to combine. Add the miso and stir again. Place the caramel in the fridge to cool.
To make the walnut praline, chop the nuts an toast in the heated oven for 5–10 mins. Heat the sugar in a saucepan over a medium heat until dissolved. Continue to heat, swirling gently, until the sugar has turned to a caramel colour. Add the nuts and stir with a spatula to coat. Quickly scrape the nut praline out onto a piece of baking paper and leave to cool. Break up the praline in a small blender or pestle and mortar.
To assemble, level each cake if required by trimming off the tops. Place one cake layer on a cake board or plate. Spread ½ of the tahini ganache on top. Spread 4–5 tablespoons of miso caramel in the centre and sprinkle over most of the walnut praline. Invert the next cake layer on top. Spread the remaining ganache over the top and sprinkle the remaining praline around the edges.
https://www.covecakedesign.ie/wp-content/uploads/2023/03/Chocolate-Banana-Tahini-Miso-1-of-1-scaled.jpg
2560
1810
Suzanne Brady
https://www.covecakedesign.ie/wp-content/uploads/2019/04/Cove_web.png
Suzanne Brady
2023-03-23 11:54:38
2023-03-24 06:23:57
Chocolate Banana Cake with Tahini, Miso and Walnut