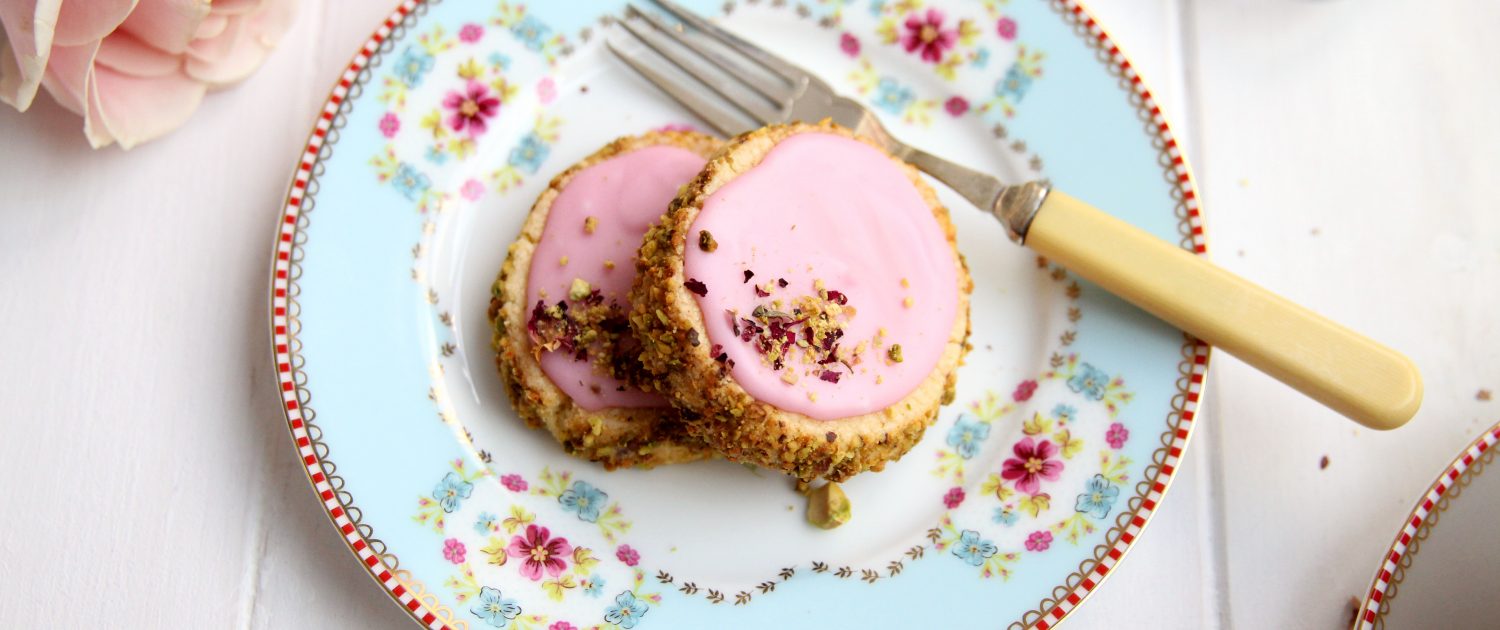 I always love to have some cookie recipes up my sleeve, something that can be made quickly for an edible gift, or when expecting guests for an afternoon cuppa. For this recipe I adapted a simple shortbread base to incorporate the delicate flavour of orange blossom combined with pistachio, pomegranate and a sprinkling of rose petals..a favourite flavour combination! Delicate and pretty these would be perfect for Mother's Day!
Orange Blossom Pistachio Shortbread with Pomegranate Glaze
Ingredients for the Orange Blossom Shortbread:
150g icing sugar
300g plain flour
150g cornflour
300g soft unsalted butter
1tsp orange blossom water (or use finely grated zest 1 orange if you don\'t have this)
100g shelled pistachios
1 egg, beaten
Ingredients for the Pomegranate Glaze:
Juice from one pomegranate
Approx 300g icing sugar
1/2 tsp orange blossom water (optional)
Rose petals to decorate (optional)
Step 1: To make the shortbread, Place the pistachios on a baking tray and place in the oven for approx 10-15 mins until lightly toasted, shaking every few minutes to turn. Take care  not to burn. Place in a processor and pulse until coarsely ground. Scatter the ground pistachios over a baking tray or sheet of greaseproof paper. Set aside.
Step 2: Sieve the icing sugar, flour and cornflour together and transfer into a food processor. Add the butter and orange blossom water and process until the mixture forms a ball of dough.
Step 3: Remove the dough from the processor and divide into 3. Roll each piece into a log shape approx 4cm in diameter.
Step 4: Brush each of the shortbread dough logs with beaten egg and roll in the ground pistachio to coat.  Wrap tightly in cling film and place in the fridge for 30 mins to chill. (Note: the dough can be stored in the fridge at this stage for up to 24 hours before proceeding with the next step if you wish to prepare in advance)
Step 5: Meanwhile, preheat the oven to 160°C/325F.
Step 6: Remove the shortbread from the fridge and unwrap the cling film. Using a sharp knife cut the dough into rounds. Place on a baking sheet lined with baking parchment or a silicone baking mat. Bake for approx 15 mins until lightly golden. Remove the tray from the oven and leave to cool for approx 5 mins before gently removing with a palette knife to a wire rack to cool completely.
Step 7: To make the pomegranate glaze, sieve the icing sugar into a medium size bowl. Remove the seeds from the pomegranate and pour any juice into a separate bowl. If the pomegranate is not particularly juicy simple pulse the pomegranate seeds in a small food processor and pass the pulp through a sieve, collecting the juice and discarding the seeds.
Step 8: Slowly add enough pomegranate juice to the sieved icing sugar to make a smooth icing that is spreadable but not too runny. Add the orange blossom water and mix.
Step 9: To finish the cookies, spread the pomegranate glaze over each of the cookies using a palette knife. Sprinkle with rose petals and any leftover ground pistachio. Store the cookies in an airtight container. Best consumed within 2 days.
Storage: The cookies keep well in an airtight container for up to 2 days.
https://www.covecakedesign.ie/wp-content/uploads/2019/04/Cove_web.png
0
0
Suzanne Brady
https://www.covecakedesign.ie/wp-content/uploads/2019/04/Cove_web.png
Suzanne Brady
2017-03-23 06:35:53
2020-11-09 16:18:54
Mother's Day Recipe-Orange Blossom Pistachio Shortbread with Pomegranate Glaze