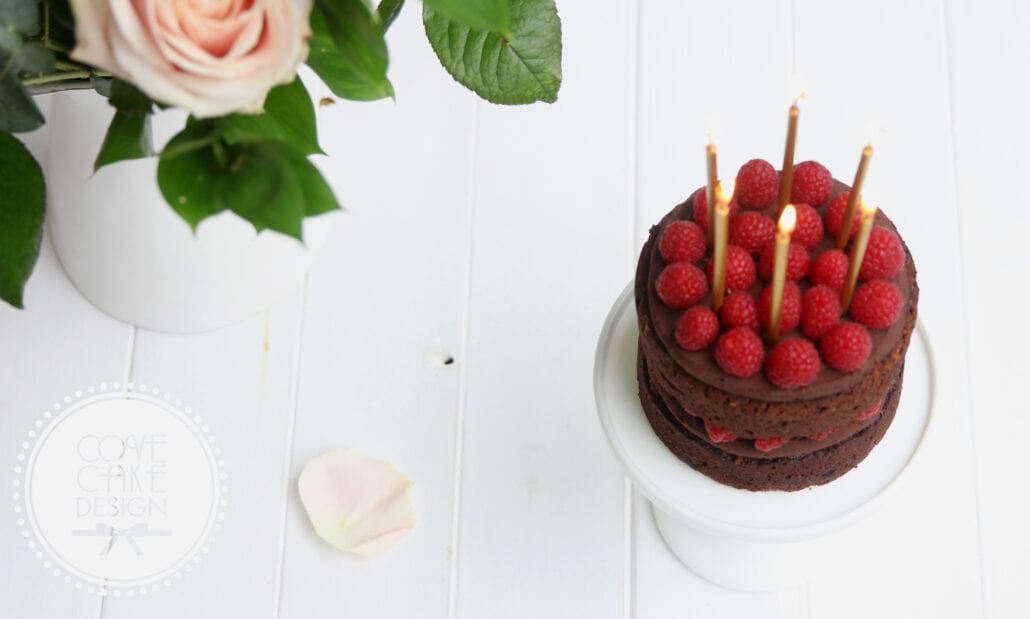 My children love a family birthday and never let one pass without having candles on a cake! With my birthday falling just a few days after Easter this year I decided to bake a cake which was a bit more wholesome after the chocolate-laden weekend my children had experienced the week before. This cake is gluten, dairy and refined-sugar free. The natural sweetness of the banana and syrup satisfied the desire for a treat while the dense nutty texture made a small slice sufficiently filling. Although this recipe is for a tiny 5″ cake it easily serves 8-10 deliciously rich slices. This was deemed a winner by my children, so much so that it was gone before I got to take a photo of a cut slice! (problems of a food blogger!).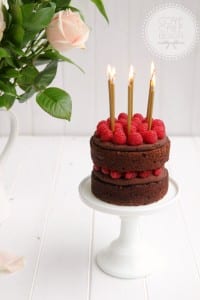 Vegan Chocolate Pistachio Cake with Chocolate Ganache and Raspberries
Ingredients for the cake:
100g ground almonds
100g shelled pistachios
25g unsweetened cocoa powder
1tsp gluten-free baking powder
Sea salt
2 flax eggs: 2tbsp ground flaxseed and  6tbsp of water (or two large eggs if not vegan)
2 ripe bananas
80ml melted coconut oil or rapeseed oil
120ml maple or other syrup
1tsp vanilla extract
Ingredients for the chocolate ganache:
125ml full fat coconut milk (you can use more or less milk depending on whether you prefer a softer or stiffer ganache)
275g dark chocolate (dairy-free if vegan)
Step 1: To make the cake, preheat the oven to 150°C/315F.  Grease and line two 5" cake tins
Step 2: Make the flax eggs by combining ground flaxseed and water in a small bowl. Set aside for 5mins to thicken.
Step 3: Put the pistachios in a food processor and blend to a fine powder.
Step 4: Put the ground almonds, ground pistachios, cocoa powder, baking powder and a pinch of sea salt in a mixing bowl and stir to combine.
Step 5: In a separate bowl mix together the flax eggs, mashed banana, maple syrup and vanilla extract.
Step 6: Add the wet ingredients to the dry ingredients and stir to combine. Pour the batter into the prepared tins and bake for 20-30mins until a skewer inserted into the centre comes out clean. Remove from the tins and leave to cool on a wire rack.
Step 6: To make the chocolate ganache, heat the coconut milk and chocolate in a bowl over a pan of gently simmering water, stirring until the chocolate has melted and the mixture is smooth. Place mixture in the fridge for 30mins-1hour until chilled and firm. Scoop into mixing bowl and beat on high speed for several minutes until light and fluffy.
Step 8: To assemble the cake, level the cakes. Place the first cake layer on a plate or cake stand. Spread some of the whipped ganache over the cake and cover with fresh raspberries. Place the second cake layer on top and repeat. Simple but oh so delicious!
https://www.covecakedesign.ie/wp-content/uploads/2016/04/IMG_2668_edited-2-scaled.jpg
1537
2560
Suzanne Brady
https://www.covecakedesign.ie/wp-content/uploads/2019/04/Cove_web.png
Suzanne Brady
2016-04-03 19:18:59
2021-04-20 10:02:20
Vegan Chocolate Pistachio Cake with Raspberries