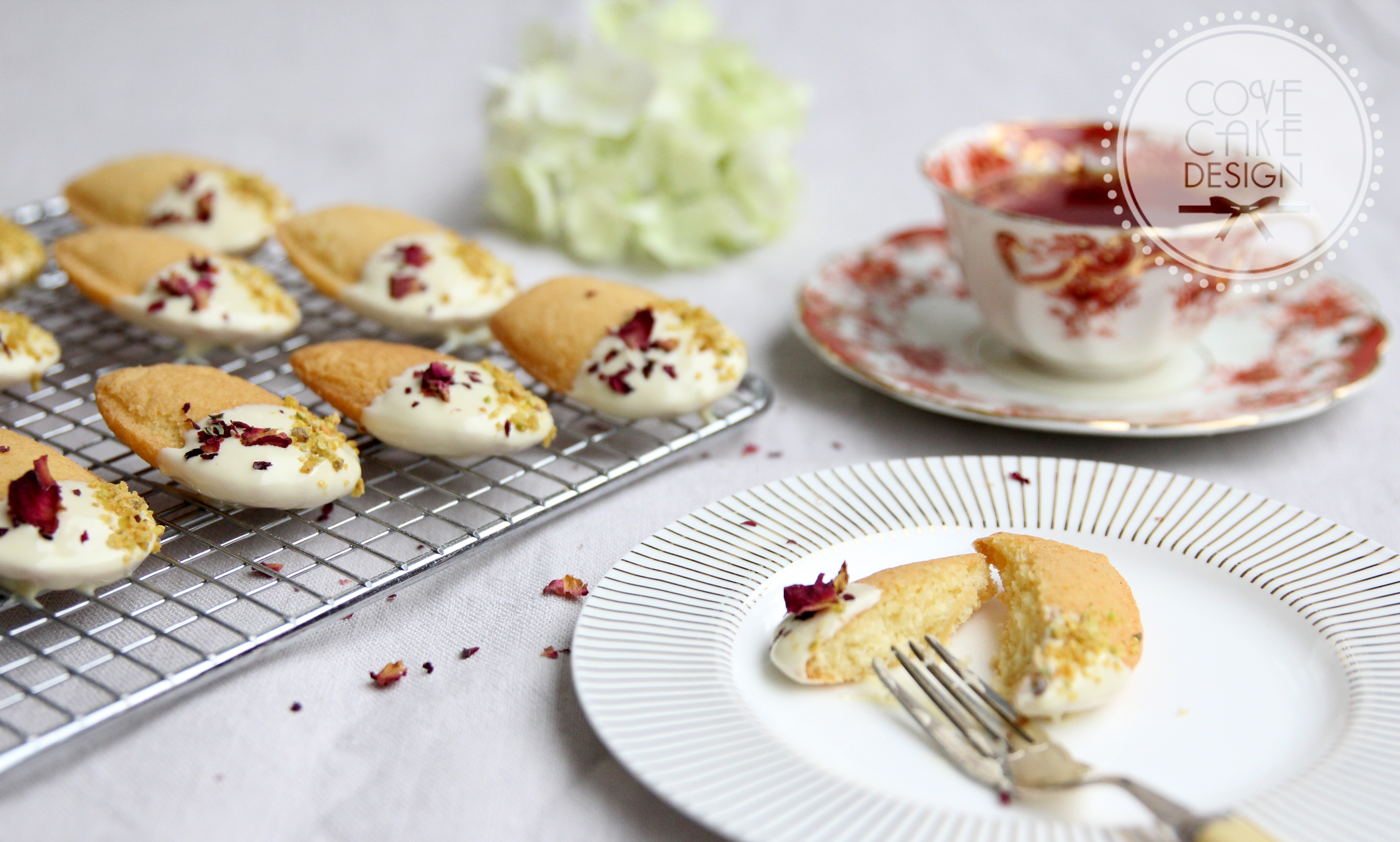 I recently received the most amazingly fragrant organic roses from Bumblebee Flower Farm in West Cork. The scent was something that you would never get from a standard shop-bought rose…these roses were those that you just wish to close your eyes and breathe for. My purpose was to try out some of the beautiful summer blooms from Bumblebee Farm for use as decoration in some of my cake designs, but I couldn't pass the smell of these roses without thinking that I had to incorporate that scent into a cake too!
Madeleines are small French butter cakes baked in pretty scalloped-shaped madeleine moulds. I had only made them once before but thought that making a delicate rose-scented version would be perfect for these dainty teatime treats. To capture the scent of the rose petals, I infused the butter in the recipe first which resulted in a deliciously subtle sweet and fragrant flavour. If you can't get your hands on rose petals feel free of course to add a little rosewater for a similar taste. This base recipe would also work with other flowers such as lavender.
Normally my recipes are self-explanatory but much like other French baked goods (macarons spring immediately to mind!), I have found that making madeleines is not quite as straightforward as it seems and a few little tricks are essential! In my first attempt at this recipe I only buttered the tin, resulting in cakes that stuck tight. A dust of flour is essential. Recipes vary greatly and I initially didn't chill my batter but they subsequently rose and spread hugely outside the moulds, tasting delicious but losing their pretty shape. I found chilling the batter in the tin for about 30 mins solved this. I have also found that the light sponge doesn't stay fresh for long, so feel no guilt in devouring these tiny treats on the day they are made!
Rose Butter Madeleines with White Chocolate and Pistachio Praline
Ingredients for the Rose Butter Madeleines:
60g unsalted butter
Handful fragrant edible rose petals (or use 1/4 tsp of rosewater or other flavouring)
50g caster sugar
1 egg
50g plain flour, plus extra for dusting
1/4 tsp baking powder
For the Pistachio Praline:
50g caster sugar
50g shelled pistachios
To decorate (optional):
100g white chocolate
Pistachio Praline
Dried rose petals
Step 1: To make the rose butter madeleines, preheat the oven to 170°C/315F.
Step 2: Melt the butter in a small saucepan over a low heat. Add the rose petals and leave to infuse, swirling now and then. The butter should become fragrant with the rose petals. Have a small taste to check and if not leave for a little longer or add more petals.
Step 3: Use a little of the butter to brush over the moulds of a madeleine tin. Then dust the moulds with a little flour, tapping out any excess.
Step 4: Whisk together the egg and caster sugar using a handheld or stand whisk until the mixture is pale and mousse like and has increased in volume.
Step 5: Sift the flour and baking powder into the egg and sugar mixture and fold in gently until just combined
Step 6: Strain the butter into the mixture, discarding the rose petals, and fold in gently until combined.
Step 7: Place a heaped teaspoon of the mixture into each of the moulds of the madeleine tray and place in the fridge for 30 mins.
Step 8: To make the pistachio praline, roughly chop the pistachios and place a square of baking paper on a tray.
Step 9: Heat the sugar in a small saucepan over a medium heat, swirling regularly until dissolved.
Step 10: Continue to heat the sugar until it caramelises, taking care not to burn.
Step 11: Remove from the heat, add the chopped pistachios and quickly stir to coat in the caramel. Pour out onto the baking parchment and leave to cool.
Step 12: Place the praline in a chopper or pestle and mortar and grind to a rough consistency.
Step 13: To finish the madeleines, remove the madeleine tray from the fridge and bake for approximately 12-15 mins until risen and springy to the touch. Remove from the oven and leave to cool for a few minutes before gently removing each madeleine from its mould using a palette knife. Leave to cool on a wire wrack.
Step 14; Melt the white chocolate in a cup or small bowl in the microwave. Dip the tip of each madeleine in the white chocolate and place on a sheet of baking paper. Sprinkle some pistachio praline and rose petals over the top. Enjoy immediately!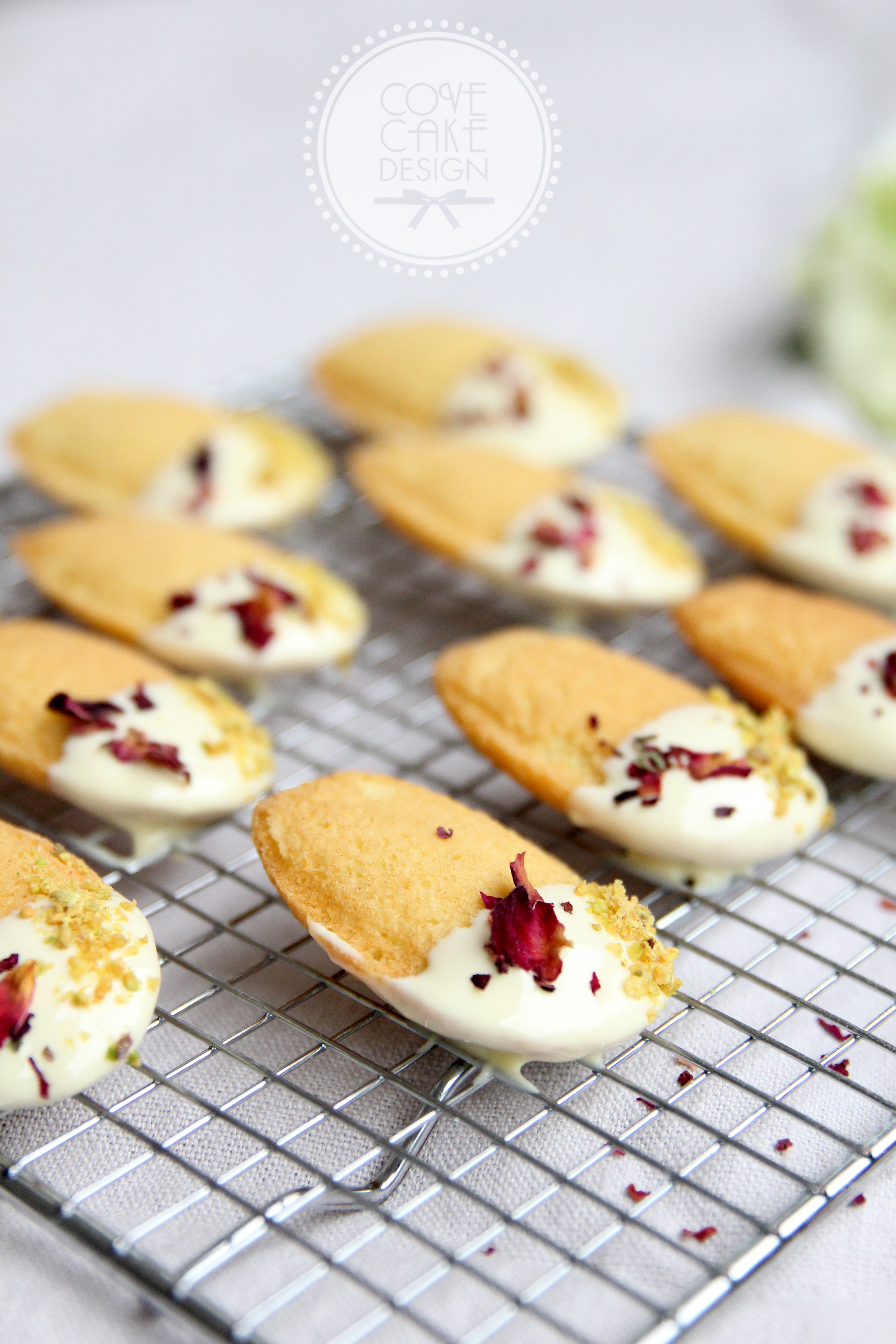 https://www.covecakedesign.ie/wp-content/uploads/2017/07/IMG_6242_edited-1-e1516399279408.jpg
601
1000
Suzanne Brady
https://www.covecakedesign.ie/wp-content/uploads/2019/04/Cove_web.png
Suzanne Brady
2017-08-14 14:08:36
2021-04-20 10:02:18
Rose Butter Madeleines with White Chocolate and Pistachio Praline