Should I Choose Fresh or Sugar Flowers for My Wedding Cake?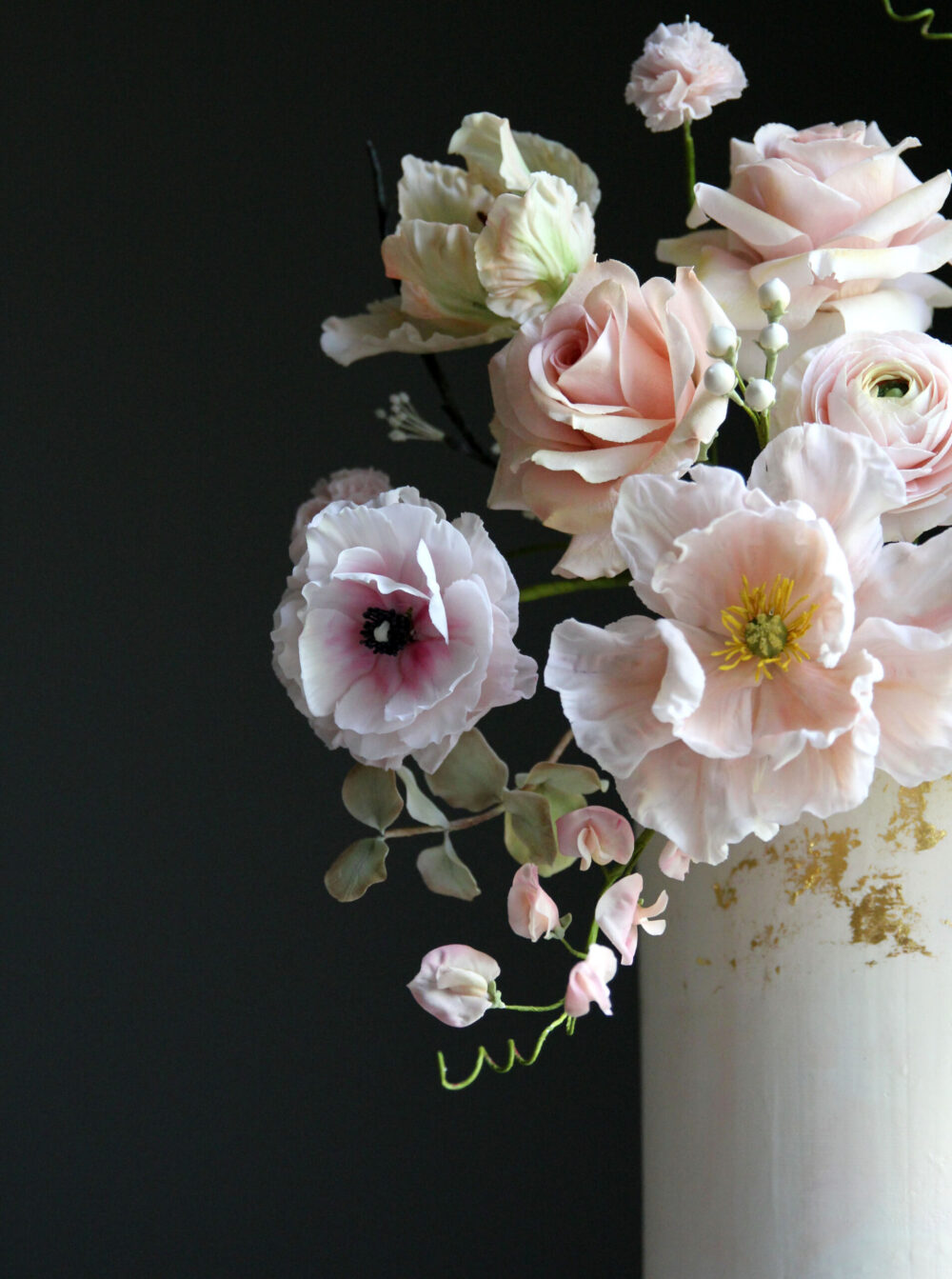 Should I Choose Fresh or Sugar Flowers for My Wedding Cake ?
Flowers are widely used to adorn wedding cakes, and are definitely a signature feature of my designs. From just a few simple blooms to oversized arrangements, flowers can be added in a myriad of ways to create a style reflective of a client's wedding day. One of the biggest decisions for my clients when ordering their wedding cake is often whether they should choose fresh or sugar flowers on their design. There are pros and cons to each which will ultimately determine which are most suitable for each individual client.
I have worked with fresh and sugar flowers throughout my years making wedding cakes. Here I am going to share my experiences in the pros and cons of each.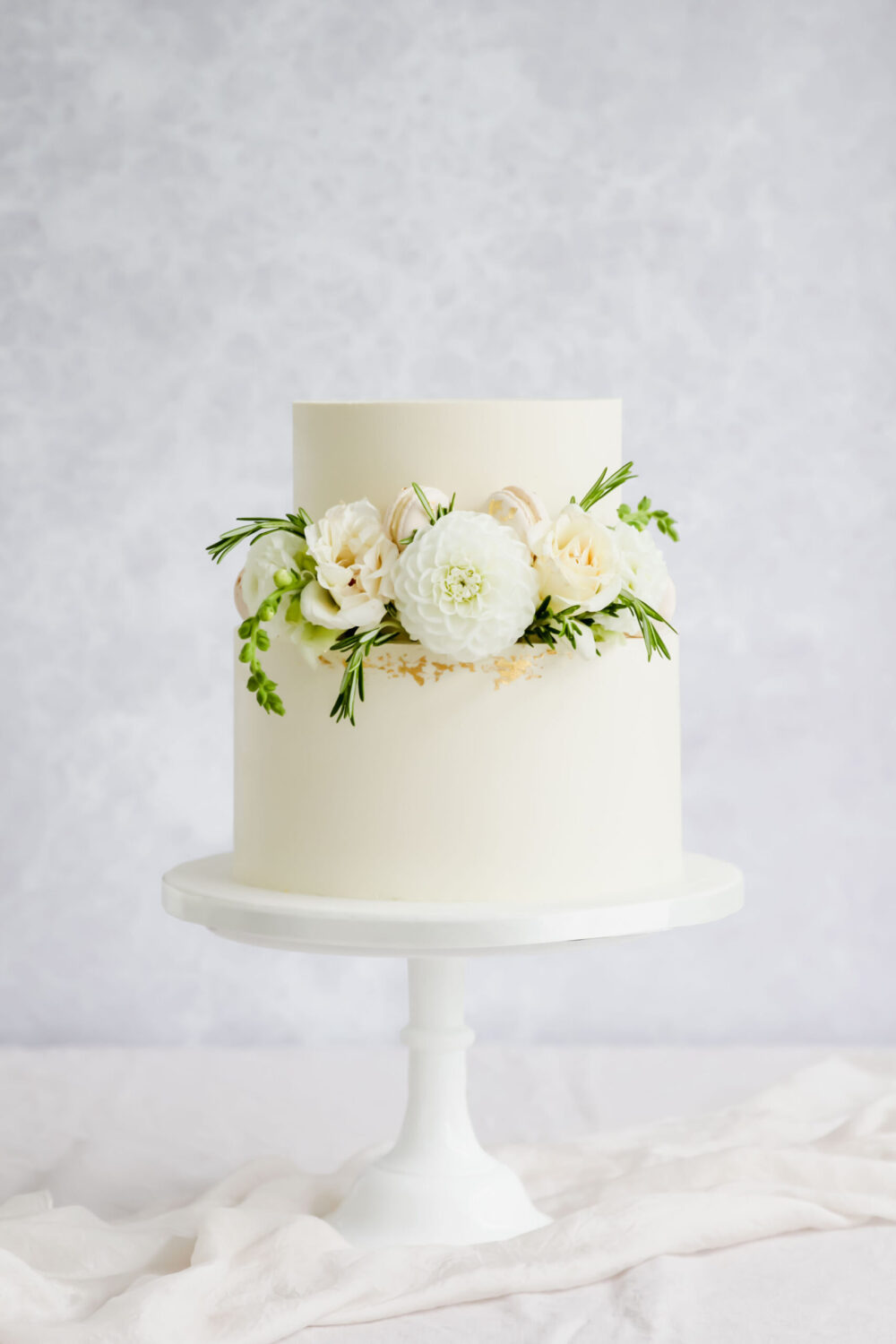 Fresh Flowers
I looove the above example of a classic ganache-coated wedding cake adorned with fresh organic dahlias and roses, sprigs of rosemary, and macarons.
Pros:
Cheaper: Fresh flowers are much cheaper than sugar flowers which is largely due to the time consuming nature of making handcrafted sugar flowers. If your budget is tight fresh may be the best option.
Natural: Fresh flowers of always look beautiful and of course can smell amazing too, something which you can't get from sugar flowers!
Wedding flower continuity: By choosing fresh flowers you may be able to use those being supplied by your florist (provided they are food safe, see below), which ensures continuity throughout your wedding flower scheme.
Cons:
May be unsafe for food contact: Not all fresh flowers are safe for contact with food. Many flowers from florists have been pesticide treated and some may even be toxic if ingested. You hence may not be able to use some, or any, of the flowers that you are using elsewhere for your wedding on your wedding cake. Be sure to check with your florist or wedding cake designer if your wedding flowers are suitable for use on food. There are many flower suppliers who specialise in organic flowers and supply non-toxic and edible varieties which are perfect for use on your wedding cake. Bumblebee Farm is one of my favourite suppliers in Ireland. Think of using herbs as a safe alternative to greenery too.
Fresh flowers will wilt: Fresh flowers can only be added to the cake at the last minute as of course once out of water they will begin to wilt. If it is a warm day this may occur more quickly than desired.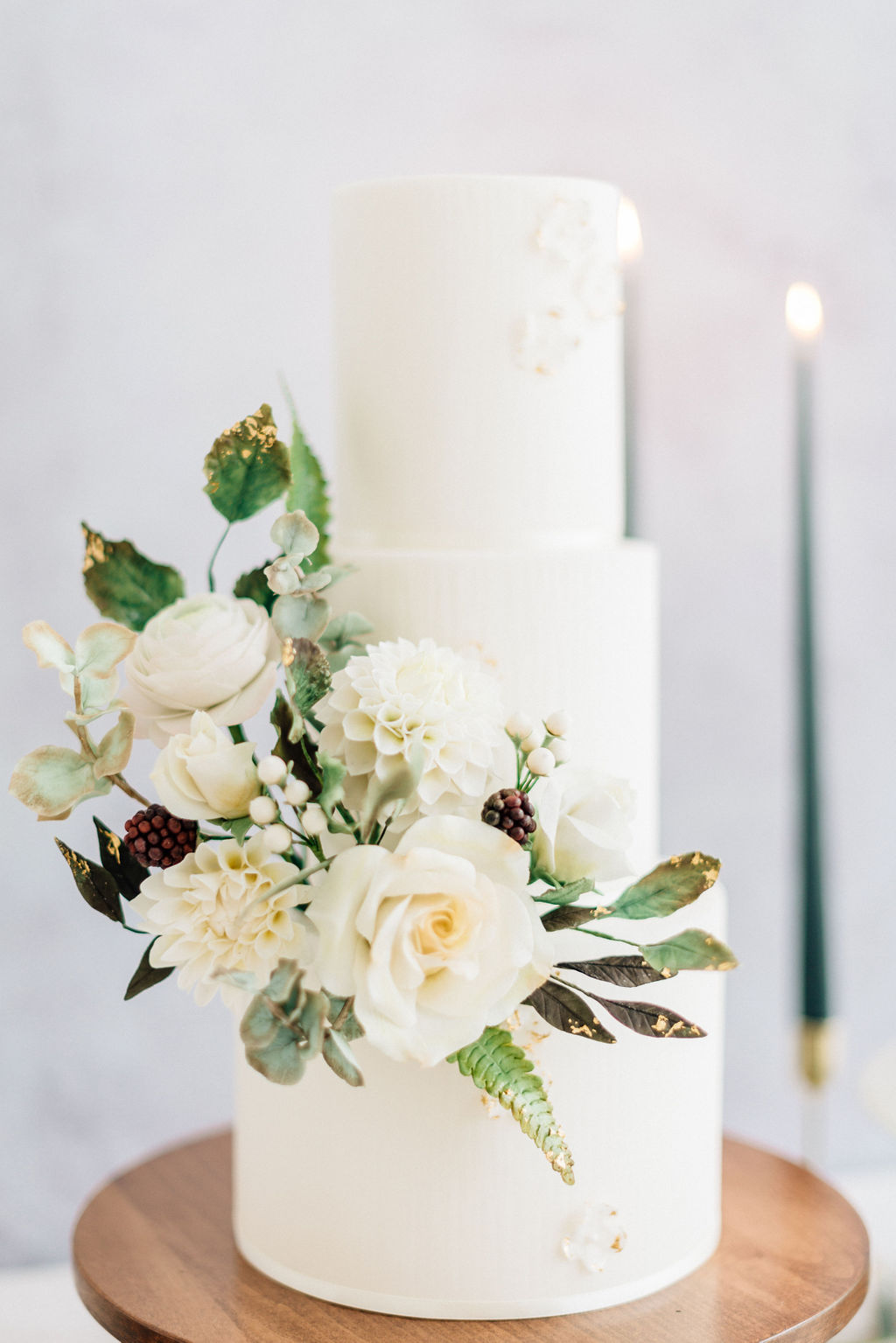 Sugar Flowers
The above classic white wedding cake was designed for my branding photo shoot and features a variety of intricate sugar flowers in shades of green and white.
Pros:
Food safe: As handcrafted sugar flowers are made from sugar, all are suitable for use on a cake. Those on a wire can be placed in a posy pick before being inserted into the cake. You can therefore have whatever flower types you want on your cake without restrictions. A flower type that is out of season, or one that you are using in your wedding flowers that is not food-safe, can be recreated in sugar and used to adorn your cake.
Long lasting: Sugar flowers last for a long time. Not only will they not wilt while your wedding cake is on display, if they are removed carefully from your wedding cake and stored in dry conditions away from danger of breakage, you can actually keep them long after your wedding day.
Works of art: Sugar flowers are work of arts, taking days of skill and love to make by hand. The will hence turn your wedding cake into a piece of art, that will be appreciated and admired by guests.
Cons:
Expensive: Sugar flowers take hours. and more often days, to make, as each petal is cut and shaped by hand before the the flower is assembled and brought to life through dust colours. If choosing sugar flowers this time-intensive labour adds a significant cost to your wedding cake.
Sugar flowers can break easily: Sugar flowers are very fragile and can break easily if knocked. This is something to take into consideration if you are collecting your wedding cake yourself, or if you wish to have your venue remove the flowers to keep for after your wedding.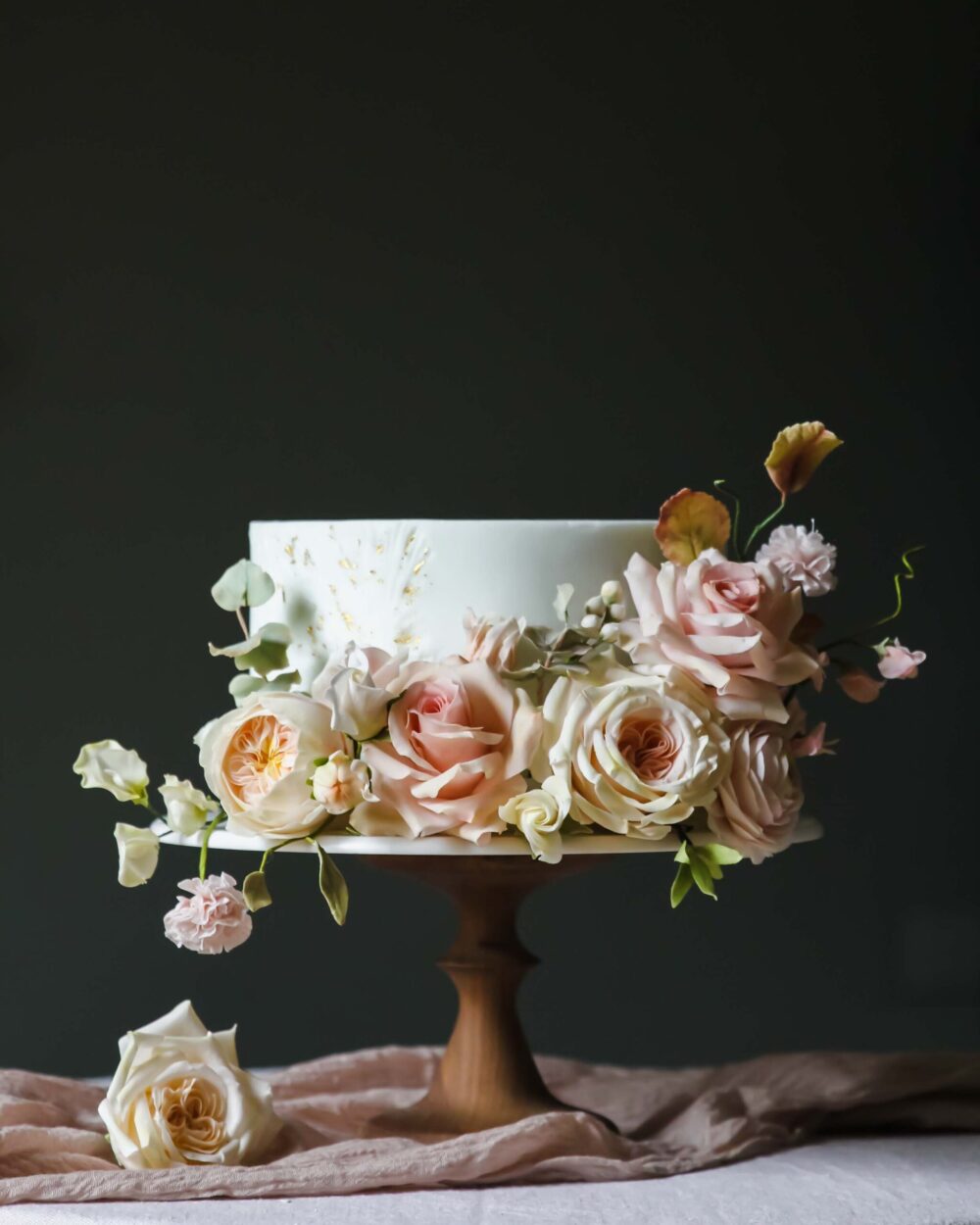 So What is The Best Advice on Which Flowers to Choose for My Wedding Cake?
If your wedding cake budget is limited I would suggest organic food-safe fresh flowers for your wedding cake. Should food-safe options not be available, your cake designer should ensure that they do not come into contact with the cake. Alternatively, consider choosing an unadorned cake and creating a dramatic table arrangement or backdrop with fresh flowers from your wedding florist.
If you love the idea of having sugar flowers that will elevate your cake to a work of art, choosing just a few choice sugar flowers will work not work out hugely more expensive than a larger number fresh flowers.  If budget allows, going for a large adornment of sugar flowers will really create an incredibly beautiful centrepiece, and give you something that you can keep forever afterwards!
To see some fresh or sugar flower wedding cakes view more designs over in our portfolio.
Suzanne, x
To make sure you don't miss out on any of our posts, join our mailing list to receive our monthly newsletter and occasional notes on all things cake!
https://www.covecakedesign.ie/wp-content/uploads/2020/08/IMG_0987_edited-2-scaled-e1606201522228.jpg
1343
1000
Suzanne Brady
https://www.covecakedesign.ie/wp-content/uploads/2019/04/Cove_web.png
Suzanne Brady
2021-05-31 13:30:11
2021-05-31 15:56:22
Should I Choose Fresh or Sugar Flowers for My Wedding Cake?